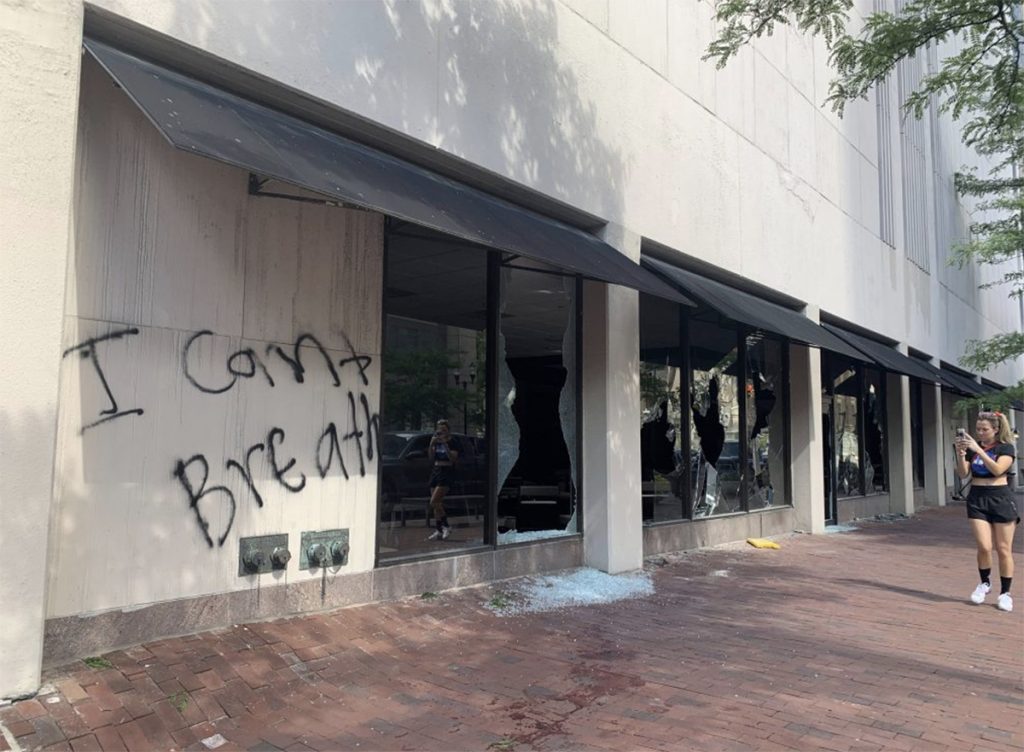 Following unrest overnight, Mayor Joe Hogsett said Saturday afternoon that he had spoken with protest organizers and social-justice groups to arrange a protest at 4 p.m. on Monument Circle with their assurance that it would remain peaceful and that they would help disperse the crowd afterward.
"It is my hope that as you gather in anger that you will leave your peaceful protest and return home," Hogsett said during a live-streamed press conference. He said he hoped protesters would disperse by 7 p.m.
His comments follow a night of violence and vandalism downtown, stemming from an earlier protest on Friday against police violence. Extensive property damage in the Mile Square included dozens of smashed windows in office buildings and retail storefronts. Three law enforcement officers and at least one protester were injured.
Indianapolis Metropolitan Police Department Chief Randall Taylor estimated that at least 30 businesses had been vandalized. And officials said 27 people were arrested on Friday night.
The violence in Indianapolis and many other cities was sparked by anger over the death in police custody of George Floyd in Minneapolis on Monday, which was captured on cellphone video. It led to the firing Tuesday of the four police officers who were arresting Floyd for suspicion of passing a counterfeit bill and to third-degree murder and manslaughter charges being filed Friday against the officer who used his knee to pin Floyd down for more than eight minutes.
At one point Friday night, Indianapolis police stood in riot gear as groups of protesters moved through clouds of tear gas chanting "I can't breathe!" and "Black lives matter."
If people do not go home after the scheduled protest on Saturday and engage in illegal conduct, they will be subject to arrest, Hogsett said. However, he emphasized that they had the right to continue to assemble downtown peacefully.
"The safest thing that all participants can do is return to their homes with the knowledge that their message has been loudly heard," Hogsett said.
Members of the Democratic caucus of the City-County Council released a statement after the press conference they recognized that governments and law enforcement agencies must deal with "systemic issues."
"We know there are more protests planned in the days to come and that emotions quickly get heated," the statement read. "What we do not and cannot support is the intentional destruction of businesses and property and creating danger for citizens. We ask that protestors use this moment in our city's history to assemble peacefully and remain steadfast in the goal of effecting the much needed change that is needed."
Among the people Hogsett and his staff met with Saturday morning were leaders of the local Black Lives Matter chapter and the mother of Dreasjon Reed, who recorded himself being shot by IMPD officers following a police pursuit early this month.
Hogsett said he made two commitments to them and the individuals they represent: to continue to push for change on "major issues related to community policing, transparency and accountability" and to ensure the safety of peaceful protestors.
Already, IMPD and city leaders have announced that beginning in the fall, Indianapolis police officers will be issued body-worn cameras. The department is also assembling a citizens advisory board to review use of force incidents.
"What I do know is that as stewards of the public's collective well-being, we must do a better job of listening and acting before black communities in our city feel helpless," Hogsett said. "And what I do know is that the good faith efforts of peaceful protestors yesterday afternoon were overshadowed by violence that did damage to people, did damage to businesses and ultimately did damage to our collective ability to wake up this morning with the focus squarely on the need for change."
He said while the emotions that fueled last night's vandalism are understandable, the actions taken by some were unacceptable and did not do anything to further organizers' cause.
Taylor said what started off on Friday as a small, peaceful protest of 40 to 50 people on Monument Circle moved across downtown and swelled in size to more than 200 and quickly escalated to violence and vandalism.
"Our first responsibility is always to keep our residents safe, and we have a responsibility to intervene in the actions of individuals who threaten our city," Taylor said. "We swear an oath to do just that."
Hogsett said the city is reaching out to businesses to understand the extent of damage done and will aid in helping them to reopen.
He implored residents to choose love over hate as they gather in "fairly-earned" anger.
"We are alive in a moment of possibility, but there is no path forward that relies on violence and lawlessness as a vehicle for change," he said. "It is my sincere belief that in moments of anger, we all as humans have a fundamental choice, the choice between love or hate. Indianapolis, it is my hope that as you gather in anger you will leave your peaceful protest and return home by choosing love. And in so doing, you will indeed bring us one step closer to a city transformed through understanding and through positive change."
Please enable JavaScript to view this content.