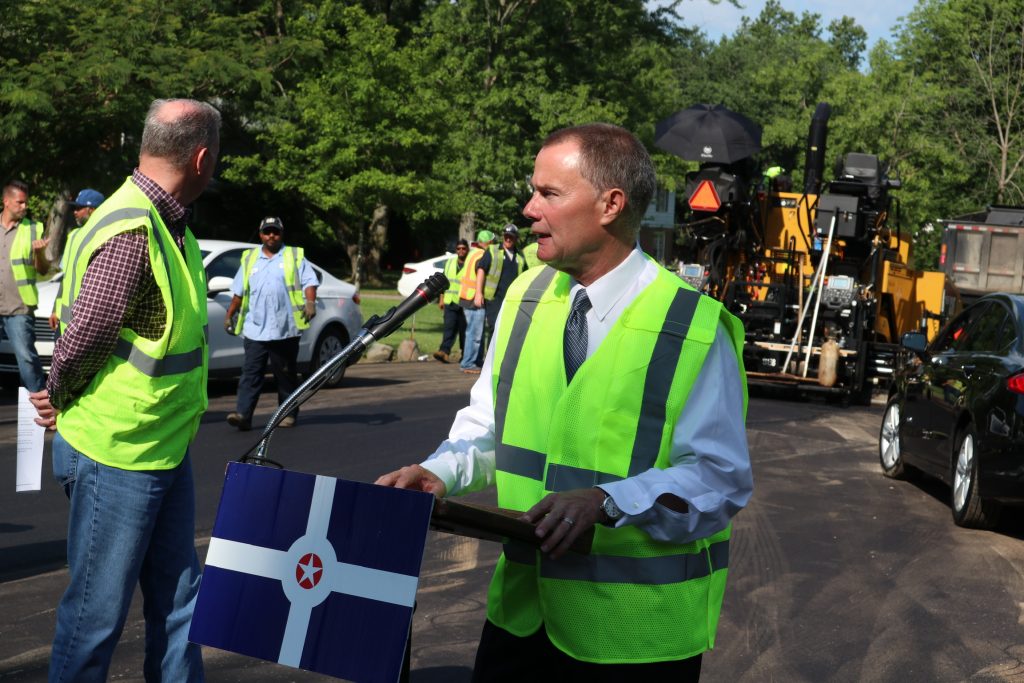 Indianapolis Mayor Joe Hogsett wants the city's road crews at the Department of Public Works to operate like police officers working their beats.
Hogsett's 2020 budget proposal for DPW, which has an $8 million, or 4% increase, includes a plan that's essentially "DPW's version of community beat policing," said department director Dan Parker. The proposal, Parker said, will "turn DPW from a reactive force to a proactive force."
The $8 million proposed DPW budget increase would, among other investments, allow the department to hire 15 more street operators. Street operators take care of nearly 250 different tasks, including snow removal, repairing potholes, clearing debris and repairing sidewalks.
The budget, part of a larger, $1.2 billion overall city budget plan, was presented Thursday night to the Indianapolis City-County Council's public works committee.
The ultimate goal, Parker said, is to hire 60 more people over the next several years to shift the city's street operations crew from a 100-person, one-shift crew working across three large zones to a 160-person, two-shift crew working across 20 different neighborhood-based zones.
Parker said street operators currently work on one shift, from 7 a.m. to 3:30 p.m. A second shift would run from 4 p.m. until 12:30 a.m., allowing workers to cover more requests at more hours of the day. He said the new hours and realignment would allow the workers to get more familiar with their territories and tackle problems proactively.
Parker said the justification for the proposal is that calls to the Mayor's Action Center are on the rise. Calls have increased 54% over the past 10 years, and a majority of the calls are for DPW-related issues.
Also, Parker said the cost of a second shift would be offset by a reduction of overtime hours. The street operations team had nearly 94,000 hours of overtime in 2018, which cost $2.8 million. A second shift would account for 60% of those hours. That would mean a potential overtime savings of $1.7 million for the department.
"We need more people," Parker said. "We need to make sure we're not burning our people out."
Steve Quick, union leader for the DPW staff members, said he supported the plan, stating, "this night shift is a long time coming."
He said DPW staff members are trying to "fit 24 hours of work into an eight-hour day."
Council Vice President Zach Adamson said the plan would facilitate better public service.
$40M bond issuance
The public works committee also on Thursday unanimously approved a proposal to appropriate $40 million in revenue bonds to fund road and bridge infrastructure. The plan also will need to be voted on by the full council.
The debt will help finance the $118 million worth of Marion County road and bridge repairs planned next year as part of Hogsett's annual budget proposal.
The City-County Council in 2018 unanimously approved Hogsett's plan to issue $120 million worth of debt over four years to fix the city's aging roads and bridges. The city is borrowing against future gas tax revenue increases. The bonds will be the second round of debt issued under that plan.
"We're piecemealing this out so we can address [projects] as we have the ability to do the work," Adamson said.
IBJ reported in 2018 that the city's plan to issue debt to pay for infrastructure projects could harm the city's credit rating if the road projects don't have a long shelf life, according to municipal credit ratings experts.
However, Sarah Riordan, director of the Indianapolis Bond Bank, said the projects financed by the debt, including curbs, sidewalks, ADA ramps and bridge rehabilitation, have shelf lives ranging from 30 to 50 years.
"We have to ensure the useful life of the work we're doing exceeds the number of years we're paying," Riordan said.
Please enable JavaScript to view this content.