Indianapolis Mayor Joe Hogsett's chief of staff tweeted and then deleted a photo on his personal Twitter account over the weekend that included an image of him flipping off the camera while the mayor eats pizza.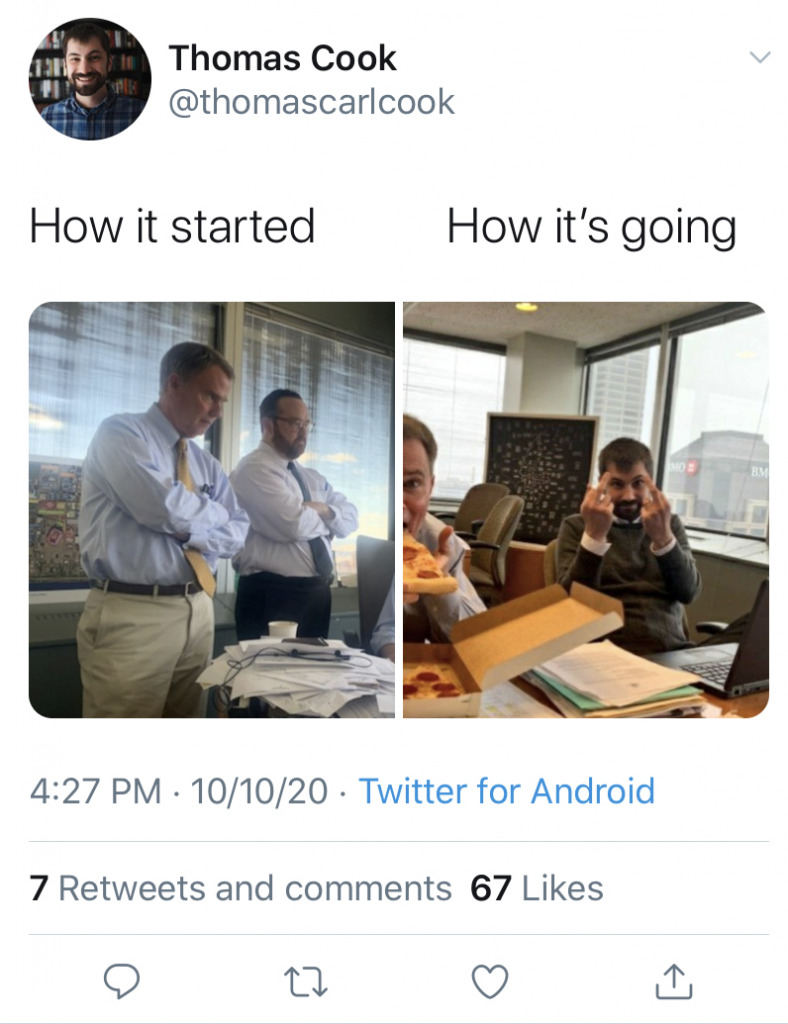 Thomas Cook, who has worked with Hogsett almost a decade, since the Democrat's time as U.S. attorney, said the post was meant to be a joke among friends. And he said he deleted it when he "saw people were misinterpreting things."
The tweet was a takeoff on a meme—which is essentially a themed, viral social media post—that has been sweeping across Twitter, Facebook and other sites over the past few days. The memes feature two photos, one labeled, "How it started," and the other "How it's going."
Cook's post included a photo of the mayor, city attorney Tim Moriarty and Cook under the caption "How it started" and the photo of the mayor eating pizza and Cook raising both middle fingers to the camera under "How it's going."
In a follow-up post, he credited the photos to the mayor's deputy chief of staff, Taylor Schaffer, whom Cook said "did approve of this tweet and all complaints should be directed to her." That post also has been deleted.
Schaffer told IBJ the images were "candid photos from around the office from various times over the past several years." And she said Cook's "account represents thoughts that are his alone."
She referred additional questions to Cook.
Cook told IBJ in an email that the "weekend post was intended to be a joke about my relationship with my coworkers, not anyone else. I took it down when I saw people were misinterpreting things."
He said he "love[s] working for this city and take[s] that responsibility seriously—much more seriously than my personal Twitter account that is usually filled with soccer scores and bad puns."
Many "how it started/how it's going" posts have been intended to be inspirational or to celebrate an achievement, such as photos at the beginning of a weight loss journey and another at the end or an athlete playing his or her sport as a youngster and then later with a trophy or celebrating a professional win.
Others have been funny or served as commentary on politics or the pandemic.
Cook deleted his post before it generated a significant amount of reaction. It had at least 67 likes and at least seven retweets, with a number of comments questioning the appropriateness off the post.
The Marion County Republican Party responded with a tweet that said, in part, "This is one of the most disgusting things we have seen from the Mayor and his staff. No care is given about the growing violent crime, defunding the police, businesses shutting down, or the citizens of the county #FailedLeader."
The Hammer and Nigel Show—a conservative, drive-time show on WIBC-FM 93.1—retweeted the post to its followers. The show's hosts,  Jason Hammer and Nigel Laskowski, are relentless critics of Hogsett and his administration, particularly the mayor's action and positions related to pandemic-related restrictions as well as downtown homelessness and violence.
WIBC radio host Tony Katz, another ardent Hogsett critic, posted a photo of the tweet after it was deleted, accusing the mayor and Cook of giving "Indy residents the finger. Literally."
Indianapolis Mayor @indymayorjoe, Chief Deputy Mayor @thomascarlcook give Indy Residents The Finger. Literally.https://t.co/AvzapxJ0o3

— Tony Katz (@tonykatz) October 11, 2020
Please enable JavaScript to view this content.