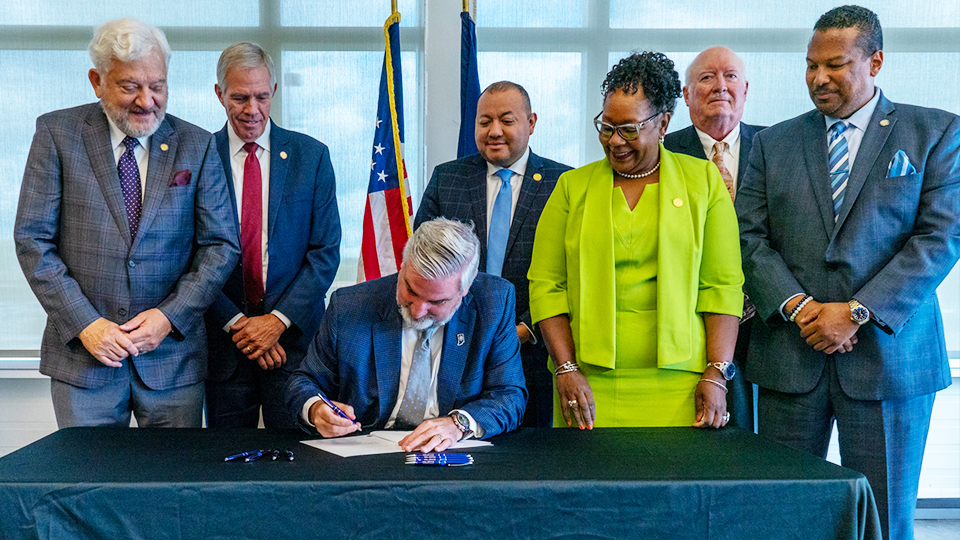 Gov. Eric Holcomb on Tuesday touted a new law that creates a regulatory framework for companies to store captured carbon dioxide underground in Indiana.
The governor was joined by several local and state elected officials for the ceremonial signing of the law at the BP Whiting Refinery in Whiting. Paul Mitchell, CEO of Indianapolis-based Energy Systems Network, said the measure could make northwest Indiana one of the largest hubs for carbon sequestration and hydrogen production in the country.
In an interview with Inside INdiana Business, Mitchell said Indiana is well-suited for carbon capture and sequestration.
"Indiana has some underground geology—they're called saline aquifers, typically—that are robust and really are ideal for carbon capture and sequestration," said Mitchell. "There are some in the northern part of the state in particular, but there are other pockets of the states where we know these formations exist. It can be really transformational for not only hydrogen production but just carbon capture in general."
With the new law, companies could send captured carbon emissions to the underground caverns via pipelines to be stored. Mitchell says that benefits companies that are looking to reduce emissions.
"If you have certain industries [such as] steel production or asphalt or cement that are very, very carbon intensive, they use a tremendous amount of energy and they generate a lot of carbon emissions," he said. "You have to look at things like capturing the CO2 from those plants, those production processes and storing it, and so these carbon capture and sequestration sites can do just that."
Donnie Brown, vice president of refining at the BP Whiting facility, tells The Times of Northwest Indiana the law sets Indiana apart as a leader in carbon capture and reducing emissions.
"It supports jobs by decarbonizing industries like steel, cement and this industry here, refining," said Brown. "It's very important for us to do what we do. We believe it promotes growth. Captured CO2 … can be used as a raw material in concrete, biofuels, fertilizer and other products such as hydrogen. This unlocks new opportunities for manufacturing, including manufacturing in this region."
State Rep. Ed Soliday, R-Valparaiso, who authored the legislation, calls the signing a win-win for Hoosiers and businesses.
"With carbon dioxide being the most commonly produced greenhouse gas, it's important for companies across the nation to continue developing new tools to manage their emissions," Soliday said in written remarks. "This bipartisan legislation is keeping Indiana ahead of the pack by setting up a permit program to allow companies to capture their carbon emissions and store them underground. This is a safe and effective process used around the world, which will also help stimulate growth in our economy by encouraging investments and cutting down on costly regulation."
Mitchell adds the law could also be an opportunity for the state to monetize the captured CO2 through taxes or fees generated from sequestering carbon at sites throughout Indiana.
Earlier this month, Holcomb signed a Memorandum of Understanding with governors from seven other Midwestern states to develop a robust hydrogen market, supply chain and workforce.
Please enable JavaScript to view this content.