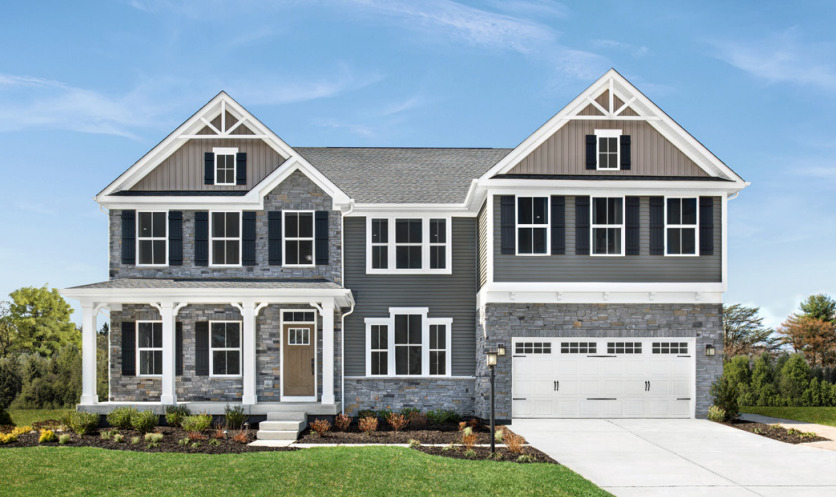 Reston, Virginia-based homebuilder Ryan Homes is proposing residential development with 220 single-family houses on the southeast side of Fishers.
Plans call for the 109-acre Flat Fork project to be developed along East 96th Street between Cyntheanne Road to the east and Georgia Road to the west. The subdivision would be divided into eastern and western parcels with the existing Steeplechase neighborhood in the middle.
Ryan Homes is requesting a zoning change from R2 Residential to the Flat Fork Planned Unit Development. The project was introduced Monday night to the Fishers City Council.
Flat Fork's eastern parcel would have 124 lots on 59 acres on the west side of Cyntheanne Road. The two-story homes would have an expected price starting at $600,000, according to Murray Clark, an attorney with Indianapolis-based law firm Faegre Drinker Biddle & Reath LLP who represents Ryan Homes.
The development's western parcel would have 96 lots on 46 acres with four additional acres of commercial space planned along East 96th Street. The ranch-style homes would range from $450,000 to $500,000. They would be targeted toward step-down buyers and empty nesters.
Fishers Director of Planning and Zoning Megan Vukusich told the council that a requirement of the development would include a pedestrian connection from the eastern parcel along Cyntheanne Road to Flat Fork Creek Park, which is east of the development site.
The western parcel along Georgia Road would be adjacent to the Geist Greenway trail, which is under construction. The five-mile pedestrian trail will stretch north to south from East 96th Street to East 131st Street.
Flat Fork's chances for approval face some hurdles. Councilor Brad DeReamer expressed concern about the amount of density in the development.
"This is getting ridiculous," DeReamer said. "In my opinion, the people that I represent in Fishers are tired of it and they said, 'Brad, when is it going to end?'"
Councilors Pete Peterson and Selina Stoller also said they want the commercial space removed from the project plans. Vukusich said city staff is not supportive of commercial uses at the location.
The proposal to rezone the site will go next to the Fishers Plan Commission.
Ryan Homes, a division of NVR Inc., has built nearly a half-million homes in more than a dozen states over the past 75 years. In central Indiana, the company has developed homes in almost a dozen communities, including Fortville, Greenfield, Brownsburg, Camby, Lebanon and Danville. Its previous developments in Fishers have included Turnberry and Silverton.
Please enable JavaScript to view this content.