Housing advocates are warning of a tidal wave of evictions in the state this summer unless an effort is coordinated to head it off.
All told, more than 250,000 Hoosier families will need help paying their rent this summer following pandemic-related stay-at-home orders that led to an economic collapse, according to the National Low Income Housing Coalition.
A statewide moratorium on evictions and foreclosures has been extended through July, and housing advocates say policymakers should use that time to begin addressing housing instability beyond the moratorium's expiration.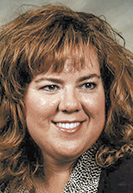 For nearly two months, a coalition of advocates has been calling on state leaders to create a rental assistance program and a plan for lifting the moratorium to ensure Hoosiers already impacted by COVID-19 do not lose their housing.
On Wednesday, the Indiana Housing and Community Development Authority announced a $25 million rental assistance program, funded by federal Coronavirus Relief Funds, for renters in every county except Marion. Households unable to pay all or part of their rent due to a COVID-19 related job loss or income reduction will be eligible for financial assistance up to $500 a month for four months.
The state expects to assist 12,000 households with the funding.
In Indianapolis, which had one of the highest eviction rates in the country before the pandemic, officials are about to launch a $15 million assistance plan for Marion County residents.
The money is a start, but it won't be enough if 250,000 families statewide are going to need assistance, as expected.
And the stakes are high. Rampant housing instability would threaten the economy, and evictions wreak long-lasting damage on individuals and families.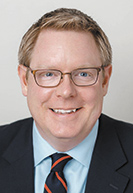 "The governor's order didn't relieve individuals of payment of rent," said Amy Nelson, executive director of the Fair Housing Center of Central Indiana. "We need to have programs in place that help our renters who have been struggling who have done absolutely nothing wrong. They lost their job because of a public health pandemic. These are the exact individuals our state and federal government should be assisting."
Little data exists on the number of Hoosier renters who have failed to make housing payments during the pandemic. National data, however, shows nearly a third of Americans can't meet their housing obligations.
In April, the first full month following stay-at-home orders, 24% of Americans either skipped rent or mortgage payments or made only a partial payment, according to data from Apartment List. In May, that number increased to 31%—despite $1,200 stimulus checks and $600 in additional monthly unemployment benefits from the federal government reaching millions of Americans. A month later, the percentage of people not meeting housing obligations fell slightly, to 30%.
In Indiana, despite the eviction and foreclosure moratorium that began in March, housing is the top need of callers contacting Indiana 211, a confidential health and human services helpline. More than 22,000 Hoosiers called seeking housing assistance from March 6 to May 21, the agency's data shows. Housing requests—including rent, mortgage and homeless-shelter assistance—are up 22% since before the public health emergency declaration. The service has received more than 11,000 requests for rent assistance alone, which is higher than requests for both homeless shelters and mortgage assistance.
Call for a plan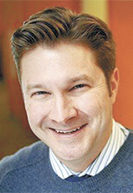 Housing advocates say the eviction moratorium, which has been in effect since late March, has provided federal, state and local leaders time to create a plan for helping tenants behind on rent. Since early May, the Hoosier Housing Needs Coalition—a consortium of housing stability advocates—has been calling on state and federal leaders to take action to assist renters.
They called for a plan that aligns available federal, state, local and philanthropic resources and provides emergency rental assistance to renters before the moratorium is allowed to expire. Policymakers also need to clearly communicate procedures and expectations to renters, landlords, community service providers and stakeholders long before the moratorium is lifted, to give everyone time to prepare, the coalition has said.
Without that, the state could see a wave of evictions that will upend its economic recovery, said Andrew Bradley, policy director at Prosperity Indiana, also known as the Indiana Association for Community Economic Development.
Before the governor announced Wednesday that he would extend the moratorium through July, those advocates were growing alarmed by what they saw as inaction from state government leading up to the previous June 30 deadline.
"We've been banging this drum," Bradley told IBJ. "This is not going to be a short-term problem, so we're not going to be able to have a short-term solution. We need to also bring in different voices from the housing community to think about how we transition from a COVID response to recovery to rebuilding."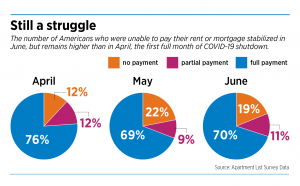 Long term, the state should consider a governor-appointed housing task force that brings together renters, landlords, housing agencies and representatives of the public health sector to look at potential solutions for what was already an existing housing crisis in Indiana, especially for Hispanic and Black people and low-income Hoosiers, Bradley said.
Ready to help
Indianapolis has the second-highest number of evictions in the country, behind only New York, according to Princeton University database evictionlabs.org. In 2016, Indianapolis had 11,570 evictions. Chicago, with a population of 2.6 million people, saw fewer than 7,000 evictions that year.
To bring those numbers down, the city in January created a tenant legal assistance program and launched a tenant information hotline.
As the economy began to shut down in March, and Indianapolis residents were laid off from work or had their hours cut, it became clear the city's eviction problem would get worse if the city did not take action, said Deputy Mayor of Community Development Jeff Bennett.
Bennett, who for years served as trustee for Warren Township before joining Hogsett's administration, said he remembered how many residents struggled to pay rent or mortgages during the Great Recession in 2008, which was especially hard on middle-class manufacturing workers.
This time, given historically high unemployment numbers, it was going to be worse.
"It was clear whenever the economy began to turn back on and people started going back to work, it wasn't going to be all at once," Bennett said. "At some point, there was going to be a need for assistance as a bridge to get people back to work and getting paychecks."
So, Indianapolis set aside $15 million of its federal Coronavirus Relief Funds for rental assistance. Any Marion County resident who has had income reduced by COVID-19 will be eligible for up to three months of rental assistance. The program is expected to be up and running in the next two weeks.
The funding is becoming available at just the right time, Bennett said. Through conversations with community centers and landlords, the city has found that rent collection in April and May was pretty normal, likely in part because unemployed tenants received stimulus checks and additional unemployment benefits.
"June, July and likely August for residents that haven't gone back to work yet are where the real challenge can be for many of our tenants," Bennett said. "We feel the timing on this is pretty right to try to meet as much need as we can."
The city still has roughly $90 million in federal relief funds that are unallocated, meaning more funding could go to rental assistance if needed, Bennett said.
City leaders said they thought $15 million would buy them enough time to fully understand the need.
Bradley said $15 million likely won't be enough, but it's a good start. He's also pleased to see the city has partnered with community centers and the Indianapolis Urban League to process applications and help connect residents with other services they might need.
Across Indiana
Indianapolis was the only city in the state to receive coronavirus relief funds directly, but other cities—including Bloomington, Evansville, South Bend, Columbus and Fort Wayne—have used or plan to use Community Development Block Grant and Emergency Solutions Grant funds for rental assistance. None are expected to dedicate as much funding to the issue as Indianapolis.
Columbus, for example, is allocating $125,000 for rental and utility assistance, according to a survey by the Hoosier Housing Needs Coalition. La Porte plans to designate $197,129 for rental, utility and prescription assistance; South Bend plans to use about $678,000 for emergency shelter and rent, and utility assistance.
Applications for the state's rental assistance funding will be live July 13 at indianahousingnow.org. The funding can be applied to past due rent or current rent, and payments will be made directly to landlords. In order for a household to receive the funding, their landlord must agree to the program.
The $500 is not expected to cover an entire month of rent but can be used to help pay down past due balances or cover a portion of July rent a tenant can't fully make.
As part of the program, a landlord who receives the state's funding to cover a tenant's rent won't be allowed to evict that tenant until their rent is at least 45 days past due.
Bradley said he's hopeful the website will serve as a place Hoosiers and landlords can go to find rent assistance from multiple resources and updated information on the moratorium. He's also hopeful the funding goes to communities highest in need.
"We still don't know how about 200,000 [families] will be assisted, minus the state's and Indy's [programs]. Some may be covered by cities using CARES Act funds, and others may be helped by philanthropy or other means," he said. "But that speaks again to the need for a coordinated statewide response so we know that the communities and populations most in need receive assistance." •
Please enable JavaScript to view this content.