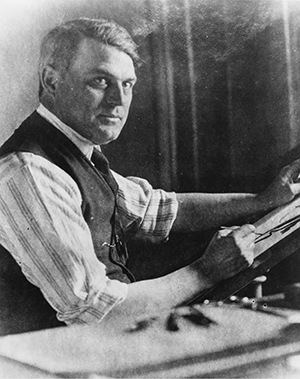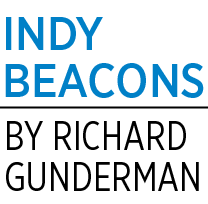 Editor's note: This new feature celebrates the history of Indianapolis in the year leading up to its 2021 bicentennial by telling the stories of famous residents. It will appear in the second and fourth issues of each month.
Dubbed "America's greatest humorist" by Will Rogers, Indianapolis resident Kin Hubbard created the rustic Abe Martin, one of Indiana's most famous fictional characters.
From Abe flowed such witticisms as, "If somebody says, 'It hain't th' money but th' principle o' th' thing,' it's the money," "The only way to entertain some folks is to listen to them," and, "Lots of folks confuse bad management with destiny."
Born the son of a newspaper editor in Ohio in 1868, Frank McKinney Hubbard left school in the seventh grade. After bouncing among jobs as a painter, postmaster's clerk and artist, he landed a job in 1891 as an illustrator at the Indianapolis News. Leaving the post after three years, he moved from job to job in the Midwest before being rehired by the News in 1899, becoming a caricaturist in 1901.
Hubbard's first Abe Martin cartoon appeared in the News in 1904. It was featured on the back page of the daily for 26 years. Within two months of Abe's first appearance, he moved to Brown County, where he regularly observed such characters as Miss Fawn Lippincott, Professor Alexander Tansey and the Hon. Cale Fluhart—names sometimes inspired by Kentucky jury lists.
Thanks in part to a 1910 article on Martin in "American" magazine by Hoosier George Ade, Hubbard developed a national following. Abe Martin was syndicated in 200 American cities, and books featuring the character were published on a nearly annual basis. Although Abe pronounced only two lines a day, Rogers commented that they "expressed more original philosophy than the rest of the paper."
Hubbard married Josephine Jackson in 1905. Their first of five children was born in 1907. In 1909, they moved into a house at the corner of New York and Emerson streets in Irvington, where they lived for 20 years. In 1919, the Hubbards suffered the loss of their 1-year-old son, Kin Jr., who was killed in an automobile accident. Only two of their children survived to adulthood.
Hubbard loved practical jokes, reading biographies and gardening. Though shy of publicity, he had attained such national prominence that, in 1923, he and Josephine were introduced by Rogers at the Ziegfield Follies to a standing ovation.
Hubbard's life ended abruptly in 1930. Having moved his family into a new house in the 5400 block of North Meridian Street, Hubbard spent "the happiest Christmas I ever knew" there, even taking a nostalgic drive past their old home in Irvington that same day. The next morning, he collapsed from a heart attack at age 62.
After Hubbard's death, the News published a long tribute, and flags around the state flew at half-mast. A Chicago Tribune cartoon featured Hubbard's bereaved characters, including Abe, standing at his door. Rogers wrote, "No man in our generation was within a mile of him. What a kick Mark Twain [who had predeceased him] and all that gang will get out of Kin."
In honor of the 8,000 drawings and 1,000 essays Hubbard produced, the Indiana Department of Natural Resources in 1932 dedicated Brown County State Park to Hubbard. Today, the Abe Martin Lodge sits atop Hubbard Ridge there, and the lodge's cabins are named for characters from the Abe Martin cartoons.
Another great Indiana author, James Whitcomb Riley, once described Hubbard's writing as "a kind of comical mixture of hoss-sense and no sense at all." Observed Abe Martin, "Barely seven percent o' people wearing large fierce-lookin' shell-rimmed glasses are really indispensable," and, "The average important person is just an ordinary human bein' reined up."•
__________
Gunderman is chancellor's professor at Indiana University.
Please enable JavaScript to view this content.