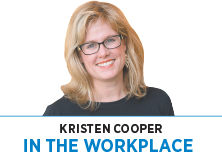 "How do you find prospective customers?" This is one of the most frequent questions I get from first-time founders, career changers I've mentored, and newbies in sales. Whether they are entering into the market-research phase of their startup or are in full-on sales mode, these seven suggestions have helped them identify more prospective customers.
Build Twitter relationships
A few years ago, Dan Makoski showed up in my Twitter feed. I visited his profile page to learn more about him. He started Project ARA at Google and designed the original Surface at Microsoft. He is an incredible designer. I sent him a note expressing how much I liked his glasses and that I was considering a haircut like his to save time (he's bald). He wrote back: "Epic!"
I continued to tell him about how The Startup Ladies was designing several prototypes and that our group wanted him to speak at a Startup Study Hall to teach us about design methodology. He did. We drew, sculpted Play-Doh, and had a blast learning how he develops prototypes. Dan is an incredible human and more than 35 people in Indy got to connect with him in a meaningful way all because of one simple tweet.
Find teachers, creators, leaders and world-changers on Twitter. Follow them. Like and share their content. Talk with them online and explore the possibilities of collaborating. They could become a client or connect you to new customers.
Sign up for trade newsletters
The first thing I do every morning is scan about 50 business newsletters, skimming articles that seem noteworthy. It takes me 20 minutes. Prospecting is easier when the information is pushed to you. In order to spend the least amount of time searching for it, begin by making a list of the experts who write about the industry you're selling to. For example, if you are selling tech, Google "tech magazines and newsletters" and you'll find a myriad of choices. Ask your colleagues what they are reading. Most important, read newsletters where potential customers are featured and share thought-leadership pieces. Then, engage with them about their article.
Read local business news
Sales teams are often structured by regions. Knowing the players and the moves they make within the location for which you are responsible will help you determine who should be on your radar. Most newspapers allow you to sign up for a free daily newsletter and will allow you access to a certain number of articles. You can purchase digital subscriptions for little money so you can be kept in the loop. Local business feeds are one of the greatest sources for potential customers and always give you something to talk about at networking events.
Collect lists
I seldom take home the tchotchke being offered as a gift at a fundraising event. However, I always take home the list of sponsors. Typically, more mature companies have the budget to allocate charitable funding or marketing dollars to sponsor events. They might be the very same companies who could be your future clients. Next time you attend a networking or fundraising event, don't forget to take home the program.
Business magazines in every industry produce valuable lists. IBJ's annual Book of Lists is a resource I've been using for years. Keep an email folder dedicated to lists and share them with your sales team regularly.
Review boards
After making the list of companies to target, dive deeper by visiting their websites; learn about the executive teams and boards. Identify who could benefit from your product or service and devise a strategy to connect with them personally in a meaningful way.
Understand title structures
You might be looking for the equivalent of a vice president of marketing; however, you can't find one. Companies are becoming more creative with titles, so you might need to look at how the company uses titles. After visiting the company website and clicking on the executive team, Google keywords used in the title along with the company name and a region. Once you find the person, send them a personal note via LinkedIn.
Join heavily networked organizations
Today, you can optimize your time by becoming a member of a group that has already developed a potential network of customers. Not only will they have a list of contacts, but you can volunteer for the organization so people see your name and have the opportunity to meet you. Chambers of commerce, professional trade organizations and private clubs like the Columbia Club and Skyline Club are great places that host valuable networking opportunities. Some of my favorite organizations include the Indy Black Chamber of Commerce, the Asian American Alliance, the Indiana Latino Institute, NAWBO Indianapolis, The Startup Ladies and Women & Hi Tech.•
__________
Cooper is CEO and founder of The Startup Ladies.
Please enable JavaScript to view this content.