Hours after police shot and killed a wanted man on the east side, Indianapolis Metropolitan Police Department leaders outlined their proposed 2022 operational budget at a City-County Council committee meeting.
"I sit here tonight hours after an officer-involved shooting, hours after a person lost their life," said Police Chief Randal Taylor at Wednesday's hearing. "When our officers fire their weapons, there is an impact. This time a life was lost."
Taylor said council approval of the budget would "reinforce" the department's work in violence reduction, data and technology upgrades, accountability, recruiting, training, and the Mobile Crisis Assistance Team.
IMPD is asking for $265 million, a $3.7 million increase from its approved 2021 budget. That's not including about $30 million for the department's pension fund, which Deputy Chief Valerie Cunningham said stays relatively constant and is reimbursed by the state.
IMPD makes up the largest chunk of the city's part of the proposed budget, at 30%.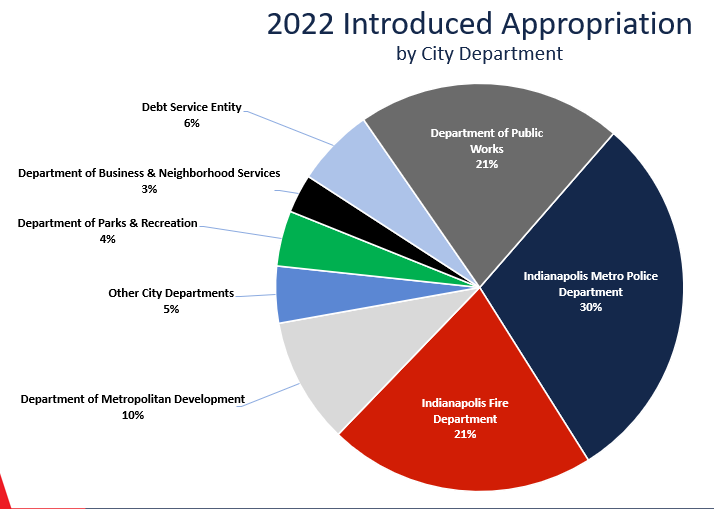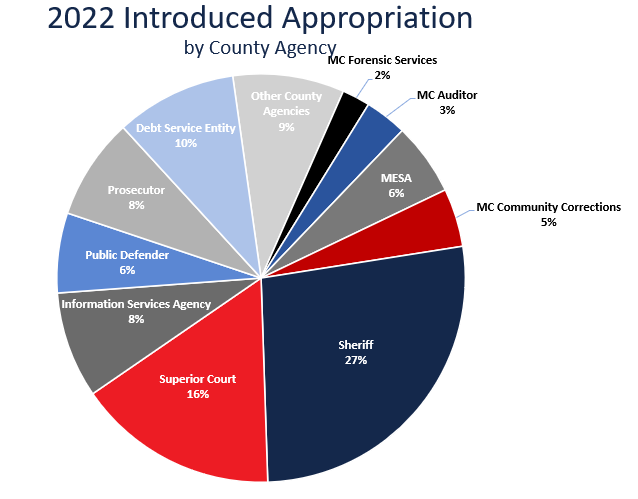 The majority of the budget, 82%, is for personnel, according to department slides.
The operational budget is in addition to federal American Rescue Plan dollars. IMPD wants to spend $19.5 million on 100 new officers over the next three years. It also plans to spend $9 million on technology, including care management software, a virtual training system, automated statement transcription, license plate readers, a gunshot detection pilot, and more neighborhood cameras.
The low-key budget introduction was in stark contrast to a grueling six-hour session last September, featuring page after page of written public comment that staff read into public record. On Wednesday, when committee chair Leroy Robinson opened the floor to public comment, there was no one to step up to the microphone. The meeting ended minutes later.
Earlier Wednesday, just after noon, Indianapolis police fatally shot a homicide suspect wanted for escape and weapons charges inside a gas station at East 21st Street and Ritter Avenue after the man pointed a gun at detectives, authorities said.
Detectives with the Indianapolis Metropolitan Police Department's Violent Crime Unit located the 33-year-old man and saw he was armed with a gun. They waited for him to leave the business before approaching him, but he went back inside. Detectives followed him inside and spoke to him before he pointed a gun at the detectives, who then shot him, police said.
No detectives or civilians were injured.
The detectives who shot the man have been placed on administrative leave. The police Use of Force Review Board will conduct a review of the shooting.
The names of the man and the officers haven't been released.
The Associated Press contributed to this report.
Please enable JavaScript to view this content.