She spent three decades delivering babies and counseling parents how to raise healthy infants.
Now, as Indiana state health commissioner, Dr. Kristina Box finds herself in the spotlight as the highest-ranking public health official in the state during the COVID-19 pandemic, which threatens to overwhelm hospitals.
She regularly appears at Gov. Eric Holcomb's side to explain the state's response to the outbreak and to translate medical jargon into plain English.
In her role, she has sweeping powers to regulate hospitals and nursing homes, inspect laboratories, oversee the health of prisoners and protect food supplies. She oversees the state's ninth-large department, with 819 employees and a $336 million budget.
But on some days, Box still sounds like a bedside physician, a carryover from her longtime role as an obstetrician and gynecologist in private practice and at Community Health Network.
"If you're sick, you should already be staying home," she said at a March 24 press conference beamed around the state, as the state's death toll from COVID-19 climbed to 12, and the number of people who had tested positive surged to 365. "Isolate yourself in the house. Separate your bathroom and bedroom from others, if possible, and consider that everyone else in your home may get sick."
Her performance in this crisis likely will be a huge factor in whether Indiana can emerge in the best shape possible, helping hospitals do their best to treat a growing influx of patients, and keeping fatalities to a minimum.
So far, she is winning praise from those who have worked alongside her, or who did her job under previous governors.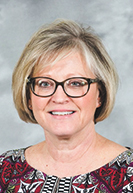 "It's a tough job, because you really want the commissioner to be a health advocate and not get embroiled in politics, and I think she is successful in doing that," said Dr. Richard Feldman, director of medical education at Franciscan Health Indianapolis who served as Indiana state health commissioner under Gov. Frank O'Bannon. "She acts and thinks like a physician and tries to do the right thing."
But some say Indiana and other states should be doing more to test the general public. In the first few weeks of the outbreak here, only a few dozen people had been tested, and the health department was urging hospitals to keep limited test supplies reserved for patients in the highest-risk categories: those with severe symptoms, the elderly, and those who have come in contact with others who tested positive.
As of of March 24, the state had tested 3,356 people, or less than 0.05% of Indiana's population.

"We need to test many, many people, even those without symptoms," Dr. Aaron Carroll, a professor of pediatrics at the Indiana University School of Medicine, wrote in The Atlantic on March 19, along with Dr. Ashish Jha, professor of global health at Harvard University.
"Testing will allow us to isolate the infected so they can't infect others. We need to be vigilant, and willing to quarantine people with absolute diligence. Because we failed to set up a testing infrastructure, we can't test that many people. At the moment, we can't even test everyone who is sick."
Peer support
Box has continued to push back publicly, stating that health providers should do "targeted testing rather than testing everyone who's sick."
And some health care providers here are taking her side. Dr. Chris Weaver, an emergency physician and senior vice president for clinical effectiveness at Indiana University Health, the state's largest hospital system, said it's difficult to test everyone who walks in the door.
"Epidemiologically, you get some answers from wide testing," he said. "But I think our inability, to this point, to test the 'walking well' is not a terrible thing."
The debate is continuing around the country. And in the process, state health commissioners are getting their day in the limelight, often appearing daily in press conferences to explain the nature of epidemics and help lead residents through the coronavirus crisis.
Some are getting rave reviews, such as Dr. Amy Acton, the Ohio Department of Health director, who appears every afternoon alongside Gov. Mike DeWine to explain the medical rationale for shutting down restaurants and gyms and imposing a shelter-at-home order.
With graphs and charts, Acton showed how "flattening the curve" was essential to helping hospitals buy time to treat patients without getting overwhelmed with an immediate surge.
Acton's easy-to-follow explanations won plaudits from Ohio State Rep. Emilia Sykes, a lawyer with a master's degree in public health, who tweeted: "Watching this press conference & it's clear that @DrAmyActon is the real MVP of Ohio's coronavirus response. She's explaining public health concepts while making it easy to understand why these interventions are necessary. She deserves ALL the credit."
The Columbus Dispatch called Acton "equal parts scientist and psychiatrist, pulling off the ability to be both wonky and relatable."
Meanwhile, some state health commissioners have gotten bad press for missteps—not only in the COVID-19 epidemic but in earlier outbreaks.
Connecticut's health commissioner, Renee Coleman-Mitchell, came under fire last year when she refused to release data on school vaccinations after a measles outbreak, or to take a public stand on the issue. Gov. Ned Lamont quickly overruled her and offered a public rebuke.
"I think I've got to talk to her," he said, the Connecticut Mirror reported. "I'm still getting to know her, getting to know the job a bit. But I need her leadership on public health issues."
'Strong team'
Unlike her predecessor and counterparts in many other states, Box, 62, doesn't have a master's degree in public health, a specialized field that studies epidemiology, community health and other topics.
But she has worked to compensate for that, said Paul Halverson, dean of the Richard M. Fairbanks School of Public Health at IUPUI and former state health director in Arkansas.
"Dr. Box recognized early on she didn't have the formal public health training," he said. "But where she recognized those gaps, she surrounded herself with people who could help provide that expertise and advice. She's built a very strong team."
Box also has cut a profile of someone who regularly talks to legislators and has shown an eagerness to testify on a raft of issues, from infant mortality to teen smoking. She has traveled the state, meeting with hospital officials and public health directors in all 92 counties.
"Dr. Box has a very hands-on approach," said Brian Tabor, president of the Indiana Hospital Association, who has served with her on several health committees and now has regular conversations with her during the COVID-19 outbreak. "She is serving as state health commissioner at a critical time, being extremely involved in the operational details and understanding everything down to the specific clinical recommendations around everything."
Box declined to comment for this article. Her press office, in an email, said she was "singularly focused" on dealing with the pandemic.
In her public appearances, Box sometimes come across as cautious and scripted, rarely departing from her prepared remarks, and often repeating the standard comments about the need for people to stay home, wash their hands frequently and avoid touching their face.
At a press conference on March 16, when the state announced its first COVID-19 fatality, she urged the public to follow Holcomb's order to avoid crowds. She said she expected to see more deaths.
"This is why that it is absolutely imperative that Hoosiers follow the governor's guidance," she said. "Stay informed. Please avoid gatherings of over 50 people, and most important, stay at home."
Drawn to medicine
Box has been surrounded by the health care system her entire life. Her father was a dentist, and she became hooked on medicine while studying systems of the body during sixth-grade health class.
"I thought it was absolutely the most interesting thing I had ever done," she told IBJ in 2013.
She studied biology at Indiana University in Bloomington and earned her medical degree from the IU School of Medicine in Indianapolis. After graduating, she completed a four-year residency in OB/GYN at IU.
"It had a great mix of surgical intervention and the ability to be there at one or two of the most important days of a patient's life, helping them to bring their baby into the world," she previously told IBJ.
After residency, she started with Community Health Network in 1987, becoming its second female OB/GYN. Along the way, she and her husband, a retired ophthalmologist, had four children of their own.
Over three decades, she has helped thousands of moms deliver babies, guiding them with advice on maternity and infancy.
From 2015 to 2017, she served as physician lead for Community Health Network's Women's Service Line, developing partnerships with area children's hospitals to improve care and decrease health care costs. She became part of a team dedicated to the treatment of substance-use disorder in pregnancy at Community Hospital East.
She has also served on Indiana's State Task Force for Neonatal Abstinence, which pushed efforts to help newborns who are exposed to opiate drugs in the womb.
Box was appointed state health commissioner in September 2017, after her predecessor, Dr. Jerome Adams, an anesthesiologist, was tapped as U.S. surgeon general.
Out of spotlight
Box's role in the public spotlight stands in sharp contrast to how she has spent most of her career.
Before the epidemic swept Indiana, Box had a fairly low profile, other than to host occasional press conferences on infant mortality, smoking and other health issues.
"She doesn't need a high profile," said Maureen Greer, project director for the Indiana Perinatal Quality Improvement Collaborative, an alliance of hospitals and health advocates that works to improve the state's maternal health. "She's not a person who wants the limelight or who wants to be in front of the cameras. She is much more of a doer. She knows what needs to be done and gets it done."
Greer added: "I've worked with five different commissioners over the last number of years and there's no one I would rather be working with right now than Kris Box."
Behind the scenes, it is difficult to know what advice she is giving Holcomb and his senior team. Governors normally take advice from a wide range of sources, both inside and outside government.
But Holcomb clearly is taking the pandemic seriously, ramping up warnings before issuing a stay-at-home order Monday, indicating that Box has been successful in laying out the gravity of the situation.
At a press conference on March 26, a reporter asked Holcomb who he was listening to for advice on whether to adjust or extend his orders for Hoosiers to stay at home.
Holcomb pointed to Box, then said: "I will be listening to doctors, physicians, scientists, law enforcement, the folks that are on the ground in the state of Indiana, and we'll, adjust accordingly."
Box's longtime associates say she is decisive, grounds her actions in medical evidence and is devoted to public health.
Dr. Mary Pell Abernathy, an associate professor of clinical obstetrics and gynecology at IU School of Medicine who specializes in high-risk pregnancies, called Box a "very astute public health leader."
"She is very direct," Abernathy said. "She usually can sum up the problems very quickly and succinctly. And she can develop the right kind of plans or knows the questions to ask."
Box's mission, when she was appointed, was to lead the state's efforts to curb infant mortality—one of the highest in the nation—as well as attack the opioid epidemic, reduce smoking rates and curb other unhealthy behaviors.
Along with other health leaders around the state, she pushed for legislation to raise the smoking age. She rolled out an obstetrical nurse-navigator program to help moms figure their way through a complicated health system, with the goal of making sure they got all the information and treatment they would need.
"Dr. Box came in to implement the governor's focus on infant mortality and maternal mortality and also addressing substance abuse and she's done those incredibly well," said Tabor of the Indiana Hospital Association.
And now she is dealing with a crisis she never imagined she would face, making sure hospitals are ready for a surge in COVID-19 patients. In recent press conferences with the governor, she said the state has been working to help hospitals get enough equipment and supplies—including masks, gowns and ventilators—to deal with a likely influx of patients.
She recently disclosed that state prisoners are helping make masks and gowns. She heaped praise on drugmaker Eli Lilly and Co. for helping take and test patient samples. She lauded the other manufacturers that offered to convert their operations and provide other medical equipment.
Throughout, she has pushed a constant message: Hoosiers need to work together to defeat the coronavirus.
"If we all take this seriously and we all do our part," she said, "we can slow the spread of the virus and save lives."•
Please enable JavaScript to view this content.