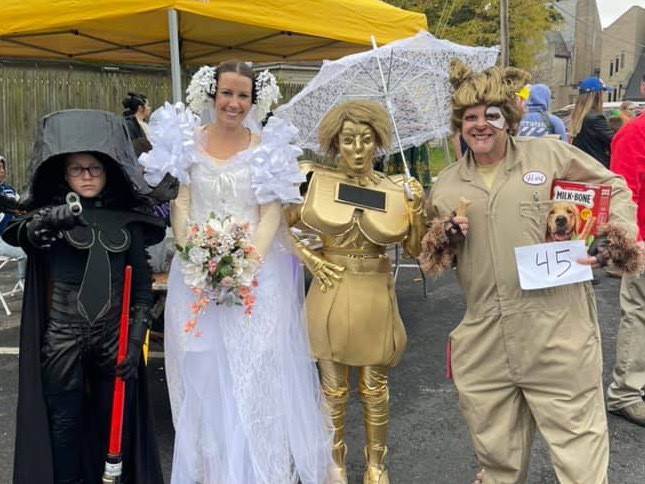 Organizers of the Historic Irvington Halloween Festival brought back the event's street fair in 2021 and discovered how much it was missed the previous two years.
An estimated crowd of more than 65,000 people showed up to check out vendors, a costume contest, battle of the bands and parade, setting a new attendance record for the street fair that had been canceled in 2020 because of the pandemic and washed out in 2019 because of rain.
"Halloween is a tradition here and it's a huge part of the neighborhood spirit," said Kami Nielsen, who's serving as this year's assistant festival chair. "We had neighbors from near and far and folks from across the city who were so excited to participate in the day."
The 76th annual Halloween celebration kicks off Saturday with a 1980s-themed dance party at Irvington Event Center, 6767 E. Washington St. The Halloween festival ball has been on hiatus since 2019 because of the pandemic.
With all components of the festival returning this year, Nielsen said it's reasonable to expect another attendance record will be established at the Oct. 29 street fair that takes over a handful of blocks of East Washington Street, Bonna Avenue and South Audubon Road.
Founded in 1870, Irvington is named after "The Legend of Sleepy Hollow" author Washington Irving. The neighborhood hosted its first Halloween festival in 1927, and the event's modern version debuted in 1946.
"I would say it has grown in intensity since I was a child," Nielsen said. "It's what people know of when you mention Irvington."
A third-generation Irvingtonian, Nielsen spent her childhood years in the neighborhood. Nielsen remembers winning a Halloween costume contest in fourth grade when she and a friend dressed as a clothes washer and dryer.
In 2019, Nielsen and her husband purchased a house in the neighborhood and she became involved with the Irvington Community Council.
This year, she's assisting Carrie Yazell, the Halloween festival chair, in planning events such as the "Spooky Organ Concert" on Sunday and the seance-themed "A Night of Spirits" on Tuesday.
The Irvington Event Center is a new venue for the festival ball, where Indianapolis party band Living Proof will provide the soundtrack for the dance's "Ghouls Just Want to Have Fun" theme.
"We're expecting a lot of '80s prom dresses," Nielsen said.
Also on deck at the Irvington Event Center: an official after-party  from 6 p.m. to 11:30 p.m. on Oct. 29.
For early risers, the festival's 5K Vampire Run will return to the streets of Irvington at 9:30 a.m. Oct. 29 after being restricted to Pennsy Trail in 2021.
And for the first time, 21-and-older Halloween enthusiasts can sign up for bus tours to view Irvington homes participating in the annual house decorating contest. Nielsen said the festival partnered with Whiteland-based Top Shelf Tours to provide 30- to 45-minute bring-your-own-drinks excursions.
For a complete festival schedule, visit irvingtonhalloween.com.
Please enable JavaScript to view this content.