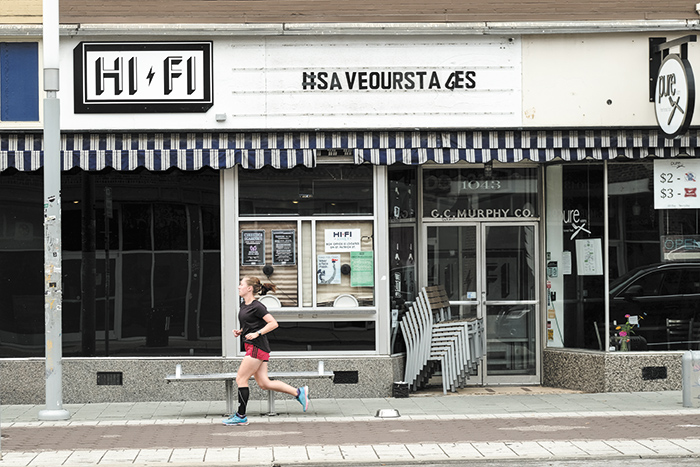 Some independent music venues across central Indiana are struggling—even in danger of shutting their doors for good —if they don't get help to survive the pandemic that has rendered them largely silent.
Popular spots like The Jazz Kitchen in SoBro, Hi-Fi in Fountain Square and The Pavilion at Pan Am downtown are either closed or trying to find outdoor or socially distanced events that can keep cash coming in the doors. So far, those venues are surviving.
But others might not be so lucky.
That's why about 60 entertainment stages, bars and studios across Indiana have joined forces in a new association to fight for government assistance they say is needed to survive. Organizers say many members may be only weeks from having to close permanently.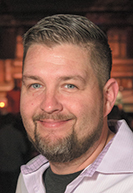 "There are a lot of industries that are able to weather this," said Josh Baker, executive director of the not-for-profit Indiana Independent Venue Alliance and owner of Hi-Fi.
"If you own a restaurant and you're open at 50% capacity, you're still open, right? You're still generating revenue," he said. But small venues "haven't been able to do that for a while—our timeline is literally a month."
The group is looking to U.S. Sen. Todd Young, R-Ind., for help.
Young and U.S. Sen. Michael Bennet, D-Colorado, are co-authoring the RESTART Act, which is meant to give small and midsize businesses a six-month runway to recovery. The bill was introduced in the Senate in late May, but its provisions have been picking up big-name support of late as the White House and congressional leaders try to negotiate the next pandemic relief package.
The legislation would offer loans to cover six months of payroll, benefits and fixed operating expenses to businesses that have fewer than 5,000 employees and have lost at least 25% of their income because of the pandemic. A share of each loan would be forgiven based on total revenue losses for 2020. The remainder would be repaid over seven years, with no interest due in year one and no principal payments for two years.
The timetable would likely help dozens of Indianapolis venues continue operating—or at the very least, pay their bills—until early next year.
In recent weeks, some venues have been forced to close their doors and furlough workers. They include the Catered Cabaret Theatre in Greenwood, which opened in 2018. The venue reopened alongside other entertainment attractions in June but managed to sell only a few dozen tickets in the weeks that followed. The Vogue has also closed until at least September, after having to shift dozens of events to other dates or cancel them outright.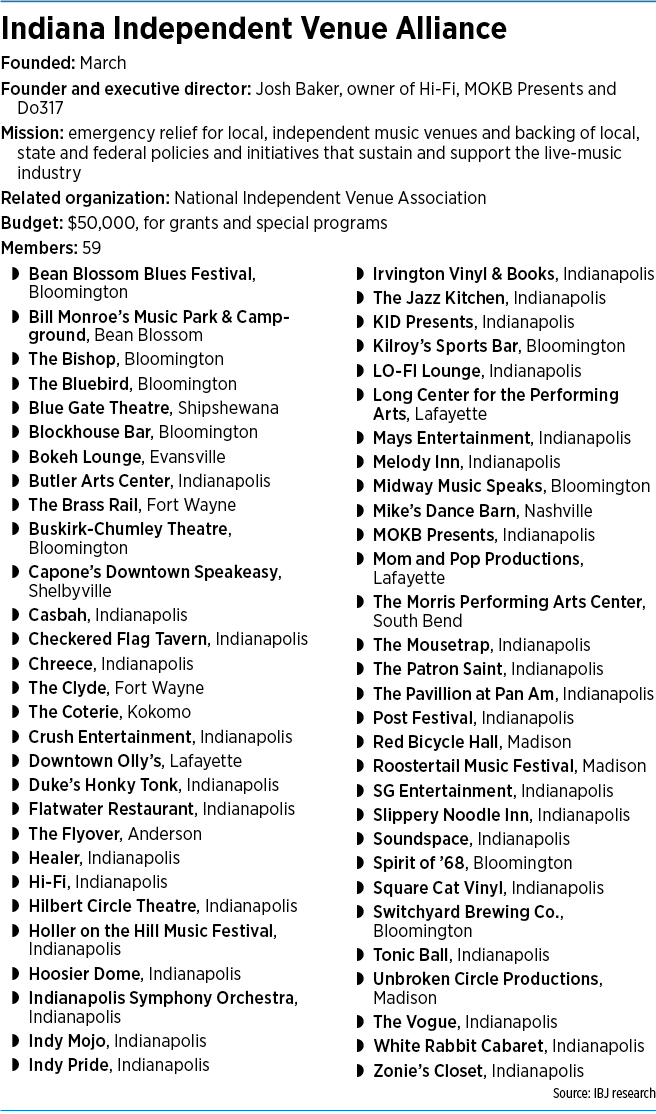 'Never asked for a handout'
The closures, Baker said, are indicative of an industry that is "kind of in turmoil at the moment."
The Indiana alliance raised nearly $50,000 on its own for its launch, but also submitted a $500,000 grant request to the Indiana Economic Development Corp. and received $125,000 from the city of Indianapolis. The money will be used for grants to help businesses cover bills and payroll over the next several months.
But without long-term help, the state's independent venues fear their industry will take a severe hit. An affiliate organization, the National Independent Venue Association, expects that upward of 90% of U.S. music venues could permanently close within two months without help or a path to fully reopen.
It says the economy could lose $8.9 billion if the rest of 2020 remains dark for independent venues, The group also supports a bill called the Save Our Stages Act from Sens. John Cornyn, R-Texas, and Amy Klobuchar, D-Minn., that would provide targeted funds for music and performance venues.
"Our industry has never asked for a handout," Baker said. "So, it's a hard thing for us to do, saying we need help."
Young and Bennet have in recent days stepped up their push for passage of the RESTART Act through appearances on cable news channels, while various organizations are also offering support. The National Association of Theatre Owners and more than 100 CEOs of prominent businesses around the country have pushed for the legislation, which, as of Aug. 4, had bipartisan support from 48 senators.
But even if the bill or its provisions become law, Baker said, many venues could still struggle to stay afloat, particularly those without the ability to hold concerts and events outdoors.
For now, many performers and venue owners are hesitant to hold indoor performances, even with safety precautions like masks in place.
"The recovery time for the industry is 2022 at this point, so, as we're thinking about what we're going to do right now, this year, we're also thinking about what to do next year," Baker said.
Baker's Hi-Fi, which relies on ticketed events for about 70% of revenue, has seen almost no income since the virus began and has rescheduled or called off about 200 shows.
But it recently began holding outdoor, socially distanced concerts on a lot adjacent to its 1043 Virginia Ave. building. It's one of dozens of locally operated venues granted permission to reopen under a cultural attraction designation—rather than a bar designation. The state is applying the cultural attraction label to small venues that have a significant amount of revenue from ticketed events.
While the state still requires venues to limit capacity to 25%, it's a step in the right direction, Baker and others say.
David Allee, owner of The Jazz Kitchen, said he is also hopeful funding will come through for independent venues. Ticket sales account for less than half of The Jazz Kitchen's revenue—it's mostly food and alcohol—but live music is what draws customers.
"I wouldn't say that I'm relying on [federal dollars], but it would certainly be what's needed to help make us whole," he said. "With business pretty much coming to a halt indefinitely, it puts us at an exposure" as a business.
The Jazz Kitchen is expected to reopen in September and is weighing its options for outdoor performances, although it can only accommodate about 40 people with current restrictions.
Allee said The Jazz Kitchen expects to be able to ride out the rest of the year, even if the situation with live entertainment does not improve. In fact, he's already looking ahead to bookings for 2021.
'Zero income coming in'
The Pavilion at Pan Am, the city's largest indoor independent venue, is also exploring its options to host events in the months ahead.
The Pavilion, owned by a trio of local businesspeople, annually hosts weddings, trade shows and concerts that draw up to 3,000 people. But it has been dark for five months, leading to the loss of more than $3 million in anticipated revenue.
"We're paying all of our bills," said Cebronica Luft, a co-owner of the venue, "but we have zero income coming in."
The Pavilion can survive in current conditions another six months, making it one of the lucky few that has more than a couple of months of cash reserves. But, she added, "it's a dire situation" for all venues, since most touring music groups have postponed or canceled shows through the rest of 2020 and even as far as next spring.
"We don't know when artists are going to be willing to travel again, when sponsors are going to be willing to spend their money on these types of experiences," she said. "And we don't know when consumers are going to feel more trusting and open-minded about coming back to events."
Even with the uncertainty, Luft said, the Pavilion plans to hold a handful of concerts before the end of the year, with mask requirements and social distancing. The max capacity will be about 500 people. And ticket prices might have to be reduced, she acknowledged, because the experience will be different from a normal concert.
She said the Pavilion's ownership is also exploring ways to pivot to other potential streams of revenue, maybe by using the plaza space directly outside its doors for food festivals, outdoor trade shows, movie nights and other activities.
"We're pretty open to any type of experiences that we can think of," she said, including working with smaller music venues don't have available outdoor spaces.
Luft also said that groups looking for indoor gathering spaces should consider those venues, rather than hers, to host events, because those businesses are in "a much tougher spot" than the Pavilion is.
They're "at risk of not being here on the other side of this—even two, three weeks from now, for some of them," she said.
'Less and less promising'
Some of those locations are eyeing reopening in the weeks ahead to bring in some revenue. Among them is the Slippery Noodle Inn, 372 S. Meridian St. The bar—the oldest in the state—is expected to reopen Aug. 20, for lunch, dinner and music four days a week.
Hal Yeagy, whose family has owned the Slippery Noodle since 1963, said opening will give his restaurant more of a chance to stay in business, even if it's on a limited basis.
"We need help," he said. "Every single live music venue out there will not be able to survive with the income that we're going to be able to generate until there is a vaccine that people are comfortable [with] and [feel] safe taking, and we really start seeing drops in cases and deaths."
Yeagy said most of his income is from food—specifically lunch and dinner crowds from nearby Eli Lilly and Co., Rolls Royce and other downtown employers that have said they are not returning to their offices until January at the earliest.
But the venue also offers live blues music most nights of the week—something Yeagy said the Slippery Noodle will ease back into. He said he's working with mostly local and regional blues groups to bring some life back to the bar.
He said he's hopeful help will come soon but isn't optimistic about those prospects.
"I'm just hoping that, between our food and our live music, that we're able to bring in enough to at least pay the bills," he said. "But every day, it sounds less and less promising, as to us actually getting some sort of additional help, because everything just keeps getting pushed further and further out."•
Please enable JavaScript to view this content.