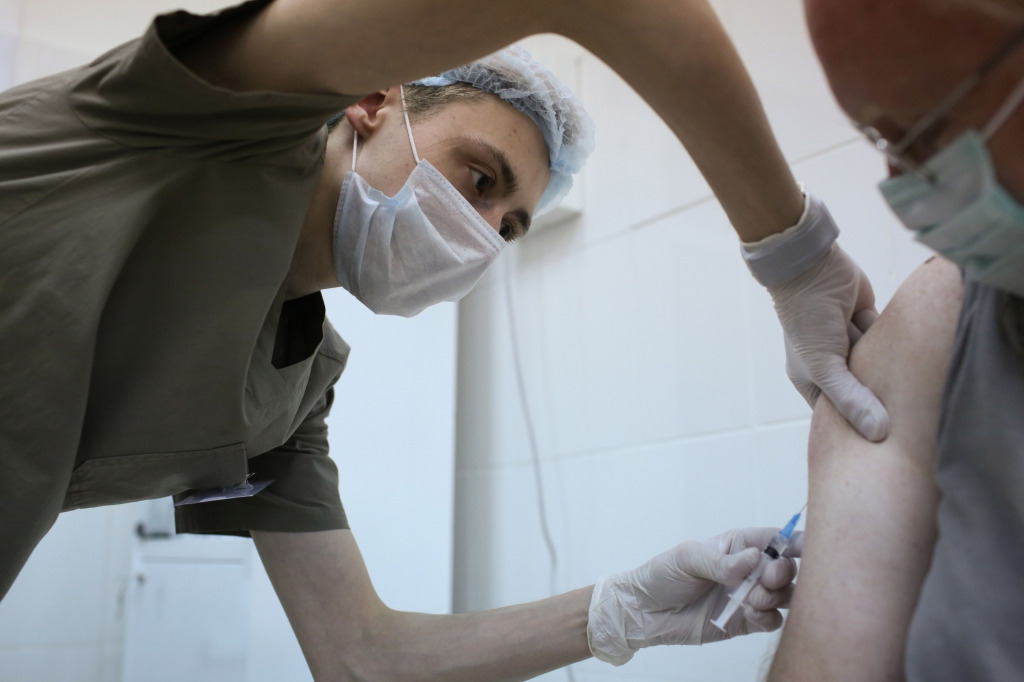 No vaccine for COVID-19 has yet been approved by federal regulators, but Indiana health officials said Wednesday they expect to get an initial shipment of the first available vaccine by mid-November, and perhaps a second vaccine by December.
The state's health commissioner, Dr. Kristina Box, said that federal vaccine coordinators have told her to expect the shipments, but did not say how many or give a more specific timetable.
The situation remains murky, however, because numerous drugmakers and research institutions are scrambling to develop a vaccine, but none have yet won approval from the Food and Drug Administration. Some have applied for early-use authorization, a designation that allows the government to  allow unapproved medical products to be used in emergencies when there are no available alternatives. But the government is still reviewing those applications.
Box said she believes the first vaccine to come will be from drugmaker Pfizer Inc., which is still in late-stage clinical trials and is being tested on more than 40,000 people. The vaccine requires two doses about 28 days apart and must be stored at minus-70 degrees.
"We expect we would realistically have that vaccine in the state as soon as mid to late November," Box said. "So we are working very closely [with federal health officials] to make sure we have identified where this vaccine can be delivered, where we have the ultra-low cold storage, and really starting to allocate where we will have vaccination sites."
The second vaccine that Indiana could receive, she said, is being developed by biotech Moderna. The company announced last week it had enrolled 30,000 participants for its late-stage clinical trial, an important milestone for development of the vaccine.
In the case of both drugs, Indiana officials do not know how much they will receive, although they expect the supply to be limited at the beginning.
"This is a rapidly developing situation, so a lot is subject to change," Box said. "But I want to emphasize that a widely available vaccine to all people of all ages is still months away."
Indianapolis-based drugmaker Eli Lilly and Co. is not developing a vaccine, but is focusing on an antibody treatment for people who have been infected with the virus. The company said Wednesday morning it has agreed to supply 300,000 vials of its experimental treatment for COVID-19 to the U.S. government for $375 million, provided that the drug, called bamlanivimab, gets emergency use authorization by the FDA.
The announcement came two days after the National Institute of Allergy and Infectious Diseases halted a study of the drug that it had sponsored for hospitalized patients, saying it found a low chance that the drug would prove helpful for that patient group.
Lilly noted that three other trials for the antibody therapy are continuing: for patients with mild to moderate symptoms, for recently diagnosed patients in ambulatory, non-hospital settings, and for prevention (or prophylaxis) in staff and residents in long-term care facilities. Those all are hefty markets, with big potential for medical treatments.
Indiana officials last week released a first look at the plan for distributing a COVID-19 vaccine, whenever one becomes available. It indicates a phased approach will be used to dole out the vaccine. Health care workers will be the first to get inoculated. That group includes employees at hospitals, long-term care facilities, outpatient facilities and pharmacies, as well as emergency medical service providers and anyone working with COVID-19 diagnostic and immunization teams.
Vulnerable groups, such as people 65 years or older and those with underlying health conditions, will follow.
The next phase of Indiana's plan focuses on mitigating the virus' spread by vaccinating people who can't work from home, including teachers, food service workers, firefighters and police officers.
In the third phase, health officials anticipate distributing the vaccine publicly to all other Hoosiers. The timeline for doing so, however, remains unclear.
All states were required to submit similar draft distribution plans to the Centers for Disease Control and Prevention.
Please enable JavaScript to view this content.