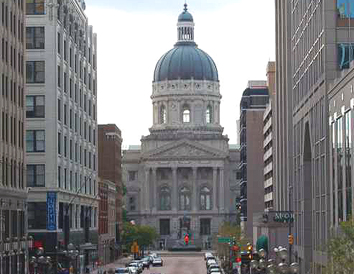 Two important pieces of legislation aimed at addressing high health care costs passed through one chamber of the Indiana General Assembly on Tuesday.
The Indiana House approved House Bill 1004, which would prohibit a medical provider from charging a patient more than the patients' health insurance in-network rate if the facility where the procedure took place was in-network, by a vote of 99-0.
Also on Thursday, the Indiana Senate approved Senate Bill 4, which would take steps toward creating an all-payer claims database by establishing an advisory committee that would be tasked with researching and making recommendations on the creation of such a database.
Rep. Ben Smaltz, R-Auburn, said his bill, HB 1004, is an attempt to prevent a patient from receiving a surprise bill from an out-of-network provider who practices at an in-network facility.
But the legislation might not apply to individuals covered by self-funded plans, because those are regulated by the federal government. Health insurance experts estimate 43% of Hoosiers are on self-funded plans.
Rep. Terri Austin, D-Anderson, said she doesn't believe the legislation fixes the surprise billing issue, because of the coverage gap, but she still voted for it.
"I acknowledge up front this is a very, I'm not going to say dangerous, but it is a bill that is very difficult to vote against," Austin said.
Smaltz said even if the legislation doesn't apply to health care plans regulated by the federal government, it is still worth pursuing.
"You have to do what you can, where you can, for who you can… and don't get lost in it doesn't cover everybody," Smaltz said.
Rep. Matt Lehman, R-Berne, said he considers the legislation a "work in progress."
"Does it get us the whole way there? No, but this is a darn good bill," Lehman said.
The legislation also offers an exception, allowing health care providers to charge the out-of-network rate if the patient is notified of the potential cost at least five days in advance of the procedure and agrees to it in writing.
"Government should never stand between a willing buyer and a willing seller," Smaltz said.
Meanwhile, the Senate voted 47-3 on SB4, with Republican Sens. Victoria Spartz of Noblesville, Phil Boots of Crawfordsville and Blake Doriot of Goshen voting against it.
Sen. Ed Charbonneau, R-Valparaiso, said his bill to create an all-payer claims database would provide valuable information for consumers, businesses and researchers.
The database could potentially include data on the cost of certain procedures at specific medical facilities and the quality of care for those procedures at each health care provider. The goal would be to encourage Hoosiers to shop around for the best price and potentially save money for the individual, employer and insurer.
But in the more than 20 states that have such databases, evidence has not been found to suggest that health care costs have decreased.
The level of transparency and depth of information an all-payer claims database could provide is also questionable. That's because the state cannot require companies on self-funded insurance plans to provide information to the database.
Even if the bill makes it to Gov. Eric Holcomb, who has said he supports creating such a database, it would take years to plan and develop it.
The Indiana House also has a bill that would establish an all-payer claims database that could be voted on this week, and the Indiana Senate has a bill that attempts to end surprise billing that could be voted on this week. Both of those measures could still have more amendments before final votes are taken in the originating chambers.
The deadline for House bills to be voted on is Monday, and the deadline for Senate bills is Feb. 4.
Please enable JavaScript to view this content.