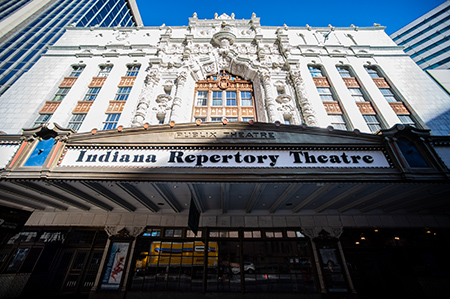 The Indiana Repertory Theatre on Friday filed a lawsuit against its insurer, after the firm refused to cover a "business interruption" claim tied to the coronavirus crisis.
IRT, the state's largest not-for-profit professional theater, says in the lawsuit that The Cincinnati Casualty Co. has improperly claimed the outbreak is not included in its lines of coverage, despite the "all risks" policy held by the theater containing broad protection.
The filing was made in Marion Superior Court.
Last week, IBJ reported the theater expected to lose about $1 million in revenue from a prolonged closure of its downtown complex. The group recently canceled the remainder of its 2019-2020 season—about 70 performances.
Generally, the theater's policy provides for losses suffered in the event the not-for-profit must close its doors for a prolonged period, according to IRT. That occurred in late March, when Gov. Eric Holcomb ordered all non-essential businesses to temporarily close to curb the spread of the novel coronavirus.
"All the IRT is asking is for the help its insurer promised to provide," attorney George Plews said in written remarks. "Many insurers like Cincinnati are refusing to pay claims saying there must be physical damage to the property. This just isn't true. Policies say physical loss or damage. Insurers are abandoning policyholders—like the IRT and its employees—in this great time of need. It's tragic."
Plews is a partner at Plews Shadley Racher & Braun, the firm representing the IRT. Peter Racher, a member of IRT's board, is also a partner with the firm and is involved in the case.
In its filing, IRT claims that the insurer had an opportunity to include a virus exception in its coverage before the policy was finalized, but failed to do so.
"If Cincinnati had intended to exclude coverage for loss due to a virus, it could have included a virus exclusion," the filing said. "Such an exclusion was available to Cincinnati when it created the form it sold to the IRT. Cincinnati included no such exclusion."
The insurer did not immediately respond to IBJ's request for comment on Tuesday.
Suzanne Sweeney, managing director of IRT, said the closure has resulted in layoffs, furloughs or pay cuts for more than 100 full- and part-time staffers, as well as actors, directors and designers.
It once expected to have a $30,000 surplus when its fiscal year ends June 30. Now, the organization—which has a $7.4 million operating budget—expects a deficit of up to $500,000.
The lawsuit asks the court to compel the insurer to cover the IRT's losses and pay the amounts owed under its policy, along with compensatory damages and attorney and legal fees.
"We really need the help," Sweeney said. "It wiped out our entire spring season. This is why we bought insurance—to protect the theater and our talented staff in emergencies."
Please enable JavaScript to view this content.