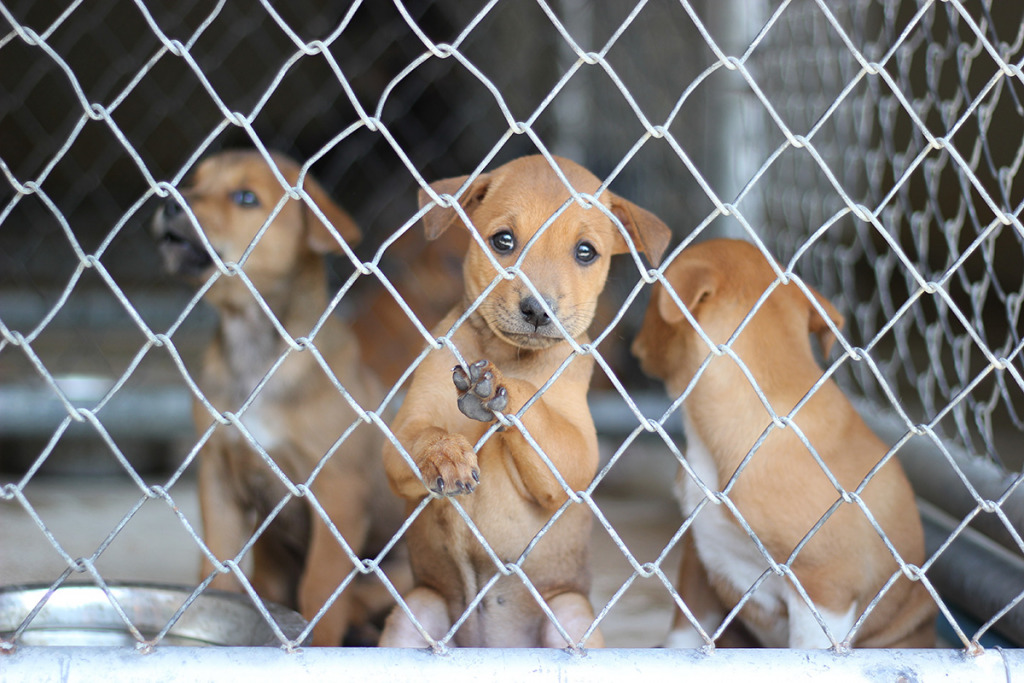 Indiana's senators approved a bill Wednesday blocking cities and towns from banning the retail sale of dogs by state-approved sellers. It was a win for a frustrated national pet store chain but went against the wishes of animal welfare advocates.
The 29-18 vote was close for a chamber that usually has larger margins. The bill heads to the House for further consideration.
Representatives from Petland, the nation's largest chain of stores that sell puppies and other pets, testified in favor of the bill.
If approved, the legislation would interfere with a proposal banning dog, cat and rabbit retail sales—introduced just this month—making its way through the Indianapolis City-County Council.
"This bill preempts local control and interferes with market economics," said Sen. Fady Qaddoura, D-Indianapolis. "… In this instance, the market is working. Communities that like to have these pets for sale from puppy mills, they're doing it. And communities that do not like it, it has been banned."
Ordinances in communities like Crown Point, Columbus, Bloomington and Carmel prevent pet shops in those municipalities from selling dogs, and sometimes other animals, sourced from breeders and brokers. Instead, under those local ordinances, pet stores can only collaborate with animal care or rescue organizations to show adoptable pets.
Senate Bill 134 wouldn't override local ordinances in those cities because they were passed prior to Jan. 1, 2023.
The legislation would originally have taken effect at the beginning of 2024, but bill author Sen. Blake Doriot, R-Goshen, said that once the draft was public, communities "rushed in to ban the sale of dogs, thereby restricting free commerce." The deadline was moved a year earlier, but still grandfathers bans adopted earlier.

New standards
The bill would introduce new quality standards for pet stores to meet—if not, local ordinances passed even after the cutoff would still apply.
A pet store would have to source its dogs from dog brokers and breeders that are:
Registered with Indiana's Board of Animal Health;
Certified by the U.S. Department of Agriculture with a clean record for at least two years;
Certified by a national "science-based" breeder standards program; and
Audited by an independent firm following specific international standards.
A pet store would also have to tell customers full, fee-inclusive prices, information on vaccinations and other medical treatments, breeder or broker information and other basic information on dogs for sale.
And a pet store would have to pay up for consumers who unknowingly buy sick or dying dogs. Customers could return the dogs for full refunds, exchange them or get reimbursement for medical expenses.
"If the pet store meets or exceeds these standards, their business is protected from local regulations," said Doriot, who maintains that the bill would still let communities crack down on abusive puppy mills while freeing compliant sellers to do business.
Not enough
Some opponents wanted more.
"I have received multiple calls from constituents, animal rights activists, that have extreme concern about the lack of safeguards in this bill on … ensuring health and safety for animals," Sen. Eddie Melton, D-Gary, said.
Multiple advocates testified in committee that shelters are overflowing with adoptable dogs.
But Jean Leising, R-Oldenburg, said the bill is about "choice," adding that people who want to know dogs' histories or want specific breeds may live too far from breeders.
"Give Grandma a choice," she said. "Because grandma might not be able to travel all the way down here … to select that little puppy that she always wanted."
Please enable JavaScript to view this content.