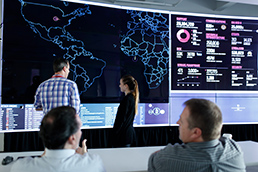 The Indiana University Board of Trustees recently approved 12 new degrees across its campuses, including eight offered online.
At the IU Bloomington campus, the degrees include a bachelor of science in cybersecurity and global policy. The degree will be a collaboration between the School of Informatics, Computing and Engineering, and the Hamilton Lugar School of Global and International Studies.
At the IU South Bend campus, a bachelor of science and a bachelor of arts in informatics and information media arts have been approved. Curricula for both degrees include courses in informatics, new media and world language.
At IUPUI, a master of science degree in global health and sustainable development was approved.
The other eight courses approved are six master's and two bachelor's degrees offered through IU Online. They include master of arts degrees for teachers across disciplines, a master of science for teachers in educational technology, a bachelor of arts in sustainability studies, and a bachelor of science in data science.•
Please enable JavaScript to view this content.