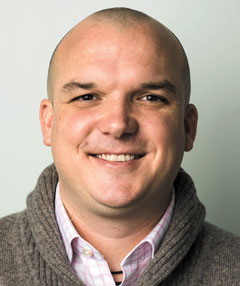 Indianapolis-based startup XR Technologies has just received Indiana State Board of Education approval to offer a licensure program for math teachers—and the company sees big growth opportunities ahead as a result.
"We believe this is a national opportunity," said Kevin Berkopes, XR Technologies' co-founder and CEO.
XR Technologies will launch its first licensure cohort in June, giving teachers a way to earn their Indiana teaching license while working in the classroom—potentially a quicker and less expensive route than enrolling in a university teacher training program.
"It's hopefully something that can really help solve a problem for a lot of our school partners and the state," Berkopes said.
XR Technologies, which launched in 2020, offers what it calls "math-department-as-a-service" to Indiana schools that need math teachers. Schools can hire XR Technologies to provide not only in-classroom instructors but also virtual tutors, as well as the technology and curriculum support for those instructors.
The company, whose headquarters is in the Haughville neighborhood just west of downtown Indianapolis, has about 50 employees. About 80% of them are classroom teachers working around the state. The other 20% is made up of company management and those who work as virtual instructors.
Berkopes is the founder and principal of Indianapolis-based Crossroads Education, which was established in 2016 as an incubator for education technology initiatives. XR Technologies is one of the companies to launch from that incubator.
Berkopes said the idea for XR Technologies came out of the pandemic, when schools were seeing a large number of their teachers resign or retire, worsening an existing shortage.
"There's a crisis nationally of a shortage of teachers—especially in mathematics," Berkopes said.
XR Technologies hires teachers—it calls them coaches—who have a bachelor's degree and may be looking to enter the teaching profession from some other career. The teachers work at public, private and charter schools around the state teaching students in the classroom, though they are actually employed by XR Technologies.
XR Technologies also developed technology that helps its teachers with lesson planning, grading and student assessments.
The company's teaching staff is currently educating more than 2,000 students at 15 middle schools and high schools around the state.
Until now, XR Technologies has hired teachers, then partnered with a university to help those teachers obtain their Indiana license—the standard credential for career educators. But this month, the Indiana State Board of Education approved XR Technologies to begin offering a licensing program for math teachers, meaning that the company's teachers can pursue a teaching license while working, without the need to enroll in an outside program.
Depending on a teacher's background, Berkopes said, teachers might be able to complete their licensing requirements in as little as six months, as compared to the 18 months or more it might take through a traditional university program.
Berkopes said Indiana's licensure program is reciprocal with 47 other states. That means someone who earns an Indiana teaching license can use that credential to secure a license in most other states with minimal additional requirements.
This fact, Berkopes said, will allow XR Technologies to scale its program beyond Indiana's boundaries. He said the company is already in talks with five other states for pilot projects.
By the time the 2022/2023 school year begins in August, Berkopes said, XR Technologies expects to have teachers in 35 schools working with close to 4,000 students—including some outside of Indiana.
XR Technologies also hopes to see some growth within Indiana from its participation in the state's Student Learning Recovery Grant program.
Created in 2021 by the Indiana Legislature, the grant program allocates $150 million for student learning acceleration programs around the state in the areas of literacy, math and college and career readiness. XR Technologies was awarded $4.6 million from the program.
When XR Technologies lands a contract with an Indiana school, Berkopes said, the grant funding can be used to defray some of the cost to the school. The idea is to incentivize schools to work with XR Technologies, and other grant recipients, by making it less expensive for schools to do so.
Longer term, XR Technologies is also looking at expanding into other subject areas. It began with math because it's a critical shortage area for Indiana, but it's now evaluating other areas such as computer science or school administration.
But Berkopes said the company hasn't made any decisions yet on potentially expanding beyond math instruction. "We want to be the best at math, first."
Please enable JavaScript to view this content.