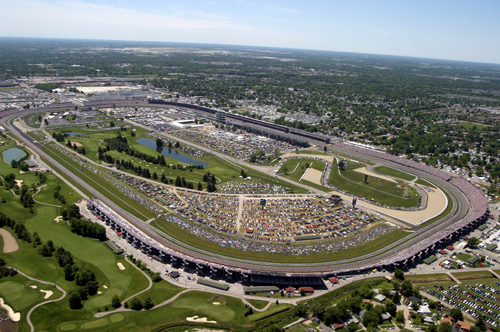 Indianapolis Motor Speedway is expanding its race schedule for 2023, with the return of an International Motor Sports Association event for the first time since 2014.
The IMSA on Friday announced it will hold the Battle on the Bricks at IMS from Sept. 15-17 as part of its WeatherTech SportsCar Championship series. The weekend will culminate with a two hour-40 minute championship event on the 14-turn, 2.439-mile road course on Sunday, Sept. 17 that will be broadcast on NBC.
Since acquiring the track in early 2020, Penske Entertainment Corp. owner Roger Penske has expressed interest in reviving the relationship with the Daytona Beach, Florida-based IMSA—among others—with his sights set in particular on an endurance race that would last anywhere from six to 10 hours.
IMSA said it plans to return to the track in 2024 and 2025 for yet-to-be-disclosed longer endurance races.
"There has been mutual interest and many conversations between IMSA and IMS leadership for quite some time to bring our brand of premium endurance sports car racing back to the Speedway and our collective fans," IMSA President John Doonan said in written remarks.
"As we launch an exciting new era in 2023 and introduce GTP as our top category of prototypes alongside many of our other successful categories and sanctioned series, the timing is right for a full weekend of IMSA action in Indianapolis and on NBC next fall."
IMSA has two classes of vehicles, each with its own subset of classifications. Prototypes are unique, purpose-built vehicles that utilize the latest technology, while Grand Touring cars are based on road-ready production models. About 18 different automotive manufacturers participate in the organization's various rungs.
The Indianapolis race weekend will feature multiple IMSA races and other events, including the IMSA Michelin Pilot Challenge, a 4-hour race featuring Grand Touring race vehicles.
Fans will receive access to the garage area throughout the weekend and will be able to camp in the IMS infield.
"IMSA features some of the most evocative manufacturers and machines in global motorsports, so a return to IMS is a perfect fit for our loyal fans," IMS President Doug Boles said in written remarks. "We can't wait to see exciting new GTP prototypes compete on the road course in yet another full weekend of action at the Speedway, complete with great racing in other classes and the Michelin Pilot Challenge."
Spectators will be permitted to camp at the racetrack as part of the event weekend, including on the infield. IMSA also offers extensive access to garage areas during race weekends—something it said it plans to continue at IMS—along with access to the car grid prior the command for drivers to start their engines.
IMS last hosted an IMSA event in 2014, with co-drivers Christian Fittipaldi and Joao Barbosa winning the Brickyard Grand Prix. The series' first race at the speedway, a three-hour Grand Am event in 2012, was won by Starworks Motorsport co-drivers Alex Popow and Sebastien Bourdais.
Please enable JavaScript to view this content.