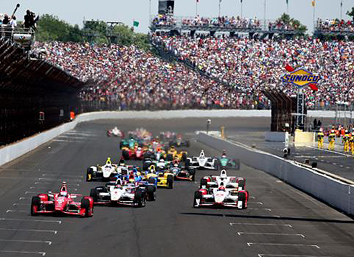 The local television blackout for this year's running of the Indianapolis 500 has been lifted, IndyCar and Indianapolis Motor Speedway officials said Wednesday.
Meanwhile, the 500 Festival announced Wednesday that all remaining in-person events on the 2020 calendar, including the 64th annual 500 Festival Parade, have been called off. The group said the cancellation marks the first time in 500 Festival history that the organization's traditional schedule of events will not take place during the days leading up to the Indy 500.
Blackout lifted
IMS officials said Wednesday the Aug. 23 race will air live on NBC-TV, marking the first time since the sold-out 100th running in 2016 that local fans will be able to watch the race without a delay to the broadcast. In typical years, local viewers are able to watch a replay of the race a few hours after the race concludes. The race is broadcast live outside of central Indiana.
The only other years the race was broadcast live locally were 1949 and 1950.
The decision to allow local fans to watch the race live comes one day after IMS announced plans to reduce attendance capacity for this year's race to 25% and require spectators to wear masks due to continued concerns about the coronavirus pandemic.
The reduced capacity will mean no more than 87,500 fans will attend this year's race—the lowest attendance figure in decades. Track officials announced more than one month ago plans to run the race with 50% attendance before cutting that in half this week.
"Everything will be different about this year's race, from the reduced crowd size, to a new distanced seating arrangement, to mandatory masks and a live broadcast throughout central Indiana," said Mark Miles, president and CEO of Penske Entertainment Corp., which owns both the open-wheel racing series and IMS.
The speedway on Wednesday also released an 88-page safety plan, which Miles said was "developed in collaboration with national, state and local health experts" and takes into consideration fan experience, entry and exit protocols, race day safety standards and a variety of other items.
500 Festival events
The 500 Festival, a not-for-profit that organizes as many as 50 race-affiliated events and programs leading up to the race with help from thousands of volunteers, said it called off this year's parade and other in-person events "after extensive evaluation and out of an abundance of caution."
The organization had planned to move the events to August after the race was moved from its traditional date in May. More than 300,000 people typically line the streets of downtown Indianapolis for the parade, which features celebrities and all 33 drivers competing in the Indy 500.
Officials with 500 Festival said they planned to offer some new "a variety of virtual opportunities, programs, events and experiences." More information will be available at the group's New Way to May web site.
Please enable JavaScript to view this content.