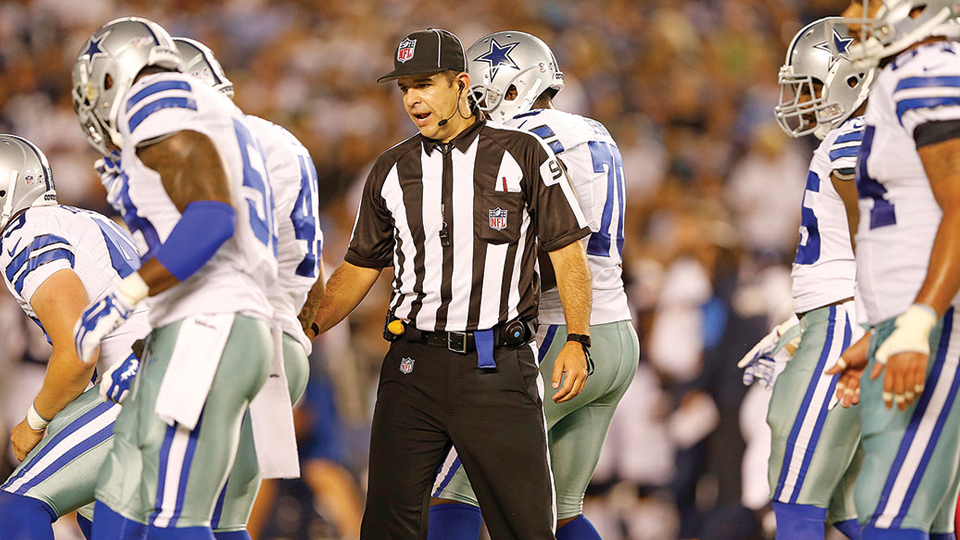 When the Cincinnati Bengals and Los Angeles Rams go to battle Sunday during Super Bowl LVI, a Hoosier native will have a unique and up-close perspective of the action.
Longtime football referee Bryan Neale has been selected to be umpire on the officiating crew. An NFL referee for eight years, this is his first shot at the championship game.
Business and Beyond podcast host Gerry Dick talked with Neale last fall about his journey to become a referee. He clearly remembers when he got "the call" from the NFL.
"I started crying right there. 11:48 a.m., March 22, 2014. How's that," reflected Neale.
By then, Neale had been calling games for 25 years, starting with peewee football, advancing to high school and later at the college level. He's now reached the pinnacle.
"After my first season [refereeing], I wrote down in a notebook card, all the stuff I wanted to do," he said. "Ref the state championship. Ref in the Big Ten and be in the NFL by 41. And like anything else we do in business or life, you set those goals. Put them in some sort of tangible form like writing. And then you go to work."
Officiating at the highest level of football isn't the Newburgh native's only gig. He's a nationally known sales trainer, consultant, and public speaker. He's also chief executive of Indianapolis-based Blind Zebra Consulting, a business management consulting group.
He sees a parallel between the two industries.
"The field and the sport itself are really the only differences," he said. "The formulas for success to me are almost always the same. Anyone that's been good at that highlight level, whether it's a salesperson, a CEO, a CFO, a programmer, or a football player, all those people tend to have some very similar traits. And it's those traits to me that make the difference.
"I see a lot of people in sales and business that they kind of blow in the wind a bit. They're not intentional about their direction, not intentional about their behavior. And that to me is the trick. Those people who are willing to do these things on an overly consistent basis over a long period of time tend to outperform those that don't."
As Neale steps out onto the field at SoFi Stadium in Inglewood, California, this Sunday, he knows millions of fans will be watching, ready to erupt into anger when an official—a blind zebra, as it were—makes a questionable call. Neale says calling a perfect game is more of a pipe dream.
"The expectation is that when we get there that we'll be perfect," he said. "That's the idea. That's what everybody wants. We've never done that. We always talk in the officiating business about constantly chasing the perfect game and we will chase it to eternity it will never occur. It will never occur."
What did occur was a Hoosier kid with a dream, fulfilling one of his life's goals, putting him in the spotlight of football's grandest stage.
Click here to listen to the Business and Beyond podcast hosted by Gerry Dick.
Please enable JavaScript to view this content.