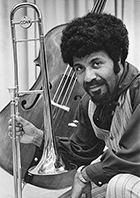 David Baker's story poses many questions. How did a child from a family devoid of musicians become a world-class instrumentalist? Why didn't this accomplished musician play for the Indianapolis Symphony Orchestra? Why did he switch from his signature instrument, the trombone, to the cello? And how did a man who once walked away from academics become one of the great music professors?
Baker was born in Indy in 1931, growing up not far from the jazz hot spot of Indiana Avenue. He attended Indianapolis Public Schools and graduated from Crispus Attucks High School. As a child, he had difficulty acquiring a musical instrument, so he made himself a tuba out of a cigar box, strings and some wooden rods.
Too young to gain admission to local clubs and the Madame Walker Theatre, Baker painted on a mustache with an eyebrow pencil and "prayed it didn't rain." Over time—listening to, learning from and performing with great musicians such as Wes Montgomery—he became proficient and earned admission to Indiana University, where he earned bachelor's and master's degrees in 1953 and 1954.
Hoping for a career as a symphony musician, Baker tried out for the ISO. He was told, "You're probably the best one we have heard, but we can't hire you because of your color." In 1953, he suffered a serious injury in a car accident, after which it took hours to find a hospital that would admit a black patient. The injury eventually rendered him unable to continue the trombone, so he switched to cello.
In the mid-1950s, Baker joined the music faculty of historically black Lincoln University in Missouri. Two years later, however, he married a white opera singer. The state's anti-miscegenation laws cost Baker his job and the couple moved to Chicago. He taught privately and performed for years, working with many legendary talents.
Baker played with the orchestras of Lionel Hampton, Stan Kenton and Maynard Ferguson before returning to Indianapolis to lead his own band. In 1960, he toured with 28-time Grammy winner Quincy Jones, who produced Indiana native Michael Jackson's record-setting album, "Thriller." In the mid-1960s, Baker decided to return to academia.
At the time, jazz—a musical genre native to America—was still considered a suspect musical form, not suitable for academic study. Baker himself had gotten into trouble as a young man for injecting jazz elements into his performances. But in 1966, he was hired by the music school at Indiana University to found its jazz studies program, which he chaired from 1968 to 2013.
Baker excelled as both a teacher and a scholar. Many important figures in jazz studied with him, and he authored some 400 articles and 70 books, including "Jazz Styles and Analysis—Trombone," "Jazz Improvisation" and "David Baker's Jazz Pedagogy." IU named him a distinguished professor, and a jazz composition scholarship was established in his honor.
Baker was also a composer, producing more than 2,000 works. One of his most widely known compositions was "Concertino for Cellular Phones and Orchestra." Flouting the traditional prohibitions against cell phones at concerts, Baker incorporated them into the score, enlisting audience members to sound their ring tones at times during the performance.
Baker's contributions and accolades are numerous. He became director of the Smithsonian Jazz Masterworks Orchestra, which played around the world. He was nominated for both a Grammy and a Pulitzer Prize and received an Emmy for his score for a 2003 PBS documentary. He was elected to the Jazz Education Hall of Fame and received the American Jazz Masters Award in 2000.
Baker was best known as one of jazz's great educators. He called improvisation the "sine qua non" of jazz and recognized two great problems in its teaching: first, the view that "either you've got it or you don't," and second, "fear and ignorance on the part of teachers." Before he died at 84 in 2016, Baker proved that jazz improvisation can be taught and that "the technique of teaching it can be learned."•
__________
Indy Beacons celebrates the history of Indianapolis in the year leading up to its May 2021 bicentennial by telling the stories of famous city residents. It appears the second and fourth issues of every month. Gunderman is chancellor's professor at Indiana University.
Please enable JavaScript to view this content.