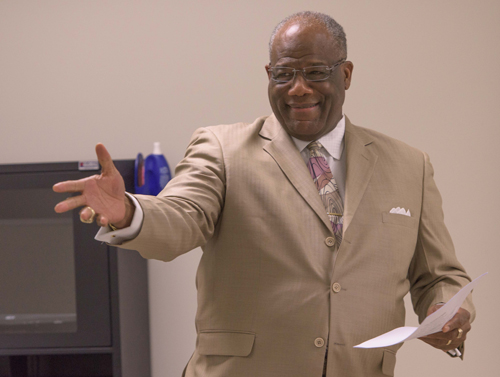 The City-County Council on Monday unanimously appointed former Indianapolis Public Schools Superintendent Eugene White to the Indianapolis Public Library Board of Trustees, filling a slot left by the resignation of a former council appointee.
White joins the seven-member governing body of the public library system that has faced accusations of discrimination and a lack of transparency in a CEO search that took place last year. Controversy began after library leaders selected Gabriel Morley as CEO of the library system over interim CEO Nichelle Hayes. Morley initially accepted the job but turned down the position shortly afterward due to protests over his hiring.
The decision spurred protests from library union members, former employees and disagreement among board members. At the Feb. 8 Council Municipal Corporations Committee, White acknowledged the issues the board faced.
"I've always been dumb enough to accept challenging situations," joked White, who is frequently credited with helping bring financial stability to Martin University, which he oversaw as president from 2013 to 2019. The council committee approved his appointment unanimously.
The board will be complete for the first time since December, when TD Robinson resigned from the board amid backlash. White's appointment could shift the board's dynamics, as two board members in favor of Hayes during the CEO vote—Khaula Murtadha and Patricia Payne—are joined by White and Indianapolis Public Schools appointee Stephen Lane. Lane was an outspoken advocate for Hayes to receive the full CEO position.
Lane said White will bring strong leadership and experience to the board, which he said could smooth over some of the existing tension. The renewed CEO search is still a top priority.
"A lot of [library workers] are saying that they really appreciated the leadership of Nichelle Hayes, so that is definitely something to consider as we go forward," Lane told IBJ.
The remaining board members who had voted in favor of Morley are President Hope Tribble, Curtis Bigsbee and Raymond Biederman.
Michael Torres, the head of the library workers union and outspoken advocate on the library system's issues, said that he feels hopeful about White's appointment.
"He's been supportive. He says he's been reading the articles and he's paying attention," Torres told IBJ.
White has a long history in education. He was IPS superintendent from 2005 to 2013. He previously served as superintendent of Washington Township Schools for 11 years. From July 1992 to January 1994, he was deputy superintendent of IPS.
In 1990, he became the first Black principal of North Central High School in Indianapolis. During the 19 years prior, White was a teacher, coach and school administrator in Fort Wayne Community Schools and was the first African-American high school principal ever to serve in that system.
Tensions have existed within the Indianapolis Public Library since June 2021, when a former employee alleged racial discrimination in the library system, leading to the resignation of former CEO Jackie Nytes.
Please enable JavaScript to view this content.