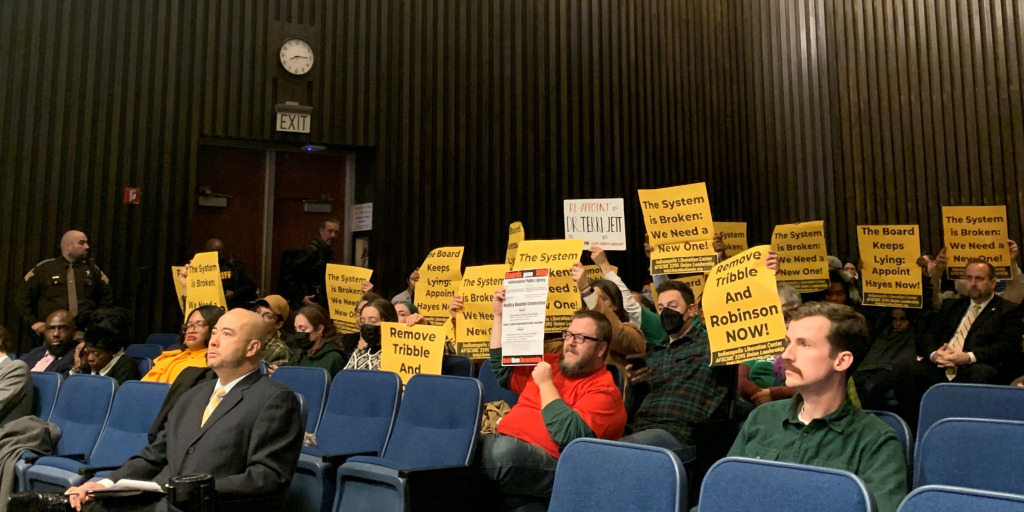 TD Robinson, the senior pastor of Mt. Paran Baptist Church, has resigned from the Indianapolis Public Library Board  amid an ongoing controversy over the selection of a new library CEO.
In December, the board's decision to offer the job to Gabriel Morley, a non-Black former director of libraries in New Orleans and Atlanta, over Nichelle Hayes, a Black woman and longtime Indy library employee, prompted concerns of racial discrimination.
Mention of Robinson's resignation began at the regular meeting of the City-County Council Monday night. Despite nothing on the council's agenda correlating directly with the library system, about 50 attendees held yellow signs asking the council to remove their two appointees from the library board. 
But one attendee interrupted the proceedings to ask the council to remove Library Board President Hope Tribble, stating that Robinson had already resigned.
The attendee was escorted out of the meeting by police, with the other protesters receiving a warning from City-County Council President Vop Osili that he would stall the meeting until "everyone" was escorted out if there were more interruptions. The group later marched out while chanting "remove Hope now."
A spokesperson for the library confirmed his Robinson's resignation to IBJ on Tuesday. Robinson could not immediately be reached for comment. The process for his replacement will be determined by the City-County Council, which appointed him.
Robinson's name was also missing from a Jan. 5 statement from four current and former IndyPL board members, despite his initial vote aligning with the statement.
Because Robinson has resigned and former board President Jose Salinas could be replaced now that his term has ended, that would leave just two members of the board that had voted to give the CEO position to Morley.
Curtis Bigsbee abstained from the CEO vote, but signed the statement Jan. 5 along with other supporters of the Morley decision. Two other board members, Khaula Murtadha and Patricia Payne, have been supportive of choosing Hayes for the position since the first vote.
Appointments to the two open positions, one by the City-County Council for Robinson's spot and the other by the Indianapolis Board of School Commissioners to Salinas' post, could potentially turn the tide in favor of naming Hayes CEO. 
Representatives for those two appointing boards did not immediately offer comment on the situation.
Interim Chief Public Services Officer Gregory Hill is currently acting CEO of the library system. In a press release Dec. 19, the board announced that a new interim CEO would be appointed in early 2023 and the search for a new library CEO would restart.
The new interim CEO will be a community member without ties to the library, the release said. Former candidates for CEO will also be allowed in the renewed search process.
Please enable JavaScript to view this content.