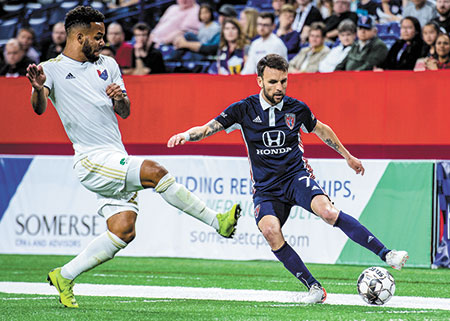 The Indy Eleven professional soccer team plans to resume its season on July 11 with masked fans in the stands at Lucas Oil Stadium.
The return to action is part of the United Soccer League Championship's plan to complete the 2020 season after suspending play in mid-March due to the coronavirus pandemic.
The team's first match of the season restart will be at 7 p.m., July 11 at Lucas Oil Stadium, against St. Louis FC. It will be telecast on ESPN+.
Fans who attend the game will be required to wear masks at all times, with the exception of when they're eating or drinking, according to a new safety plan. An Indy Eleven spokesperson said the franchise is working closely with local and state health officials to iron out specific details, but is not setting a specific count for how many fans will be permitted into the stadium.
Instead, the team is limiting ticket sales to the lower bowl of the venue, restricting seats to every other row, with at least six feet between each grouping of four seats. It will also ask fans to enter in waves, rather than all at once.
Gov. Eric Holcomb on Wednesday said entertainment venues are permitted to open at 50% capacity through July 17, as the state moves into Stage 4.5 of its pandemic recovery plan.
The game is the first in Indy Eleven's return to a shortened, 16-game regular season, although additional schedule, ticket and broadcast details for the remainder of the season have not yet been finalized. Indy Eleven managed to play one game—a 4-2 win over Memphis 901 FC on March 7—before the season was suspended.
"Every member of the Indy Eleven organization is excited to get back to action and working tirelessly to ensure games at Lucas Oil Stadium starting next weekend go above and beyond when it comes to providing a safe environment," Indy Eleven CEO Greg Stremlaw said in a media release. "Indianapolis is world-renowned for our ability to host sporting events, and we look forward to helping our city establish the benchmark for how to host games safely and responsibly in home markets during these challenging times."
Please enable JavaScript to view this content.