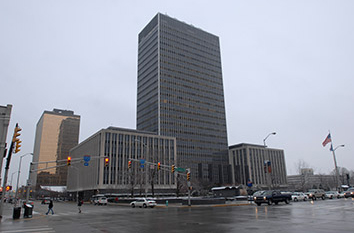 Indianapolis Mayor Joe Hogsett's administration introduced a $1.35 billion budget proposal to the City-County-Council on Monday evening, with more than half allotted to public safety and criminal justice. The city expects to take in about $97,000 more than it plans to spend, leading City Controller Ken Clark to deem the proposal a balanced budget.
The budget proposal is a slight increase from the $1.29 billion amount proposed and adopted for 2021.
"The operational budget, which is the majority of what I'm talking about tonight, is slim," Clark told councilors. "There isn't huge growth. There is some growth in revenue, but it's not as substantial we've seen in prior years. The pandemic unemployment numbers are catching up for 2022."
Despite the pandemic and associated economic downturn, Clark painted a rosy picture of the city's finances. At the beginning of the crisis, before federal help was announced, city departments and agencies put reserves in place and restricted spending, he said.
"Not knowing what would happen and how fast a recovery would come, we held until we saw a real recovery coming," Clark said. "Which, of course, we have. A recovery has been moving along throughout the last year. The result of all this is improvements in credit ratings across the board."
The city will be carrying that reluctance to depend on federal dollars into 2022 and beyond. It's why the administration split its financial proposal between a traditional operational budget and a series of fiscal appropriations from the $419 million in coronavirus relief the city has received from the federal government.
"One-time funding sources cannot be operationalized in the budget," Clark told councilors. "It will only looks like we're just cutting budgets in future years when those revenues go away. We have to live within our means for our standard services, and that is the budget we're proposing. Separately, we'll have fiscal packages."
Spending on safety and crime accounts for more than half of the proposed operational budget. In 2022, the city plans to spend $429 million on public safety (36%), $265 million on criminal justice (20%), $152 million on debt services and pensions (11%), $100 million on executive, legislative and administrative costs (7%) and $344 million on other public services (26%), according to slides shared at Monday's meeting.
That's reflected in the agency breakdown. On the city side, the Indianapolis Metropolitan Police Department will get the most funding, followed by the Indianapolis Fire Department and the Department of Public Works. On the county side, the top three are the Sheriff's Office, the Marion County Superior Court and a debt service entity.
In 2022, Indianapolis expects to bring in about 30% of its revenue from property taxes, 27% from income taxes, 25% from state shared revenues and government grants, and the rest from licenses, permits, fines, forfeitures and other miscellaneous sources, according to the slides. The city typically sticks to "conservative" revenue estimates, Clark said. City data showed Indianapolis has taken in $91 million more than expected since 2016.
Indianapolis has underspent on its approved budgets every year since 2016, according to the city, underspending nearly $160 million across the last five years.
The budget was introduced Monday night with no discussion. A range of council committees will take it up beginning Tuesday. Each department's budget will be heard individually in committee.
The budget likely won't return to the full council for final approval until October. The individual fiscal appropriations, including those that use federal coronavirus relief funds, could get votes in September, Deputy Mayor Taylor Schaffer said Monday afternoon.
Please enable JavaScript to view this content.