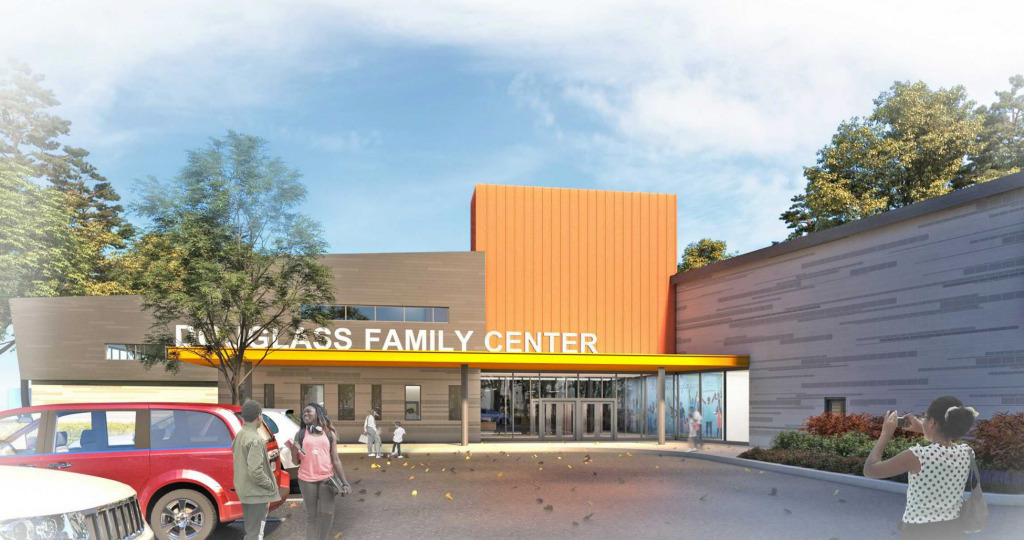 A $20 million family center planned for Frederick Douglass Park on Indianapolis' near-north side is to go before a city commission for its approval this week.
The Indianapolis Parks & Recreation Department project calls for a 45,000-square-foot building with a gymnasium, fitness rooms, a walking track, park offices, and community and meeting rooms.
The structure at 1616 E. 25th St. would replace an existing but much smaller family center and be wholly owned and operated by Indy Parks. The current family center would remain in place until the new one is completed.
"With such a rich and compelling history to the present-day need for more services and resources to meet the community's needs, Frederick Douglass Park is getting a new family center and renovated space," Indy Parks spokeswoman Ronnetta Spalding said in written remarks to IBJ.
"Many people have remained committed to this remarkable park, and our entire team remains grateful to the individuals and groups who have stepped up to invest and support the park, our staff, and the people we serve throughout the years," Spalding said.
The facility also will include a community hall, a dance and exercise studio, arts and crafts areas, a podcast and computer room, a game room and a demonstration kitchen. It will also have a food pantry, locker rooms and an arts lounge. The gymnasium will include two full-size basketball courts and an elevated track.
The project is set to be funded by the Circle City Forward initiative, first announced in February 2021 by Mayor Joe Hogsett. Several other parks-related projects funded through Circle City Forward have already received funding allocations from the City-County Council. 
Riverside Park, about five miles northwest of downtown, got $11 million for a new promenade and "adventure park," among other amenities. Grassy Creek Park on the far-east side, received $7 million for a community building, sports facilities, and trails. Krannert Park, near the Indianapolis International Airport, received $7 million for upgrades to its pool facilities, HVAC systems, windows, restrooms and more.
The Douglass Park project is on the agenda for the Metropolitan Development Commission meeting on Wednesday, with a request to allow for the structure on PK-1 zoned land. The board will also consider a variance of development standards to allow for sidewalks along 25th Street and Ralston Avenue, adjacent to the new structure.
The family center last year went through four public meetings to discuss its design and receive feedback on the project.
Indy Parks hopes to break ground on the project by September, with completion by October 2023. The architectural firm associated with the development is Meticulous Design + Architecture, and the contractor is Myers Construction Management Inc.
Please enable JavaScript to view this content.