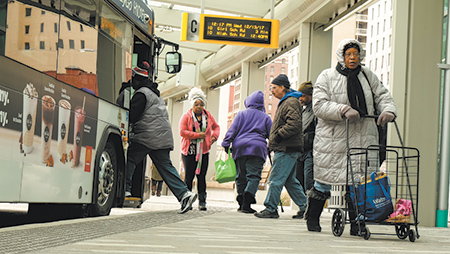 A plan by IndyGo to borrow up to $25.8 million to purchase 27 hybrid buses to replace its aging diesel fleet is a step closer to approval.
The Indianapolis City-County Council's Municipal Corporations Committee voted 7-2 Wednesday night to advance the proposal to the full council. Republicans Brian Mowery and Jason Holliday voted against the proposal.
Under the plan, IndyGo, through the Indianapolis Public Transportation Corp., would issue a local income tax revenue bond to pay for the purchase. The bond would be paid back over 15 years with transportation local income tax revenue.
The transportation LIT was approved by Marion County voters in 2016 and took effect in October 2017 to dedicate funding to improve transit services in Indianapolis. The tax can be used for operating, capital and debt expenses.
A new tax will not be necessary to support repayment of the bond, IndyGo officials said.
The proposal will be the subject of a public hearing Monday during the Local Transit Income Tax board's meeting.
The Indianapolis Public Transportation Corp. approved the purchase of the buses during a meeting May 28. Each bus is expected to cost about $811,0000.
The hybrid buses will replace 2003, 2007 and some Zero Emission Propulsion buses that will be at the end of their useful life.
The buses won't be delivered, or paid for, until the third quarter of 2021. Purchasing the hybrid buses was part of the five-year capital plan adopted by the Indianapolis Public Transportation Corp. in 2019. IndyGo said the board could pay for the buses in cash, but that would deplete the corporation's fund balances "to a level that is contrary to the agency's reserve fund policy and could jeopardize funding of the other capital projects under the capital plan."
The new buses will be 40 feet long and have a useful life of about 12 years.
IndyGo had a goal to run an all-electric fleet by 2032, a plan that has been delayed over the last two years by the driving range of electric battery technology.  Instead of purchasing electric buses when buying replacement buses, IndyGo has opted for other options. Officials say they're still committed to the goal of going all-electric.
Current electric battery range technology in the industry offers a maximum drive range of 150 miles, IndyGo officials say. The diesel fleet yields a 370-mile range, meaning the electric buses are not yet efficient enough to meet IndyGo's needs.
The hybrid buses offer a range of 480 miles. Purchasing hybrid buses is cost effective and environmentally friendly until electric battery technology advances further, IndyGo officials say.
Please enable JavaScript to view this content.