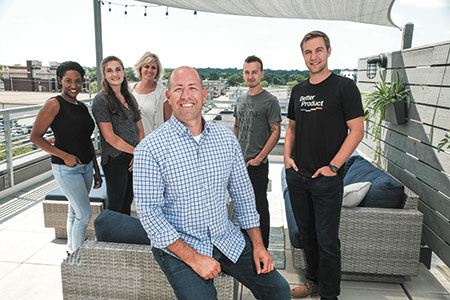 Innovatemap, an Indianapolis-based digital product agency, plans to spend nearly $1 million on renovating and equipping its Broad Ripple headquarters and to hire as many as 15 employees by the end of 2023.
Founded in 2014, the firm has swelled in size recently. In January, it announced the acquisition of Carmel-based Amarok Creative, six new hires and a new office in New York City. It currently has 27 employees in Indiana and two in New York City.
"The Midwest ecosystem is in alignment with our business and our values," CEO Mike Reynolds said Tuesday in a media release about its latest growth plans. "It's the most advantageous place for us to build our team and deliver our services."
Innovatemap provides product management, marketing, design and branding services for software-as-a-service businesses.
The firm plans to invest $938,000 in its 5,000-square-foot headquarters, located at 1002 Broad Ripple Ave. It will house Innovatemap's core business operations and client delivery services while enabling a hybrid model of in-person and remote collaboration.
For its future hires, it is seeking product managers, product marketers and brand designers.
The Indiana Economic Development Corp. has offered Innovatemap up to $250,000 in conditional tax credits and $50,000 in conditional training grants, based on the firm's job creation plans. The incentives cannot be claimed until employees are hired.
Please enable JavaScript to view this content.