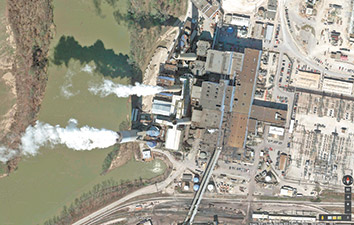 Indianapolis Power & Light Co. has agreed to pay about $1.5 million in penalties to settle longstanding pollution issues at its huge Petersburg Generating Station.
The utility and the U.S. Department of Justice announced separately Monday afternoon a settlement agreement over the plant, which some environmentalists and public officials have called a "super polluter" for racking up numerous environmental complaints over the years.
The plant, located in Pike County, about 120 miles southwest of Indianapolis, is the largest generating station in IPL's fleet. It has capacity of 1,700 megawatts—enough to light up factories, homes and shopping centers across central Indiana.
IPL said in December it would retire two of the four coal-burning units at the plant by 2023. In response, the Justice Department said Monday that if IPL actually does retire those units by 2030, it will not have to install an expensive pollution-control device known as Selective Non-Catalytic Reduction System, or SNCR, on one of its coal-fired units.
"The agreement recognizes that IPL may permanently retire two of its Petersburg units earlier than it had planned," the Justice Department said in its release. "Retirement of those units would result in emission reductions significantly greater than any reductions achieved by installing and operating the SNCR. Thus, IPL may forego installing that control device if it in fact retires the two units prior to July 1, 2030, the deadline under the consent decree by which IPL must install the SNCR."
Either way, IPL must reduce the plant's emissions of nitrogen oxides, sulfur dioxide, particulate matter and sulfuric acid mist. All four units at IPL have run afoul of pollution regulations, according to EPA inspection reports.
IPL said the agreement resolved "purported violations" of the Clean Air Act. It said that in 2009, 2015 and 2016, it received notices of violation from the U.S. Environmental Protection Agency alleging that it violated the Clean Air Act at Petersburg.
"While IPL believes the actions at issue were taken in full compliance with the Act and applicable permits, it entered into the settlement agreement to resolve EPA's claims and avoid uncertainties associated with the litigation," the utility said.
Under the agreement, IPL said it will spend $5 million on non-polluting generating sources at Petersburg to provide support for the plant's auxiliary load requirements. It will also acquire and donate an unspecified amount of "ecologically significant lands" in accordance with the wildlife refuge habitat management plan. Plans also may include providing funding for planting native trees, grasses and wildflower on acquired lands in future years, IPL said.
Some environmental groups said they were studying the settlement agreement to see if it would address longstanding issues at the plant.
"The Petersburg coal-burning plant is a nightmare," said Wendy Bredhold, senior campaign representative for the Sierra Club's Beyond Coal campaign in Indiana. "It's the worst water polluter in the state, and IPL has been breaking the Clean Air Act there for years. We're still reviewing the settlement that EPA and IDEM entered into with IPL.  At a minimum, IPL's customers should never pay any fines associated with IPL's breaking the law—those fines should be paid by shareholders."
Citizens Action Coalition of Indiana said the agreement does not actually provide much of a penalty to IPL.
"IPL was already planning to retire those Petersburg units," said Kerwin Olson, the group's executive director." I don't see how IPL agreeing to do what they are already planning to do holds them accountable. People were likely harmed by the excessive and unlawful toxic emissions released by IPL."
IPL said it has reduced emissions from its overall generating facilities in recent years. It has replaced coal-fired operations at Eagle Valley generating station in Martinsville and the Harding Street generating station in Indianapolis with natural gas operations. It said it has also installed new controls in Petersburg.
"Together, these measures substantially reduced IPL's emissions of NOx, SO2, CO2, mercury and particulate matter," IPL said.
IPL will pay a civil penalty of $1.525 million, of which $925,000 will go to the United States and $600,000 to the state of Indiana.
The settlement is subject to approval by U.S. District Court in Indianapolis.
IPL has about 490,000 customers in its service territory, which is about 500 square miles in Indianapolis and surrounding areas. It is a unit of Arlington, Virginia-based AES Corp.
Please enable JavaScript to view this content.