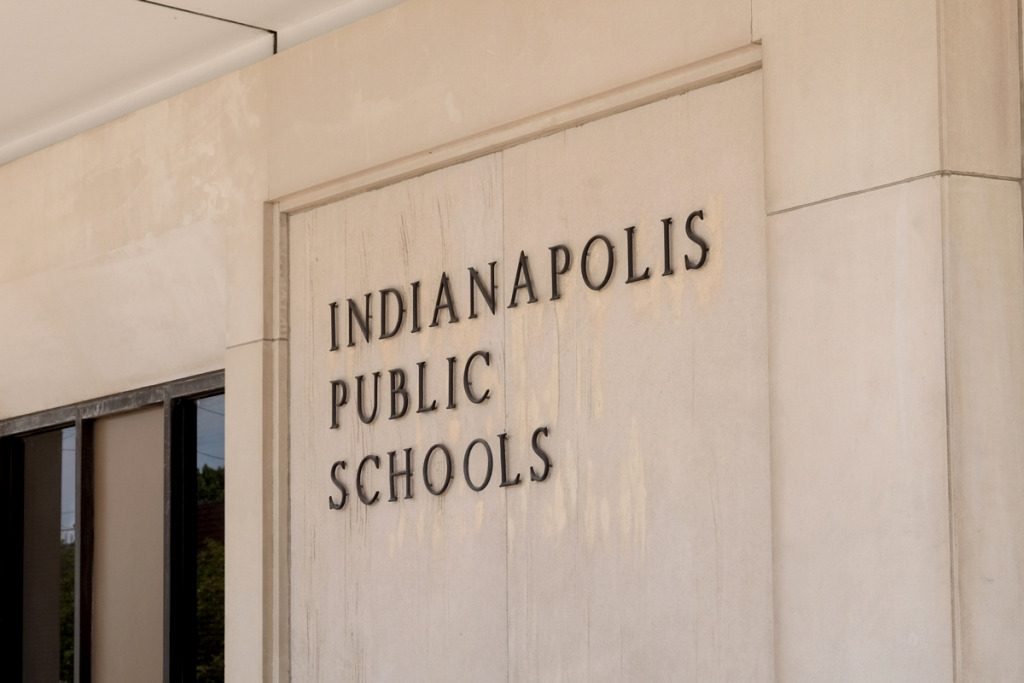 Indianapolis Public Schools will likely close Joyce Kilmer School 69 on the east side after losing the charter partner tasked with turning around the school.
Kindezi Academy, the charter operator that revamped the school at 3421 N. Keystone Ave. in 2016, announced Friday that it would end its partnership with IPS and shut down operations in June due to low student outcomes and facility issues.
Instead of finding a new partner or running the school itself, officials told Kindezi families Tuesday night that the district will recommend closing the school building. The closure would affect more than 400 students in grades K-6, who would be given priority to enroll at other IPS choice schools with transportation provided next year.
"It's not a very long timeline," said Jamie VanDeWalle, IPS' chief portfolio officer. "If we thought we could stand up an excellent school in 3.5 months, that's absolutely what we would do."
The IPS board will discuss the end of the Kindezi partnership and recommendation to close School 69 at its regular meeting Thursday night.
Kindezi is the second partnership between IPS and a charter operator to end this school year. In December, IPS said it was cutting ties with Ignite Achievement Academy, the charter operator in charge of turning around Elder Diggs School 42. The district intends to partner with a new charter school, Liberty Grove, to run School 42.
In Kindezi's case, IPS offered a one-year extension of the contract in December before considering a longer-term renewal of the partnership. But the leader of Kindezi's charter network said that wasn't enough time to reach ambitious academic goals set by IPS, such as doubling ILEARN proficiency rates.
"We realized we were just going to be at the same place next year," said Kevin Kubacki, executive director of the Neighborhood Charter Network, the no-for-profit that runs Kindezi.
When Kindezi stepped in to manage Joyce Kilmer School 69, the school had been slated for state intervention after five consecutive years of F ratings. It was one of the first schools where IPS turned to a charter operator for a reboot.
While Kubacki feels Kindezi made strides in cultivating a safe environment and strong relationships between students and teachers, improved academic outcomes didn't follow. In 2021, just 3.8% of students passed both math and English sections of the ILEARN. On the third-grade reading test, 42% of students passed, compared with the state average of 81%.
The school was also struggling with high student mobility and low attendance.
In addition, the district's recent facilities assessment cast uncertainty over Kindezi's future, Kubacki said. Facing the prospect of school closures amid budget deficits, IPS has been analyzing the state of its facilities, and board members have been discussing school consolidation in private meetings.
Kubacki described the building at 34th and Keystone as being in "incredible disrepair," and said IPS didn't follow through with planned renovations.
VanDeWalle acknowledged that the building needed substantial repairs. Still, once Kindezi Academy decided to cease operations, she said the short timeline presented the biggest factor in recommending closing School 69.
Many families and community members felt blindsided by the abrupt news that Kindezi was shutting down, said Barato Britt, president and CEO of the nearby Edna Martin Christian Center.
"It's a gut punch," Britt said after Tuesday night's meeting with families. "It's hard to call it anything else."
Britt said parents felt they didn't have an opportunity to voice their opinions before a decision was made, leaving them in the lurch when many are still dealing with the effects of the pandemic. He questioned Kindezi's decision to pass up a one-year extension and said the sudden closure obscured any real conversation about the deteriorating condition of the building.
"We should not discount the importance of being honest, up front, and really engaging the parents and the stakeholders for the assets they are," Britt said. "There has to be a better way to do this, even though these are never easy decisions obviously."
Chalkbeat is a not-for-profit news site covering educational change in public schools.
Please enable JavaScript to view this content.