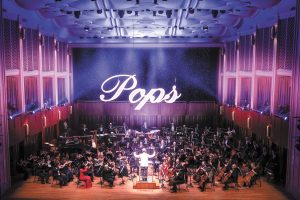 The Indianapolis Symphony Orchestra and its musicians have reached a one-year agreement after months of tension between the two parties and canceled performances.
ISO leadership and the musicians released a joint statement on Tuesday announcing the new contract, which runs through Aug. 29, 2021.
Under the agreement, the ISO will pay for health care for the musicians, and musicians will receive a weekly payment of $500 beginning in January. The pay is 34% of what musicians currently earn, according to the ISO.
The previous three-year agreement, which was reached in 2016 and expired on Sunday, included the first salary increase since 2006. Deals reached in 2009 and 2012 contained pay cuts as ISO management handled its budget in the wake of the Great Recession.
James Johnson, CEO of the ISO, told IBJ that the extreme pay cut this year was due to "virtually no ticket revenue." Johnson said revenue for the orchestra, which just ended its fiscal year Aug. 30, is down by 50%.
The musicians have been furloughed since June and had lost health insurance coverage at that time. Under the new agreement, health insurance coverage resumed Sept. 1.
As part of the one-year contract, the musicians have agreed to provide six weeks of performances and community engagement activities.
"As we work to re-emerge from this challenging period, the musicians wish to express our sincere appreciation to the ISO's loyal patrons and donors for their past and ongoing support of our orchestra," Brian Smith, orchestra committee chair for the Musicians of the Indianapolis Symphony Orchestra, said in the statement. "We look forward to once again bringing great music to our beloved city as soon as possible."
Johnson said he expects those performances to occur next spring and to have more details on what those will look like by the end of the year.
In July, the ISO announced that it had canceled its entire 2020-21 indoor concert season at Hilbert Circle Theatre, citing both the pandemic and "unforeseen economic pressures."
That decision came after the ISO in May canceled its last three Hilbert Circle Theatre concerts of its 2019-20 season and the entire Symphony on the Prairie season at Conner Prairie.
In June, musicians raised concerns that contract negotiations with the organization's management were nonexistent, but ISO leaders argued that there had been discussions.
In the statement released Tuesday, Johnson said they are "committed to bringing symphonic music back to downtown."
"We are deeply appreciative of the understanding and commitment of our talented musicians and pledge to work collaboratively to engage our patrons and greater community in new and meaningful ways," Johnson said in the statement. "With today's news, we can state unequivocally that the ISO is here to serve, and to stay."
Please enable JavaScript to view this content.