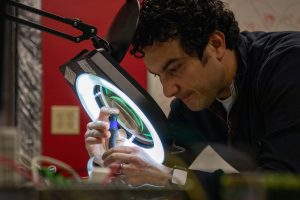 For years, manufacturing facilities have wasted millions of dollars in energy spending by running machines that could have otherwise been shut down.
So Amrou Awaysheh, an assistant professor of operations management at the IU Kelley School of Business, is honing an internet-of-things-based system to tackle the issue. The system can essentially put a factory—or at least parts of it—in sleep mode.
While such technology has been common in houses for several years—think Nest thermostats—it's just now catching on in factories.
Awaysheh, a sustainability expert, thinks Indiana factories could save more than $3 billion each year by implementing his system. Nationwide, he said, the savings could be $60 billion to $100 billion-plus.
"A savings of 10-15% on the overall energy bill is a conservative number," Awaysheh told IBJ. "That's just going after the low-hanging fruit."
Awaysheh said with a little more system development and thorough implementation, the savings could double.
He said he's already working with two Fortune 200 companies that have each saved more than $100 million annually in energy expenses using his system.
"It's good business to be smart about what you do and to be sustainable," Awaysheh said. "Energy consumption is important because it's such a big part of overall expenses."
To gather the information needed within a manufacturing facility, Awaysheh is placing small smart meters in facilities to collect data on energy consumption and transmitting it through a secure internet site.
The first goal was simply to help companies determine just how much energy each sector of the factory and each machine within each sector was consuming—and the costs associated with that energy.
"Now we understand how much energy these machines are using, and that's changing behavior … when you inform managers and empower employees who can really make a difference," he said.
The system, Awaysheh said, is an application of big data. "At the heart of the system, I help companies understand data," he said.
To do the work, Awaysheh established the IoT Energy Efficiency Lab, housed inside the Indiana IoT Lab in Fishers.
"In this lab, I'm working to develop the parts and components to make these smart meters," he explained. "Metering the machines within the facilities will help managers better control certain machines or lines—to shut them down or reduce the energy when not in use. It's like sleep mode for your manufacturing equipment."
Awaysheh's system uses algorithms to determine how and where energy is being consumed and when and where it can be conserved by shutting down or reducing power to parts of the factory that are in a short-term state of dormancy.
"Making connections with industry at the IoT Lab and working with companies in various industries there has really been key to pushing this development forward," Awaysheh added.
Awaysheh is currently developing a system that notifies a human about the steps to take to optimize energy consumption. But he sees a day in the not too distant future in which the system can sense happenings in its surroundings and make adjustments without human interaction.
Awaysheh said systems like the one he is developing will sweep through U.S. factories in the next five years—and could give the U.S. a competitive advantage in manufacturing.
"Most importantly, this is about manufacturing competitiveness in the United States," he said. "When companies reduce their overall costs—and energy is a substantial cost—and improve cost structure, they are more competitive both here in the U.S. and globally. That's what's going to keep the economic engine humming."
Please enable JavaScript to view this content.