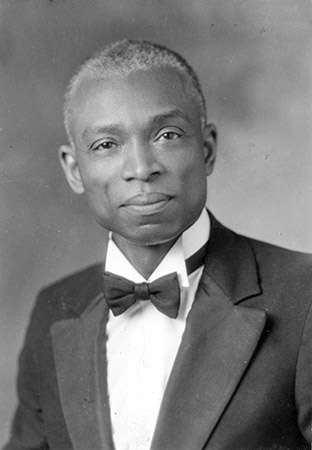 Before Indianapolis educator-attorney John Morton-Finney died in 1998 at the age of 108, he had learned to speak six languages, served as one of the inaugural faculty members at Crispus Attucks High School, taught for 47 years in the Indianapolis Public Schools, received five law degrees, and was hailed as the oldest practicing attorney in the United States.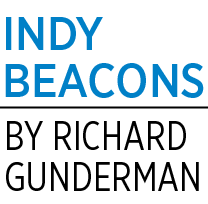 Born in 1889 as one of seven children of a former slave in Kentucky, Morton-Finney enlisted in the U.S. Army in 1911, serving for three years in the Philippines in a black regiment whose members were known as "Buffalo soldiers." Returning to the United States in 1914, he studied at Lincoln College in Missouri, where he met his wife, who was a French teacher there. In 1918, he served in France during World War I.
After returning from war, Morton-Finney taught languages at Fisk University in Nashville, Tennessee, and at Lincoln College in Missouri before moving to Indianapolis in 1922. Commencing his career here at Shortridge High School, he moved to Attucks when it opened as Indianapolis' black high school in 1927. There, he served as head of the language department and also taught at other IPS schools.
While teaching Greek, Latin, French, German, Spanish, history and mathematics, and tending to his responsibilities as a school administrator, Morton-Finney also sought to educate students about broader life skills. He often invited leaders from historically black colleges to speak and helped to arrange scholarships for students for whom college seemed financially impossible.
While teaching, Morton-Finney earned multiple law degrees, including one from the Indiana University School of Law in 1946. One of his most famous cases, which he filed in 1971 at the age of 82, challenged the school board's mandatory retirement age of 66. He lost the case and was forced to retire after nearly five decades of teaching.
Morton-Finney received the last of his 11 academic degrees when he was 75 years old. By then, he was known for reciting passages from classic texts, including Homer, Cicero and Shakespeare. Asked at the age of 104 about his love of learning, he told a reporter, "I never stop studying. There's always lots to learn. When you stop learning, that's just about the end of you."
One of Morton-Finney's former students said, "We used to say there's no subject that we can think of that Mr. Morton-Finney didn't know something about. He used to teach us that, regardless of the system and what was going on in the world, we could make something of ourselves. And if you made it, you had to help somebody else."
Morton-Finney infected countless students with his lifelong love of learning, a concept for which he could serve as Exhibit A. "There is so much to know in this world," he declared. "And it is such a pleasure for me to learn. Besides, a cultivated man would never say, 'I finished my education' just because he graduated from college."
In 1990, at the age of 100, Morton-Finney was recognized by President George H.W. Bush at a White House ceremony. Bush introduced him as "America's most seasoned scholar" and highlighted the fact that he continued to practice law and attend law school seminars, saying, "If he's still ready to learn, so can we all be."
Today, Morton-Finney is memorialized in many ways. In 1991, he was inducted into the National Bar Association's Hall of Fame. One of his alma maters, Butler University, presents an award in his name to students who foster diversity. And the downtown center for education services of IPS, which serves over 30,000 students, is named the John Morton-Finney Center.•
__________
Indy Beacons celebrates the history of Indianapolis in the year leading up to its 2021 bicentennial by telling the stories of famous city residents. It appears the second and fourth issues of every month. Gunderman is chancellor's professor at Indiana University.
Please enable JavaScript to view this content.