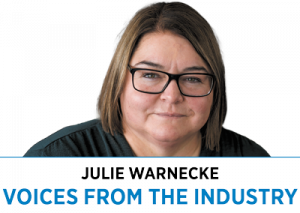 Indiana is ranked fifth-best in the nation for business and first in the Midwest, according to Chief Executive magazine. There are nearly 500,000 small businesses in Indiana that employ more than 1.2 million Hoosiers, and many of those small-business owners might not know how digital marketing can help them.
Some might consider it an expense rather than an investment, and others might think it's only for large companies with big budgets. However, digital marketing can actually be an efficient investment vehicle for small businesses, driving measurable results and growth.
Small businesses need to be strategic about their marketing approach and focus on platforms that will provide the best return on investment. Digital advertising platforms such as Google and Facebook have the ability to scale and test a variety of messages simultaneously. This provides flexibility to quickly pivot if something isn't working.
If you're a small-business owner looking for new ways to grow, consider investing in digital marketing. Below are three ways to benefit from digital efforts.
◗ Precise targeting: Reach your desired audience.
Smaller or more local businesses have a greater need for more precise targeting when it comes to their marketing efforts. Digital marketing campaigns provide the ability to geo-target and show your ads only to people within a defined location relevant to your business. Other targeting options include specific demographics or interest levels, showing your ads to people most interested in your product or service. Ensuring only your target audience can view your ads is a smart way to eliminate waste within your marketing budget.
Once you've gained additional information from your digital ad campaigns, you can focus efforts on your most engaged audience. Learn which elements resonate with your audience and which don't, then adapt accordingly. The goal will always be to show the right ad to the right audience at the right time.
◗ Efficient budget allocation: Generate learnings while improving ROI.
Digital marketing can be effective for budgets of all sizes. For a small business, it's important to focus more on what's working and to make adjustments when something isn't—that will cycle back to where the budget is placed. Digital campaigns have flexible pricing options, including the ability to pay only when someone clicks on your ad.
Digital campaigns also allow for flexibility when it comes to goals and objectives, ranging from brand awareness to direct response. Any digital marketing agency working with a small business can recommend a budget allocation strategy designed to reach your desired audience and achieve your business goals. Testing is often recommended to see what will work best, before allocating the full budget amount toward a particular platform. Testing will also give you an idea of the ROI on the digital marketing investment and how much value it could have at scale.
◗ Easier measurement: Identify which leads will result in sales
First and foremost, it's crucial to have internal conversations about what success looks like and how to track it before engaging a digital marketing agency for services. When evaluating success, it's also important to track appropriate data points to determine the return on investment.
Before deciding to hire a digital marketing agency, another recommended approach would be to evaluate the quality of your website. A strong, easy-to-navigate website with a clear value proposition is crucial for success. Without this critical component, your digital marketing campaigns will have limited success since the potential customer won't be on an ideal customer journey and likely won't be able to find what they need on your site.
Whether your small business has a brick-and-mortar location, a digital-only presence or both, digital marketing is an effective option to move your business forward and generate positive growth.•
__________
Warnecke is CEO of Found Search Marketing.
Please enable JavaScript to view this content.