By announcing Belinda Tate as the new director of the Indianapolis Museum of Art on Wednesday, parent organization Newfields completed a hiring process that lasted nearly three years and sparked historic changes at the 140-year-old institution.
Newfields selected Tate, executive director at Michigan's Kalamazoo Institute of Arts since 2014, to manage IMA day-to-day operations ranging from exhibitions and art acquisitions to public programs and community outreach.
Tate's official title, the Melvin & Bren Simon Director of the Indianapolis Museum of Art at Newfields, was unveiled in February 2021. The not-for-profit art museum and gardens announced a new executive structure that expanded one leadership position to three.
In 2021, Charles Venable, hired nine years earlier as the Melvin & Bren Simon Director and CEO of the IMA, was given a new title of Newfields president. The role reflected the 2015 rebranding of the IMA and its grounds as Newfields.
Jonathan Wright became the Ruth Lilly Director of The Garden and Fairbanks Park at Newfields, and the organization launched its search for a director solely dedicated to the IMA.
The job listing for the IMA director generated negative headlines, however, when its text referenced the need to maintain "the museum's traditional, core, white art audience" while attempting to attract guests from all backgrounds. Venable resigned in the aftermath of the controversy.
Later in 2021, Darrianne Christian was elected as the first Black woman to serve as chair of the Newfields board of trustees.
In May 2022, Colette Pierce Burnette made history by being hired as CEO and Venable's successor. Burnette became the first Black top executive at Newfields, an organization initially founded as the Art Association of Indianapolis in 1883. Burnette also was the first woman hired for the role. From 1926 to 1929, artist and curator Anna Hasselman served as interim director.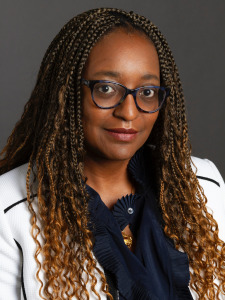 Tate is scheduled to begin her tenure at the IMA on Nov. 6. She will be a counterpart to Wright and his work as director of Newfields' outdoor components. CEO Burnette focuses on mid- and long-term strategic planning, high-level oversight and fundraising.
In a written statement, Burnette said Tate "is committed and aligned to our values of stewardship, inclusivity, excellence and service, and is also a trailblazer in diversity, equality, inclusion and access. I look forward to working closely with her to ensure that Newfields becomes a must-see destination for everyone who visits Indianapolis and that it remains an anchor cultural institution, open and accessible to all."
Tate, who grew up in Winston-Salem, North Carolina, served as the director of Diggs Gallery at Winston-Salem State University from 1999 to 2014. She has a degree in art history and museum studies from Yale University and a master's degree in liberal studies from Wake Forest University.
"The Indianapolis Museum of Art is an evolving institution with a stellar collection," Tate said in a written statement. "I look forward to joining a team dedicated to serving the community through exceptional exhibitions and programs as one of the nation's leading cultural destinations."
Please enable JavaScript to view this content.