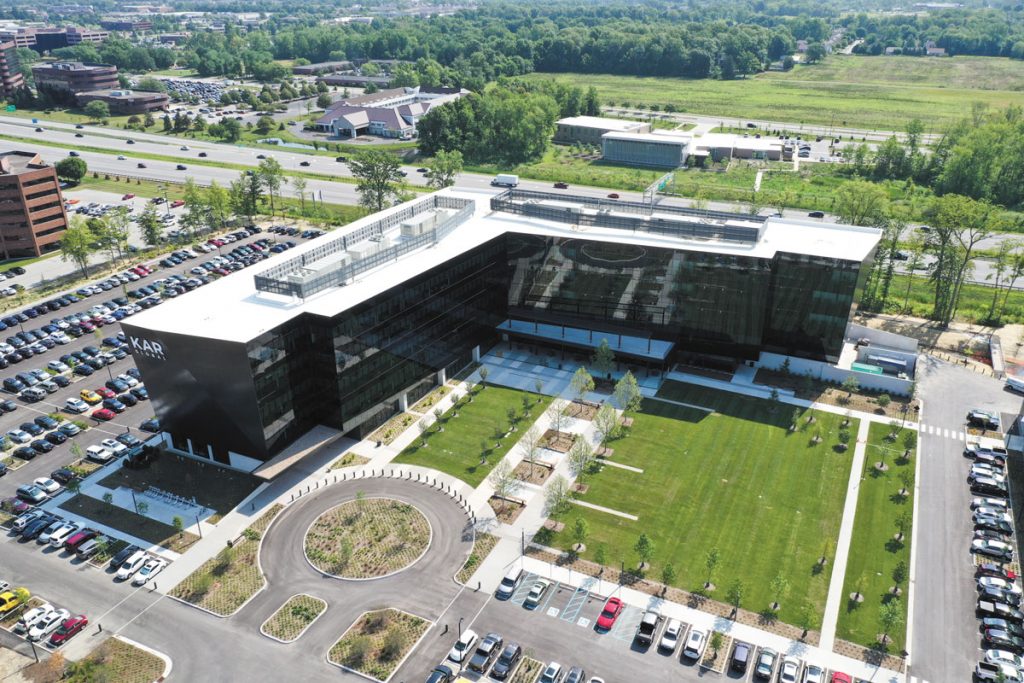 Carmel-based automobile wholesaler KAR Global terminated 3,000 employees—or about 20% of its workforce—in the second quarter and could eliminate another 2,000 in the next few months, CEO Jim Hallett said Wednesday during an earnings call with analysts.
The decisions were made during a quarter in which the company lost $32.3 million and saw year-over-year revenue plummet 42%, from $719.1 million to $419.0 million. KAR realized a 35% decline in the number of cars sold during the period.
The cuts were made across the company. KAR Global operates nearly 75 auction sites across North America.
The company received about $7.9 million in employee retention credits under the Coronavirus Aid, Relief and Economic Security Act during the quarter, plus about $9.7 million from the Canada Emergency Wage Subsidy. The credits were used to offset some salary and medical costs, the company said.
Hallett said the company had just over 15,000 full- and part-time employees at the start of the second quarter. When the pandemic forced KAR to cease its physical auctions in early April, the company started selling vehicles exclusively online and furloughed about 11,000 workers across the globe.
"During the shutdown of our operations, we spent considerable time determining how we could adjust our process to meet the needs of our customers and maintain appropriate social distancing to protect our employees and our customers, and we have made many of these changes permanent in our operations," Hallett said during the call.
By the end of June, KAR Global had recalled 5,000 furloughed workers and eliminated 3,000 positions. KAR Chief Financial Officer Eric Loughmiller said eliminating those full- and part-jobs would reduce the company's total compensation expense on an annual basis by approximately $90 million. The company paid $6 million in severance.
Hallett said that as of Thursday, 2,000 workers remain on furlough. They have been informed that if they aren't brought back by October, their positions will be eliminated, Hallett said.
Despite the dismal quarter, the company reported improving numbers on a month-to-month basis. In April, KAR sold roughly a quarter of the vehicles it had sold in April 2019. Three months later, the company was actually 8% above its year-over-year benchmark.
Laurie Dippold, vice president of communications and content marketing for KAR, said Hallett and other officials were unavailable for comments beyond the earnings call.
"We made reductions across our business units at every level and every geography to reflect our accelerated transition to a more digital operating model and the current and anticipated business levels as a result of COVID-19," Dippold said in a written statement. "The result is a leaner, more efficient operating model that offers our customers greater functionality and flexibility. Our priority is on delivering exceptional service and solutions to our customers, and we remain well-positioned to navigate the recovery and advance our strategy for growth."
Hallett, Loughmiller and President Peter Kelly each waived 100% of his base salary from April 5 to June 27. Additionally, the remainder of the company's executive officers committed to a 50% pay cut for that period, and the company reduced pay for all employees making more than $80,000 per year.
Hallett said on the earnings call that all of KAR Global's auction locations in North America are open, but access varies by location.
"Where permitted, we are allowing our customers on site for previewing vehicles and in some cases bidding from inside the building," he said.
All of the vehicles are being sold though digital platforms—OpenLane, Simulcast, Simulcast+, and TradeRev.
"Over the last few months, we have signed up thousands of dealers on our digital platforms, and tens of thousands of dealers have bought cars digitally that have never used our technology previously," Hallett said. "This is probably one of our biggest accomplishments during the second quarter."
KAR shares rose 2.9% on Thursday, closing at $17.14 each.
Please enable JavaScript to view this content.