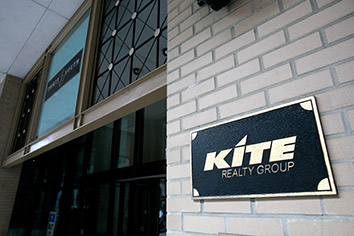 Kite Realty Group is launching another plan to redevelop Hamilton Crossing Centre in Carmel after seeing a flow of tenants leave the retail property.
The Carmel Plan Commission gave a favorable recommendation Tuesday for the City Council to rezone 14 acres at the southeast corner of Meridian Street and Carmel Drive from the Meridian Corridor designation to the C-2 Mixed Use District designation. The C-2 designation is far less restrictive than the current zoning.
Kite hasn't disclosed specific plans for Hamilton Crossing, but the proposed zoning switch could allow it to add new housing options to the area.
"In general, strip retail centers with a sea of parking are losing favor in the tenant and development world, especially in a very high-value corridor such as Meridian Street," said Adrienne Keeling, a planning administrator in Carmel's Community Development Services Department.
Since 2014, Hamilton Crossing's occupancy rate has plummeted from 98% to less than 25%. The 92,283-square-foot retail center currently lists more than 70,000 square feet left empty by Office Depot, Jason's Deli and other tenants that have come and gone.
A Max & Erma's restaurant that previously occupied a 7,700-square-foot outlot building closed earlier this year, and one of the center's remaining tenants—a Chase bank—plans to close March 12.
The property also features a 103-room Hampton Inn.
Kite Realty announced in 2016 plans for an entertainment venue at the site featuring bowling, movie theaters and a restaurant. Those plans fell through, though, when Florida-based Frank Entertainment Cos. LLC announced in 2018 that it would not proceed with its plan to open the Frank Theatres CineBowl & Grille.
John Perazzo, owner of J. Razzo's Italian Restaurant and Wine Bar, told IBJ in 2018 that he decided to leave Hamilton Crossing due to the nearby road construction and the elimination of a key intersection with U.S. 31.
Kite's list of current tenants include Le Peep restaurant, Moe's Southwest Grill, Sports Clips, Ossip Optometry, Toppers Pizza and a Yogurtz shop.
Please enable JavaScript to view this content.