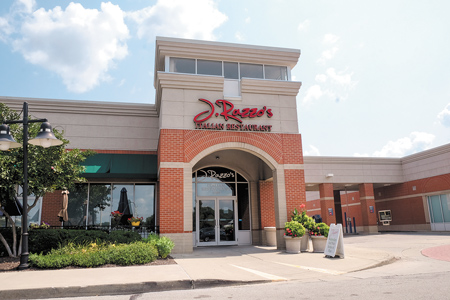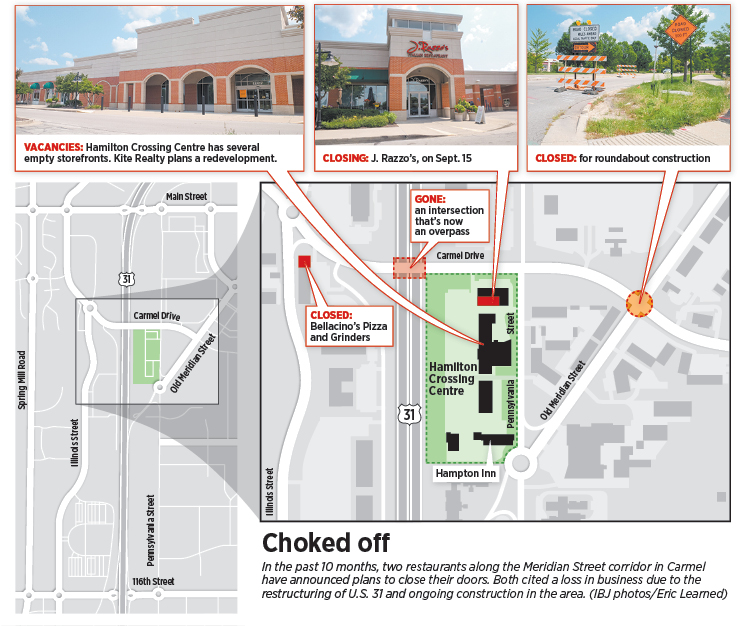 As one of Hamilton Crossing Centre's key tenants prepares to shutter its doors, the future of the Kite Realty development along Meridian Street in Carmel remains unclear.
John Perazzo, owner of J. Razzo's Italian Restaurant and Wine Bar, a3,700-square-foot Italian eatery, announced this month that he would permanently close the restaurant at 12501 Meridian St. on Sept. 15.
Perazzo told IBJ the U.S. 31 revamp that eliminated an intersection at Meridian Street and Carmel Drive in 2014, plus other ongoing construction surrounding his restaurant, have taken a toll and he can no longer remain open.
His exit will open another vacancy at the retail center that was once bustling with tenants.
In the first quarter of 2014, the development was 98 percent leased, according to Kite Realty public filings. But since then, vacancies have mounted.
Office Depot left the strip plaza, where it occupied space in the center building, a few years ago. Jason's Deli then moved out to accommodate plans to open an entertainment venue with bowling and a movie theater in about 40,000 square feet.
Earlier this year, however, Jupiter, Florida-based Frank Entertainment Cos. LLC called off its plans to bring the Frank Theatres CineBowl & Grille to Hamilton Crossing.
Now, Kite needs to figure out a new plan for the nearly 90,000-square-foot retail center that also includes a stand-alone Hampton Inn and Max and Erma's—and it needs a solution immune to the problems caused by changes in U.S. 31 and other construction.
Kite Realty representatives did not return messages seeking comment for this story.
But in its most recent public filing, Kite said it plans to redevelop the site to create a mixed-use development that could include retail, office and multi-family units. So far, plans to do so have yet to be filed with the city of Carmel.
Kite's site plan for the property, which is posted on its website, lists 10 separate spaces as available for lease, the largest of which is the 30,700-square-foot anchor space where the entertainment venue was supposed to open. The other spaces range in size from 1,200 to 4,900 square feet. All told, the 10 spots represent about 53,600 square feet of available space.
J. Razzo's is listed as a key tenant, along with a Chase bank and SportClips Haircuts. The Living Truth Church currently occupies one of the spaces.
But Perazzo's business and the larger Kite development aren't the only enterprises that have been hurt by the U.S. 31 project.
Last November, Bellacino's Pizza and Grinders, which opened across Meridian Street in the Colliers International plaza in 2001, closed its doors, citing a significant decrease in business since the massive reconstruction project began in 2011.
Bellacino's former space, 12590 Meridian St., remains vacant, nine months after the pizza joint moved out.
At the time, co-owner Anne White told IBJ the eatery enjoyed steady business until the reconstruction completely changed roads and traffic patterns in the area. Business dropped 50 percent, the owners said.
The four-year, $350 million project led by the Indiana Department of Transportation included upgrading 13 miles of U.S. 31 to interstate standards from Interstate 465 to State Road 38, with 49 new bridges and 12 new interchanges through Carmel and Westfield.
Construction lasted through 2015, with an overpass built at Meridian Street and Carmel Drive/126th Street in 2014.
Vehicles that previously were able to reach Bellacino's and J. Razzo's from a busy intersection at Meridian and 126th Street no longer have that option. The nearest exits are now at 116th Street to the south and Main Street (131st Street) to the north.
Visitors can also use the exit at Old Meridian Street, but that takes them behind the retail center instead of to its front.
When the Meridian Street corridor was revamped, it undoubtedly helped traffic move much more efficiently, said Mark Perlstein, first vice president and longtime retail broker at the commercial real estate firm CBRE. But it also eliminated easy access to Kite Realty's center and the one across the road.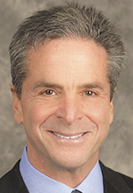 Perlstein
"It significantly affected the convenience to the customer," he said. "They want to be able to get into a location, do their shopping and get out of the location.
"This created a real obstacle for the owner of that project and the one across the street."
Perazzo, who opened J. Razzo's in 2011, told IBJ business has dropped at least 40 percent since 2013. But losing access from Meridian Street is only one road problem he's faced. The restaurant has also endured multiple construction projects on Carmel-owned streets surrounding the shopping center, he said.
Many roundabouts have been installed at intersections near the restaurant. Even now, a roundabout is being built at Old Meridian and Carmel Drive. Construction started last month and is expected to last about 75 days.
"I cannot tell you how many people get lost or frustrated trying to find J. Razzo's. I have fought the city of Carmel and INDOT for years and to no avail," Perazzo wrote in a letter to IBJ.
Carmel Mayor Jim Brainard said the city hates seeing any businesses close, and always tries to work with businesses when a construction project might affect them.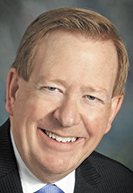 Brainard
For example, the U.S. 31 reconstruction was a state project, but the city still worked to help businesses by launching and promoting the 31 Bites program, which encouraged residents to dine at businesses hampered by the construction.
The city knows construction is hard on businesses, Brainard said, which is why Carmel motivates contractors to get work done quickly.
"Our system is that some are able to make it, some don't," he said. "A lot of businesses there are doing just fine."
Because visibility and access are so important to retailers, Perlstein said, Kite Realty would find more success in the center if it were redeveloped for office, medical or multi-family uses.
"There's no question that's the direction it needs to go," he said.
Redeveloping the property for medical offices would be logical because there's already a strong base of medical business along the U.S. 31 corridor, he said.
Clients and patients will search for medical offices—unlike retail—even if doing so isn't convenient, because they're not there for a quick in-and-out trip.
"I certainly think it could be more successful with all three of those concepts," he said.•
Please enable JavaScript to view this content.