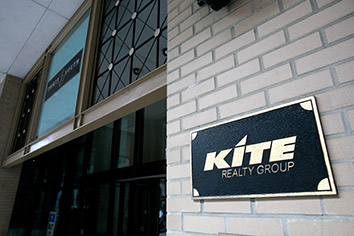 Indianapolis-based Kite Realty Group Trust this week upgraded its outlook for the rest of 2021 after beating industry expectations with its second-quarter financial performance.
The Indianapolis-based real estate investment trust reported $69.5 million in revenue in the period, up from $63.3 million in the second quarter of 2020. Analysts surveyed by Zacks Investment Research had predicted revenue of about $67.8 million.
Kite said it had funds from operations of $29.9 million, or 34 cents per share, in the period, compared to $26.2 million one year ago. Funds from operations, or FFO, is a closely watched measure in the REIT industry. It takes profit and adds back items such as depreciation and amortization.
The average estimate of analysts surveyed by Zacks was for FFO of 32 cents per share.
Kite last month announced plans to acquire Retail Properties of America, in a deal that would value the combined company at about $7.5 billion—making it the ninth largest retail real estate investment trust in the United States.
"The only thing more compelling than our quarterly results is our impending merger between Kite and RPAI," John Kite, chairman and CEO of Kite Realty, said on an earnings call Tuesday morning. "What I can tell you is that every day we learn more about RPAI, our conviction regarding the merits of this transaction grows exponentially."
The company declined to address questions from analysts about the merger before the deal closes at the end of the year. Real estate experts say the acquisition will give Kite a bigger property portfolio and increase its financial clout.
John Kite said in written remarks that the company increased its expectations for the rest of the year amid "continued leasing momentum and reduced tenant fallout" tied to the market's recovery from the pandemic.
The guidance increased full-year FFO expectations to a range of $1.29 to $1.35 per share, up from a range of $1.26 to $1.34 at the start of the year, a bump of about 2 cents at the midpoint of that range.
"During the second quarter, [we] delivered exceptional operational results as we continue to capitalize on strong retailer demand for our high-quality open-air shopping centers," Kite said.
The firm leased about 637,000 square feet in the second quarter—nearly double the amount it leased in the second quarter of 2020. He said there's an effort to fill open big-box stores, with several leases in negotiation and at least seven completed deals with the likes of Adidas, Aldi and Total Wine.
Many "have asked when will we fully recover to pre-pandemic levels," Kite said. "While we still don't know the exact date, we do know that we're quickly gaining ground."
Kite Realty Group's shares have increased by about 35% since the start of the year. Shares closed Tuesday at $19.78 each, down 15 cents on the day.
Please enable JavaScript to view this content.