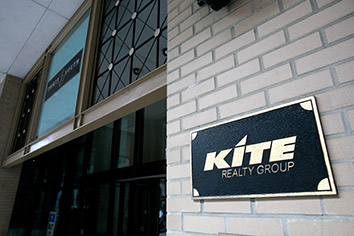 Indianapolis-based Kite Realty Group Trust plans to acquire Oak Brook, Illinois-based Retail Properties of America Inc. for about $2.8 billion, creating one of the five largest shopping center real estate investment trusts.
Kite, which announced the deal Monday morning, said the combined company will be worth $7.5 billion and will continue to operate under the Kite name, with its headquarters in Indianapolis.
The companies expect the deal to close in the fourth quarter.
Under the terms of the all-stock deal, each common share of Retail Properties of America will be converted into 0.6230 of a newly issued Kite common share. That represents a 13% premium to Retail Properties' Friday closing stock price of $11.52.
Retail Properties shares were trading at $11.77 Monday morning, up 2%. Kite shares were trading at $19.23, down 8%.
Kite's board chairman and CEO, John Kite, will retain those positions once the acquisition is complete.
"This merger further demonstrates our conviction in open-air retail centers as essential shopping destinations and last-mile fulfillment centers," John Kite said in a written statement. "We are energized about the future of this combined company."
Kite's real-estate portfolio currently includes 83 shopping centers that total 12 million square feet. The company earns 78% of its annual base rent from properties in 15 states in the South and West, and a full 27% of its rental revenue comes from Florida.
Retail Properties of America was founded as Inland Western Real Estate Trust in 2003. It began trading under the name Retail Properties of America in 2012.
The company has a portfolio of 102 centers that total 20 million square feet. Texas is the company's top state, with 34% of annual base rent coming from centers in that state. Retail Properties also has centers in some metro areas in which Kite does not currently operate, among them are Washington, D.C., and Seattle.
The post-merger company would have an operating portfolio of 185 open-air shopping centers that total about 32 million square feet, 70% of which include a grocery tenant. A full 40% of annual base rent would come from properties in Texas and Florida.
"The combined company is expected to benefit from increased scale and density in strategic markets, deeper tenant relationships given the broader mix of open-air retail types, an appropriately sized development pipeline and a strong balance sheet," Kite's announcement said.
In a call with investors, John Kite said there are no immediate plans to sell off any properties in either company's portfolio. "Both of us have already gone through that," he said.
In 2019, Kite sold off 14 of its non-core properties for a combined $415 million. In 2017, Retail Properties of America sold 47 of its properties for a combined $917.8 million.
Kite, founded in 1960, completed its initial public offering in 2004.
Please enable JavaScript to view this content.