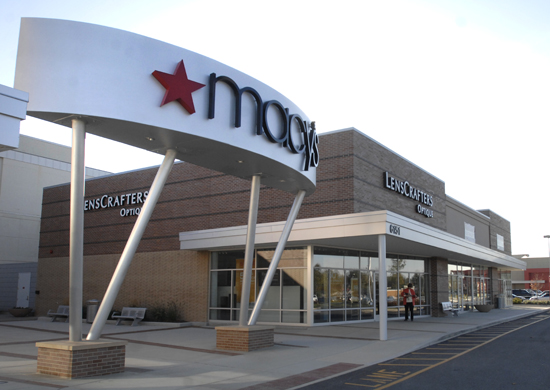 Indianapolis-based developer Kite Realty Group Trust has formally requested $7.1 million in tax increment financing from the city of Indianapolis for its development at Glendale Town Center.
A proposal to issue $7.113 million in economic development tax increment revenue bonds for Kite has been introduced to the full City-County Council and is slated to be voted on by the council's Metropolitan and Economic Development Committee on Monday.
Kite, in partnership with Milhaus, plans to spend about $55 million to redevelop about 56,000 square feet of space in the now vacant Macy's at Glendale Town Center and construct 267 new apartment units in parking areas for the mall at 6101 N. Keystone Ave.
A website dedicated to the project shows one apartment building on the west side of Rural Street and six others on the east side.
Kite also plans for improvements to the site, including increased lighting and landscaping.
Kite would receive 80% of the increase in property tax revenue generated by the development for the next 25 years to retire the bonds.
Plans for the project were first made public in May 2019 and have slowly moved along. Kite has received a series of approvals needed to move the project forward, including for its request to rezone the land and modify land covenants that had been in place for 50 years.
Construction kicked off at the end of May starting with the apartment project. Construction is expected to take almost two years, and the developers hope to welcome their first residents in fall 2021.
Kite purchased Glendale in 1999 for an estimated $20 million and spent about $45 million on a major renovation completed in 2000. Further renovations over the next eight years converted the mall back into an open-air "lifestyle center."
Macy's at Glendale closed in spring 2019. It occupied 237,456 square feet across three levels, taking up about 45% of the malls' square footage.
The committee meets at 5:30 Monday. The full council will also need to approve the proposal before it heads back to the Metropolitan Development Committee.
Please enable JavaScript to view this content.