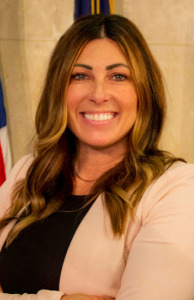 The Greater Indianapolis Progress Committee has chosen Emily Koschnick as its executive director, the not-for-profit announced Wednesday.
Koschnick, a communications and public relations professional, has been director of public relations for Indianapolis-based Porch Light Public Relations since December 2019. She previously served a 16-month stint as deputy communications director for the city of Indianapolis and more than eight years (1998-2006) as an executive producer for WXIN-TV Channel 59 in Indianapolis.
As GIPC's executive director, Koschnick will serve as a cabinet member in Mayor Joe Hogsett's administration.
"GIPC will be well-served by such an experienced, committed public servant like Emily Koschnick," Hogsett said in written remarks. "I look forward to her counsel and collaboration in my cabinet, as we work with civic partners and community stakeholders to improve our city."
Koschnick succeeds Beth White, who left GIPC in January after six years to become president & CEO of the Indiana Coalition to End Sexual Assault & Human Trafficking.
GIPC is a 57-year-old private, not-for-profit organization—self-described as nonpartisan—that provides a forum in which public and private sector leaders work as partners to study, discuss and address issues of concern and areas of opportunity that affect the city's progress.
In addition to her other work, Koschnick and her husband owned and operated their own business, The Refinery Resale Shop, from 2014 to 2016. She also is a national sales leader for Matida Jane Clothing.
Koschnick also has an long history of board and volunteer service, including as vice president of the Indianapolis/Marion County Building Authority Board and a member of the Children's Museum Guild, among others.
"The Greater Indianapolis Progress Committee has been an integral fiber of our city for more than a half century, convening top leaders in the corporate, nonprofit, tourism, and arts and cultural sectors and putting the best minds in our community together to move Indianapolis forward," Koschnick said in written remarks. "I am humbled to lead this organization through its next chapter, knowing our city is at its finest through its public and private partnerships."
Please enable JavaScript to view this content.