Kroger Co. has started work on a $20 million project that will replace its existing Brownsburg store at 905 N. Green St. with a brand-new one within the same shopping center.
Demolition began Monday at the former Kmart store at 975 N. Green St. in the Brownsburg Square shopping center. That space has been vacant since Kmart closed there in September 2017.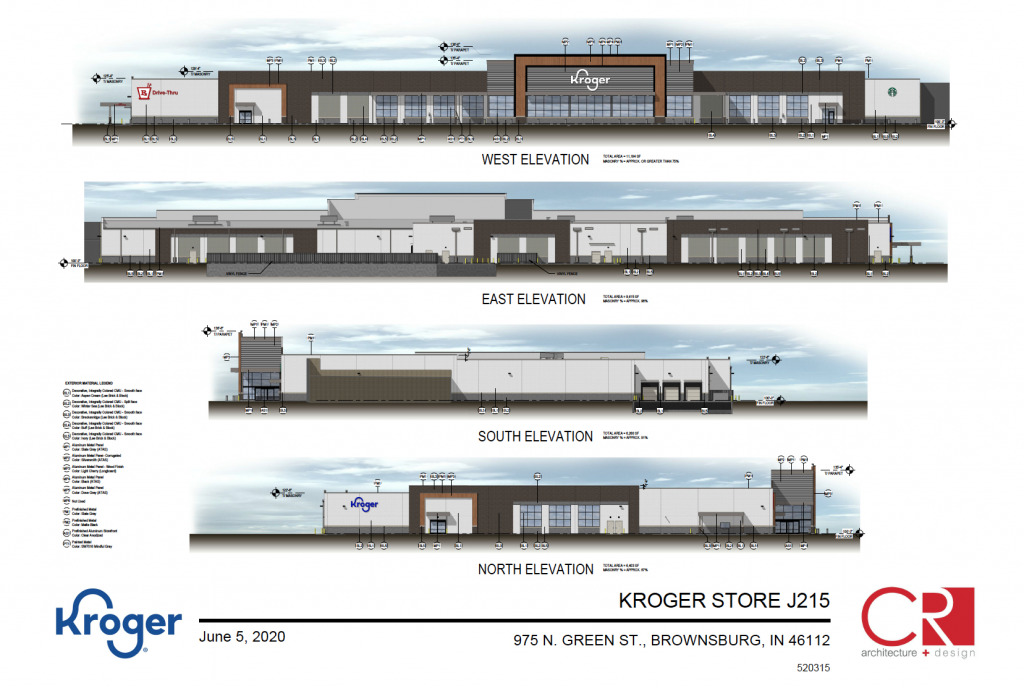 The 83,000-square-foot Kmart had been one of the two anchor stores for the shopping center, which is at the southeast corner of Green Street and Northfield Drive, just south of Interstate 74. Kroger occupies the plaza's other anchor spot, with several smaller retailers located between the two.
After six to eight weeks of demolition, Kroger expects to begin building a new 101,744-square-foot store that will replace its existing location. The new store will be about 30,000 square feet larger than Kroger's existing Brownsburg store, said Kroger spokesman Eric Halvorson.
In the larger space, the new Kroger will include several new features that are not part of the current Brownsburg store, including an in-house Starbucks coffee shop with indoor seating, a Murray's Cheese Shop, a grocery pick-up area that can serve eight cars at once, additional parking, enhanced energy efficiency and an expansion of most store departments, including the pharmacy.
Weather permitting this winter, Kroger expects to have the new store complete in about a year.
Meanwhile, plans are already in place to backfill the existing Kroger space with new tenants once the grocery store moves to its new digs.
Lee & Associates handles the property management and leasing for Brownsburg Square.
As part of a grandfather arrangement, Indianapolis-based McCrea Property Group LLC is also in negotiations with three potential tenants for the Kroger space.
Keith Fried, a senior leasing associate at McCrea, said all of those potential tenants are "junior box" retailers, whose stores are typically between 10,000 and 40,000 square feet.
Fried declined to say who those retailers are because lease agreements haven't yet been signed. If all three of those tenants sign leases, Fried said, they would take up all but about 6,500 square feet of the available space.
Lee & Associates is also talking with prospective shopping center tenants, said Scot Courtney, president of the firm's Indianapolis office.
Please enable JavaScript to view this content.