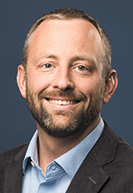 One of the city's largest technology consulting and analytics firms plans to do business under a new name and grow nationally under its new ownership.
KSM Consulting—which was acquired by Bahrain-based private equity firm Investcorp earlier this year— announced Monday that it is now calling itself Resultant. The 13-year-old firm said the "strategic rebrand" includes the new name, logo, brand identity and website.
The company said it plans to boost Indiana employment by 95 workers by the end of the year. It also said it would like to have offices in more than 10 cities and 1,000 employees by 2025.
"The new name represents the firm's people-centric culture and approach to delivering positive client outcomes and reflects the organization's independence from former parent company Katz, Sapper & Miller," the company said in a written statement.
The firm said it has 45 new employee openings in Indianapolis and Fort Wayne, with open positions in IT, data, development, consulting, project management, and business operations.
Another 50 hires are planned through the end of the year, it said.
Growth is being spurred in Fort Wayne by a three-year, $11.7 million contract the firm reached to become preferred IT provider for the city and Allen County.
"We have bold plans for our future as Resultant, and our commitment to helping Indianapolis and communities across Indiana thrive has never been stronger," CEO Mark Caswell said in written comments.
KSMC was founded in 2008 under the umbrella of Katz Sapper & Miller, the city's largest accounting firm. The accounting firm maintained 100 percent ownership of KSMC until Philadelphia-based private equity Renovus Capital Partners acquired a majority stake in 2019.
Investcorp purchased a majority stake in the firm this year, the company announced in February, with Renovus retaining a "significant" minority ownership.
KSM Consulting has been in major growth mode over the past few years, acquiring Denver-based Tempus Nova, Columbus-based Advocate Solutions and Indianapolis-based Connect Think. It has added 120 local employees since the beginning of 2018
The firm has more than 300 employees overall, including 220-plus at two Indianapolis offices. It is headquartered downtown at 111 Monument Circle and has a north-side office at 800 E. 96th St. Outside of Indiana, it also has offices in Columbus, Ohio; Lansing, Michigan; and Denver.
The consulting firm nearly doubled its client base with the acquisitions of Tempus Nova and Advocate Solutions. It now has more than 700 public- and private-sector customers.
Please enable JavaScript to view this content.