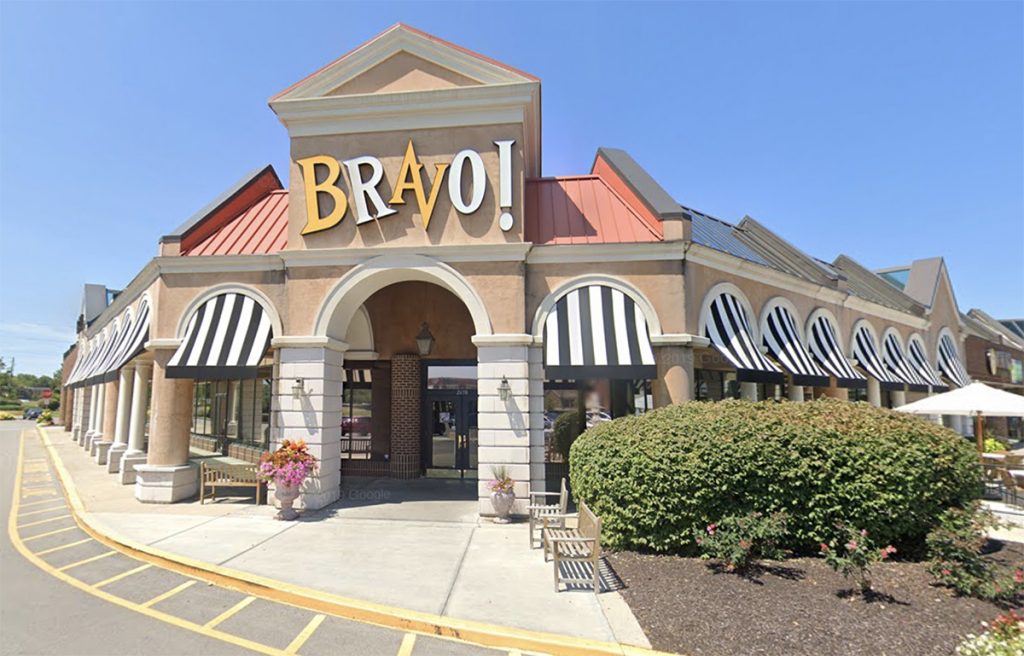 Indianapolis' last Bravo! Cucina Italiana Restaurant has closed permanently amid the bankruptcy proceedings of its corporate parent, Orlando, Florida-based FoodFirst Global Restaurants.
The northwest-side restaurant opened 22 years ago as the second of three Bravo! eateries that once operated in the area, occupying a 7,451-square-foot space in the Willow Lake East shopping center at 2658 Lake Circle Drive, at the northwest corner of West 86th Street and Township Line Road.
The Willow Lake location is no longer listed on FoodFirst's website. And Jacksonville, Florida-based Regency Centers, which owns and operates Willow Lake East, has begun marketing the former Bravo spot as available for lease.
FoodFirst, which operates both Bravo! and an Italian/Mediterranean chain called Brio, filed for Chapter 11 bankruptcy protection April 10 in federal bankruptcy court in Orlando.
The company did not say when it closed the Willow Lake location on a permanent basis, but a fundraising page for staff members who lost their jobs at the eatery said it happened on March 19, just three days after restaurant dining rooms shut down temporarily across Marion County as part of Indianapolis Mayor Joe Hogsett's pandemic stay-at-home order. The fundraising page said employees were given no notice of the closure or offered severance.
IBJ was unable to reach FoodFirst by phone Thursday afternoon, and the company did not respond to an email query.
In its bankruptcy filing, FoodFirst included the Willow Lake restaurant in a list of 43 Bravo! and Brio locations that the company had closed before its April 10 bankruptcy filing and did not intend to reopen.
The Bravo! and Brio chains, which had previously been in rapid growth mode, have struggled financially in recent years.
Columbus, Ohio-based Bravo Brio Restaurant Group Inc., opened its first Bravo location in 1992 and its first Brio location in 1997.
Its first Indianapolis location, at 8651 Castle Creek Parkway East Drive near Castleton Square Mall, opened in 1995 and was named the best new restaurant that year by readers of Indianapolis Monthly. That location closed in October.
At one time Bravo! also operated a restaurant at Greenwood Park Mall, but that location closed in 2014.
Bravo Brio went public in 2010.
The company had 110 Bravo! and Brio restaurants in March 2018 when Spice Private Equity Ltd., a Switzerland-based private equity company, acquired it for about $100 million. Spice created FoodFirst to run the Bravo! and Brio restaurants.
In a bankruptcy filing, FoodFirst said the restaurants generated annual sales of more than $400 million in 2017, but performance has declined more recently.
"Unfortunately, due to changes in the marketplace and the economy, by the end of 2019 annual sales were only $307 million, which was significantly below expectations," FoodFirst said in the bankruptcy filing.
The company said it closed 10 locations by January, "a substantial number of additional locations" since then, and it is "continuing to review underperforming locations for potential closure."
FoodFirst's website currently lists a total of 49 Bravo! and Brio locations, none of them in Indiana.
Please enable JavaScript to view this content.