Indiana lawmakers are working to set up the first regulatory framework for utilities to build charging stations and other wide-scale infrastructure needed to support Hoosiers' conversion to electric vehicles.
House Bill 1221 outlines parameters for the Indiana Utility Regulatory Commission to use when considering utility company proposals for the construction of charging stations and setting consumer rates for their use. A couple of proposals already have been put on hold while the commission awaits legislative guidance.
A key provision in the bill would allow electric utilities to create pilot programs to map out the deployment of charging infrastructure for public-use electric vehicles, such as public transit, school buses, emergency vehicles, and delivery trucks with the U.S. Postal Service, FedEx and UPS. Utilities also could request to recover the cost of establishing those programs by increasing the base rate charged to all their customers.
Utilities and private entities already have been setting up charging stations for personal-use vehicles, and the legislation also would provide more guidance for those operations.
For instance, the bill would allow utilities to request "time-varying price structures" for charging vehicles, subject to IURC approval. That means companies could lower rates for charging during designated "off-peak hours," such as when drivers plug in their cars overnight at home, and charge higher rates for "critical peak" times.
The bill also would require utilities to bill for vehicle charging on a per-kilowatt basis rather than on the amount of time a charger is used, a metric Tesla uses on its chargers.
Commercial businesses—such as gas stations, car dealerships and shopping centers—can buy and sell electricity from the utilities for their own charging stations and set their own fees based on any metric they want to use.
The push for building up electric vehicle infrastructure is growing as automakers plan to put about 1 million new electric vehicles on the roads this year. President Joe Biden has set a goal to have half of all new vehicles be zero-emission by 2030. Lawmakers around the country are trying to make sure their states are ready.
This legislation also comes as Indiana is expected to receive $100 million for electric vehicle charging infrastructure projects through Biden's infrastructure plan.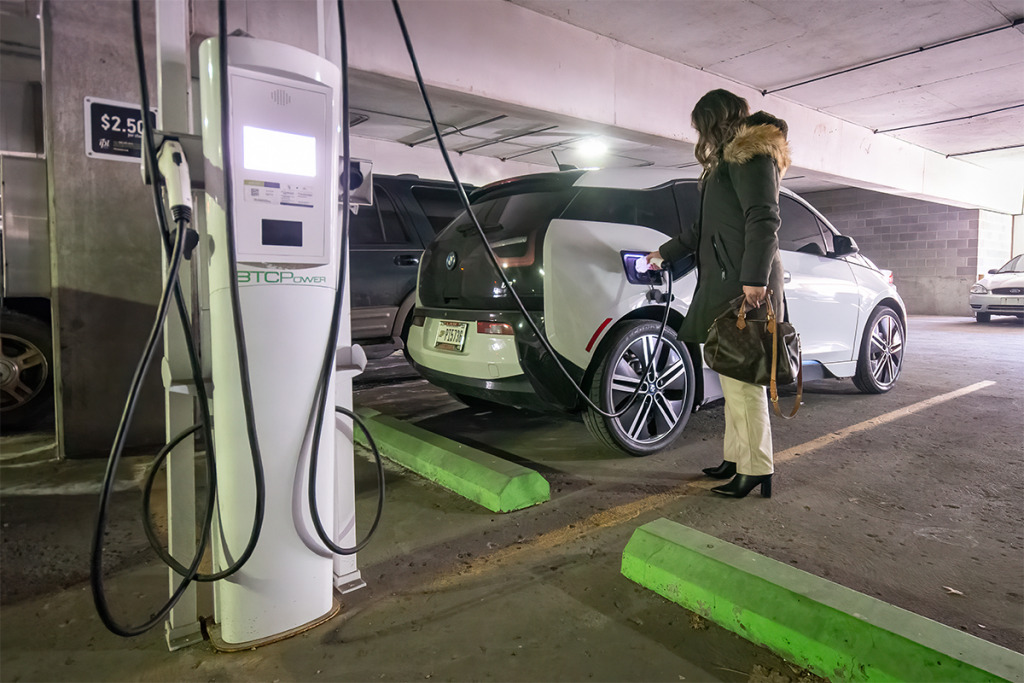 Step one
Bill author Rep. Ed Soliday, R-Valparaiso, and energy advocates say HB 1221 is the first step for Indiana to start looking at the best ways to lay out its infrastructure. The hope is that the pilot programs for public-use vehicles would give utilities the experience to add larger-scale stations later.
The legislation has met no opposition and is supported by utilities and advocacy groups, including the Citizens Action Coalition and Greater Indiana Clean Cities. It passed the House unanimously and is awaiting action in the Senate.
Still, creating regulations for a support system for the evolving electric vehicle industry has been tricky, Soliday said, because little is known about how to map out an infrastructure, what that infrastructure might cost and its impact on electrical grids.
"Everybody's trying to carve their own, shockingly, their own turf here," Soliday said. "We're trying to be knowledgeable. We're trying to be data-driven. We're trying to make things that work without making a lot of mistakes."
This legislation mainly comes from requests made by the IURC and the state's 21st Century Energy Task Force for legislative guidance on handling electric vehicle programs. The IURC has been waiting for state policy to guide pending electric vehicle program proposals, Soliday said.
The legislation outlines that the pilots are meant to test a limited deployment of charging infrastructure for public-use vehicles to "evaluate the feasibility and design, including the associated costs and benefits of a larger-scale deployment."
A utility company, in its presentation to the IURC, would have to present descriptions for the need and goals for the program, a timeline for the projects and an estimate of all costs, which would be shifted to both participating and nonparticipating customers. The company would also have to show that the program is of interest to the public and keep in mind areas that are "economically distressed" or "racially or ethnically diverse."
Interest in converting public-use vehicle fleets to all-electric is growing. Setting groundwork for these pilot programs could provide the push municipalities need to make the switch, said Kerri Garvin, executive director of Greater Indiana Clean Cities.
Indianapolis' public transit agency, IndyGo, has a goal to have an all-electric fleet by 2035. But IndyGo hit a roadblock when its new battery electric buses fell short of the contractually specified mileage capacity. Progress is being made toward fixing that problem.
IndyGo did not respond immediately to IBJ's requests for an interview. But a utility pilot program could be a boost to the transit-system needs, Garvin said.
She said HB 1221 would be a first step to know where the investment and associated costs should go for public infrastructure.
"Allowing the pilots not only incentivizes it, but it helps the utilities study the associated costs—you know, what's the impact on the grid?" Garvin said.
Utility proposals on hold
The IURC already has two electric vehicle program proposals under consideration from AES Indiana and Duke Energy, two of the state's largest electricity providers.
Duke Energy is proposing a two-year pilot Electric Transportation Program. The program would include baseline charging rates, off-peak lowered charging prices from 9 p.m. to 6 a.m., and a "peak avoidance credit" for customers charging outside that window.
It would also create an electric school bus and electric public transit pilot program, where Duke would provide incentives for the procurement and delivery of electric buses and the installation of necessary electric charging equipment, according to the petition the company filed with the IURC.
The program includes a commercial electric vehicle charging incentive program, in which Duke would give one-time incentives to commercial business customers who install electric vehicle charging equipment either for public access, at a workplace, or at a multi-unit dwelling.
AES Indiana is requesting an "Electric Vehicle Portfolio" program to test offering off-peak-hours charging incentives.
The IURC declined an interview with IBJ because the commission does not speak on pending legislation or pending cases, the spokesperson said.
Duke Energy deferred questions to the Indiana Energy Association, which represents the state's electric and gas utilities.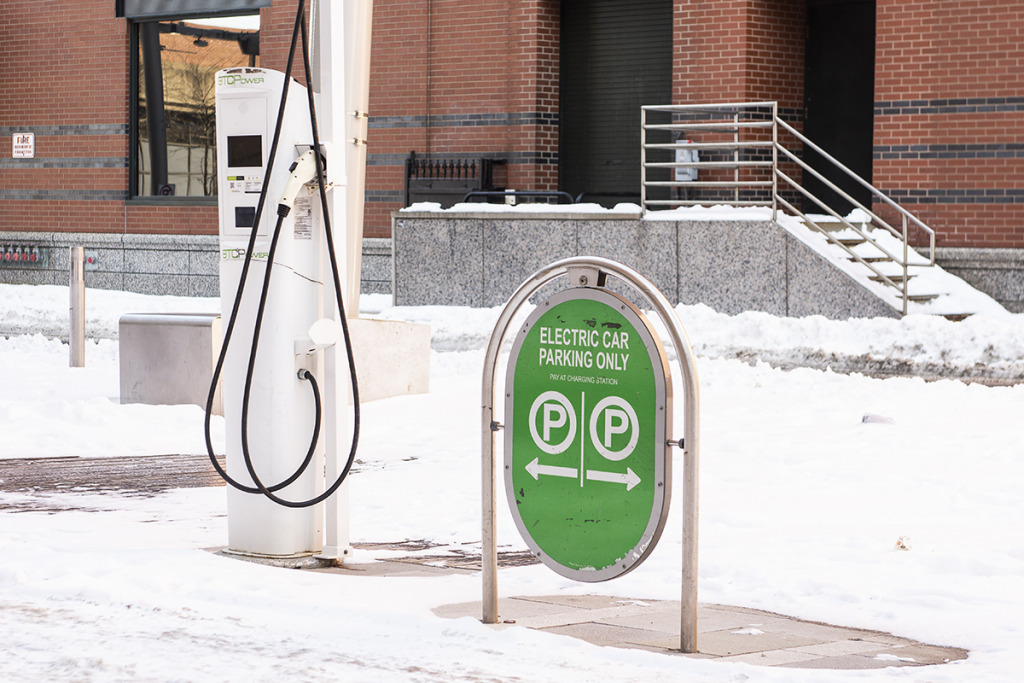 An unknown field
AES Indiana is supportive of the legislation to "put EVs on the forefront," Zac Elliott, the company's electric vehicle portfolio lead, told IBJ in an email.
"AES Indiana is following HB 1221 and is supportive of working with customers and stakeholders to further the adoption of electric vehicles here in Indiana by developing EV specific rates, pilot programs and infrastructure that support grid readiness and affordability," he said.
AES operates chargers at four locations in Indianapolis and supports various third-party and customer-owned charging ports around the state.
Danielle McGrath, president of the Indiana Energy Association, said HB 1221 moves Indiana along the transition to electric vehicles.
As of last month, about 7,000 electric vehicles were registered in Indiana and 875 public charging stations for personal vehicles were available, with about 130 in the Indianapolis metro area.
"This is really about seeing how Indiana can seize this opportunity that's before us and look at what's happening in other states and making sure that, from a connectivity standpoint, that we're really engaged," McGrath said.
Garvin said this legislation for utilities will likely help boost the number of electric vehicle chargers in the state.
"By addressing this and allowing these programs to take place, you're going to increase the infrastructure," she said.
Soliday said electric vehicle legislation probably will have to be revisited in the years to come as the industry evolves and the IURC encounters new challenges.
"What we don't know is what we don't know. So, what kind of money are we dealing with? What kind of issues are the folks in the charging business going to come up with?" Soliday said. "It's kind of like nailing Jell-O to a tree right now."•
Please enable JavaScript to view this content.