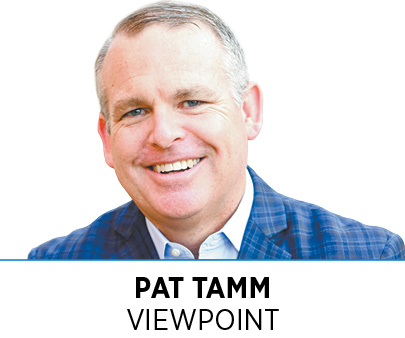 Whether it's attending a Pacers game or exploring our state's culinary treasures, Indiana's hospitality industry provides Hoosiers and tourists alike with endless opportunities to experience what our great state has to offer. As CEO of the Indiana Restaurant & Lodging Association, one of my most important responsibilities is to educate, advocate and celebrate our hospitality industry. But proposed legislation being considered by the General Assembly threatens its vitality.
Indiana House Bill 1109 would impose government control on how our local businesses engage their partners, eliminating the way we've done business for over a century and replacing free-market competition with government interference.
Many industries enjoy and use contractual agreements for all kinds of goods and services, allowing companies to negotiate the best price for their business operations and ultimately for consumers. Some industries also use dynamic pricing, through which tickets to a game, a hotel room or a flight are made available to customers by a third party, thanks to contractual agreements with original sellers.
Contracts provide incentives and promotions for businesses to sell the products that best suit their customers and offer them the ability to seek the best product based on their customers' budgets and shopping habits. The legislation being considered in the Indiana House effectively eliminates this process and system, taking away businesses' ability to negotiate with beverage companies and subjecting them to an across-the-board price that will inevitably be higher and could be impossible to afford.
While the legislation might initially impact the price to Indiana business owners, it will in turn impact prices for Hoosiers. And government price controls almost always lead to higher—not lower—prices, in this case because of the elimination of seasonal promotions and discounts, including those around the winter holidays, July Fourth and Labor Day celebrations. As consumers continue to grapple with ever-growing inflation and the economic aftermath of the pandemic, they just can't afford to have items unnecessarily increase in cost due to government interference with their restaurant bill or their grocery cart.
The question remains: Where do you start and where do you stop with this kind of government intervention? Today, we're talking about beverages—next year, we could be talking candy bars or books. Once government officials step in to regulate prices on one item, raising costs for people across Indiana, what's to stop them from trying to put controls on the prices of everything else?
The restaurant and lodging industries play an integral role in Indiana's economy, providing good-paying jobs for Hoosiers and generating desperately needed revenue statewide. Our members do not want or need the government to tell them how to operate their businesses, and they don't want their contractual agreements questioned and invalidated by misguided legislation. Indeed, the one thing we know for certain is that HB 1109 creates a lot of uncertainty—and potentially negates many of the contractual agreements that Indiana businesses freely choose to enter into.
One of the key reasons the Indiana hospitality sector has bounced back more quickly than the entire Midwest and most of the nation is—and will continue to be—business and regulatory certainty. HB 1109 clearly fails in providing business and regulatory certainty and starts regulating private business-to-business contracts that no other state has chosen to do with non-alcoholic beverages.
We urge lawmakers to strike down this harmful legislation and work toward supporting and protecting the industries that keep our great state strong.•
__________
Tamm is president and CEO of the Indiana Restaurant & Lodging Association.
Please enable JavaScript to view this content.