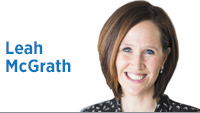 My family had the gift of visiting the Statue of Liberty over the Independence Day weekend. As I stood inside the world's greatest symbol of freedom and hope, I was overwhelmed with what she represents, and it struck me that America is about more than a single moment in time. It is more than just a place.
America is an idea, the great experiment of history, a pursuit toward liberty that never ends. It is an idea we must continually strive to protect and emulate and improve. Some days we will get it wrong and fall short of these ideals. But there are many days when we will get it so very right and prove ourselves worthy of the aspirations Lady Liberty represents.
Frenchman Edouard Rene de Laboulaye, who pushed the idea for the Statue of Liberty, said he had long been an admirer of the Constitution and concept of America: a republic built on the idea of freedom. However, he noted it was in 1865, when the Civil War was done and slavery was no more the law of our land, that Laboulaye truly believed Americans were committed to seeing the idea through, that this "experiment" could last. In 1865, the journey that began with the Founding Fathers hit a crossroad and we got it right.
In 1920, when women were recognized as individuals with a voice worthy of a right to vote, we got it right.
In 1945, when V-day brought the end to World War II and Americans were standing arm in arm with the world defeating the evils of tyranny and Holocaust, we got it right.
In 1969, when we put a man on the moon and proved humans are capable of incredible feats, we inspired a world and we got it right.
In 1987, when President Reagan said, "Tear down this wall," and we soon after saw a new day in Berlin and the end to a Cold War, we got it right.
In 2001, when we stood together as one nation united in the face of horrific terrorism and extraordinary heroism, we got it right.
For the ordinary days in between these and other big moments in history, when people are permitted the freedom to attend whatever church they choose or not to attend at all, we get it right. When people are protected for saying downright stupid and offensive things because they have the right to free speech, we get it right. When we are able to debate ideas of what our government should look like or who should be in charge, we get it right.
When I look around and see the number of people helping one another and volunteering for initiatives bigger than themselves, I know we are getting it right.
My America is more than "OK." It is the land of the free and the home of the brave. It's a place where so many have sacrificed so the idea of America would live on, and it's up to us to carry it, to shape it, to defend it and to make it better.
My America is not perfect. But it's still a place you can create the life you imagine. My America is an endless pursuit. Our America, as the song says, is beautiful; nothing will make me give up on her aspirations.•
__________
McGrath is deputy mayor of the city of Fishers and is vice chairwoman of the Indiana Republican Party. Send comments to ibjedit@ibj.com.

Click here for more Forefront columns.
Please enable JavaScript to view this content.