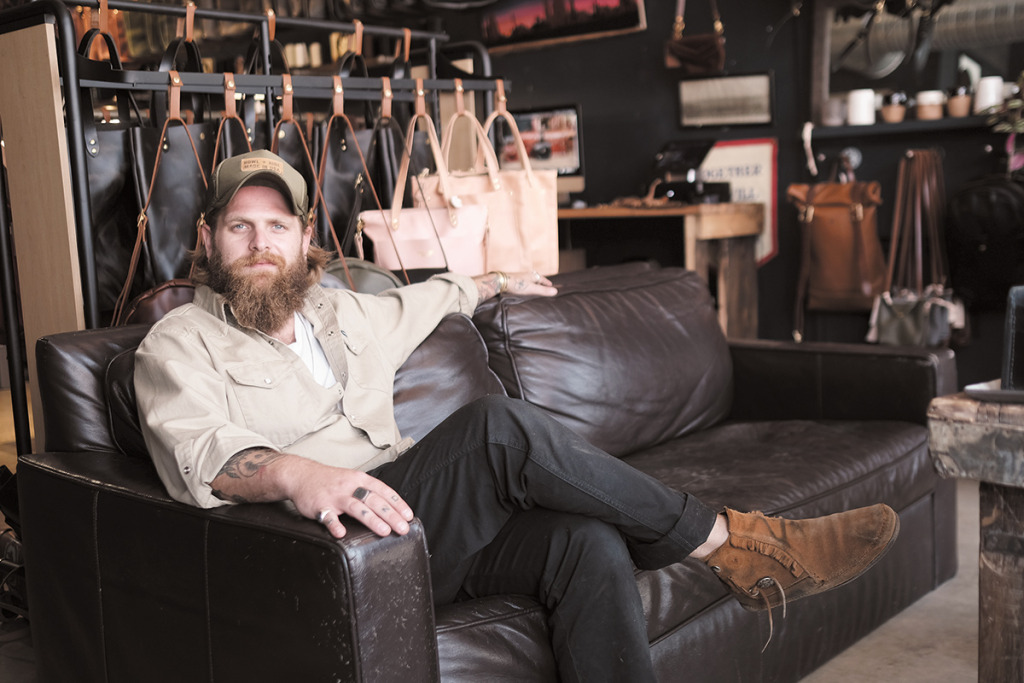 In a mall six years ago, a distressed leather tote bag caught Christian Resiak's eye. One peek at the price tag, and he thought, "I can make that."
So he thrifted some leather jackets and got to work, hand-stitching his first leather bag.
That's how Howl and Hide, a leather-goods store in Fountain Square, got its start.
It was a humble beginning, with Resiak launching the company from his unfinished basement, where he had just a handful of tools. He used a box cutter to cut material, but no sewing machine.
Still, several months later, with just $400 in his bank account, he quit his job at Angie's List and decided to take Howl and Hide full time. After a few months of working from his basement, he opened a storefront with production space on English Avenue.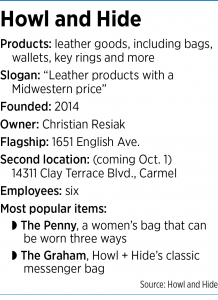 Five years and thousands of handmade bags, wallets, key chains, journals and pouches later, Howl and Hide is preparing to open a second location, a pop-up shop at Clay Terrace in Carmel. This, even as many small businesses struggle and some shutter their doors after months of pandemic-related upheaval and uncertainty.
Retail experts say businesses like Resiak's, those selling luxury goods with a significant online presence, have generally fared well during COVID-19.
Moving into ritzy Carmel is a logical next step for Howl and Hide, said Gary Perel, senior director of retail at Indianapolis-based ALO Property Group. And thanks to the pandemic, retail space is available.
"This type of product makes sense for that market," he said.
Resiak, who graduated from Noblesville High School in 2008—and at the time couldn't wait to leave Hamilton County—thinks so, too.
More than 40% of Howl and Hide's Indiana sales come from two ZIP codes in Hamilton County.
And while he remains unsure whether the pop-up will become a permanent fixture or he'll repeat a short-term storefront elsewhere, his employees are hard at work preparing for its Oct. 1 opening.
"From then and now, it's really kind of crazy," Resiak said of his business's transformation as it enters year six.
It hasn't always been easy. Years three to five were "really, really tough," he said.
"Holy moly, I wouldn't wish that on anybody. But I think that I'm seeing now that it's the people that you have that are working with you that are the real assets of the business and make your life run smoothly."
A dream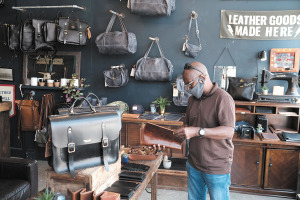 Resiak went to Purdue University for a semester before deciding college wasn't for him. He worked in retail, then took the job at Angie's List.
About two weeks before launching Hide and Howl, he visited Ivy Tech Community College to consider finishing his degree. But then, Resiak said, "this" happened. He never enrolled.
Resiak had no formal textile training and had to learn to sew on his own. He didn't know much about starting or structuring a business. He didn't know where he'd source the leather, and he didn't have much money.
But his background in retail told him that, if Howl and Hide were going to be successful, he'd have to build a brand: cut-and-sew manufacturing in Middle America. Leather products with a Midwestern price, his website states.
Resiak buys his leather from Land-werlen Leather Co., a longtime Indianapolis supplier about a mile and a half from Howl and Hide's flagship store, and has made an effort to hire and use local companies whenever he can.
Howl and Hide distributes coast to coast and some internationally, but Resiak believes he's helped create an ecosystem within a two-mile radius in Indianapolis.
The first year, he focused largely on wholesale, traveling to consumer shows across the country to find shops interested in adding Howl and Hide leather goods to their retail line. (At one point, the products were available in 32 stores across the country.)
It was just Resiak and an assistant and, at that point, he decided to buy a sewing machine to help speed up manufacturing.
He also started doing custom orders, including for Salesforce and the Willie Nelson family, a relationship that started when Resiak asked about being a vendor at one of Nelson's Luck Reunions.
Eventually, Resiak decided to open a storefront with production space, where customers could watch their goods be made.
Now, straight-to-consumer purchases, either in the Howl and Hide storefront or online, account for about 75% of sales. About 12% of sales are wholesale and 12% are private customizations.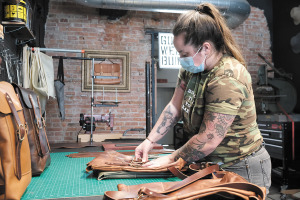 His staff is small at just six employees—plus his 11-year-old Husky, Alice, who is a constant presence in the shop and inspired the brand's name because she howls a lot.
The staff sews all items in-house.
Growing
Originally focused on men's goods, Howl and Hide recently started selling women's products, adding 11 purses to its lineup. Now, the company's most popular item is the Penny, a purse that can be worn three different ways.
The goods are high-end. Purses, for example, run from $109 to about $300, but they come with a lifetime warranty.
The 1651 English Ave. location is bursting at the seams with inventory and production, so Resiak began thinking about ways to expand to an additional brick-and-mortar location.
From October through January, Howl and Hide will operate in a storefront at 14311 Clay Terrace Blvd. After the holidays, the company will decide whether to stay permanently or to continue with pop-ups in various places.
Resiak said Howl and Hide has been fortunate throughout COVID-19. He credits that to decisions he made early on.
When the pandemic hit, Howl and Hide stopped making bags and focused on cloth masks for frontline workers. Eventually, the store decided to offer the masks to the public as well, selling 6,500 in 10 days.
He was also able to get a loan to help keep the business afloat.
By summer, he was launching a sample sale, then a five-year anniversary collection. Both did well. "It's been a wild, wild ride, but we've been fortunate," he said.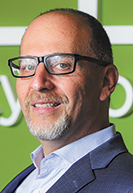 Perel, the real estate expert, said by looking at Howl and Hide's website, he can tell the company has a good internet presence that likely enabled it to pivot to mostly online sales when stay-at-home orders closed businesses. Businesses with those capabilities have done well during the pandemic.
Resiak said he is confident moving forward with the pop-up shop. For weeks, his production staff has been making bags and other products specifically for Carmel. Earlier this week, he made nine bags in one day gearing up for the opening.
Bailey Park, a Howl and Hide customer-turned-employee, said quality hasn't suffered as Howl and Hide has grown. She was a customer about four years before joining the company a year ago. She's now brand manager.
She hopes what initially drew her to the products will draw other customers to them, too.
"There's something amazing about being able to hold something in your hand that you can put a face to who made it and who designed it," she said. "People love to know exactly where the product is from and whose hands have been touching it."•
Please enable JavaScript to view this content.